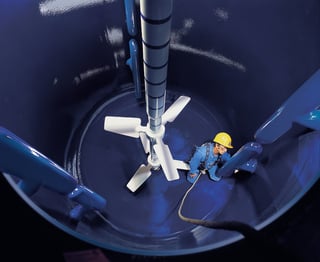 You are invited to attend a two-day seminar, hosted by De Dietrich Process Systems, that will cover all the essential information you need to know about glass-lined steel process equipment. The seminar will include classroom and hands-on training as well as a tour of the DDPS facility while manufacturing is taking place.

An experienced engineer will present the classroom portion and a service technician will give the hands-on portion of the seminar. A manual (via flash drive) will be provided for each participant. Upon request, time may be set aside for a discussion about your individual maintenance and/or process needs.
The topics that will be covered during this seminar include:
Fundamentals of Glass-Lined Steel Seminar Itinerary*

Wednesday, March 8th - Classroom Section
De Dietrich Process Systems' Capabilities
Reactor Optimization: OptiMix, OptiFoil, Clean Valve, OptiSeal
Introduction to Glass-Lined Steel
Safety Procedures
Tools
Glass Lining Repairs: Patches, Reglassing, Sleeves, Repair Cements
Maintenance

Thursday, March 9th - Plant Tour/Hands on Section
Inspections/Glass Failures
Operator's Checklist/Maintenance
Plug Installation Demonstration
Glass Thickness Testing
Spark Testing
GlasLock Blade Installation/Removal
Mechanical Seal Change

*Modifications can be made by request, please advise if there is a specific topic that you would like covered.

The seminar is $500 to attend, but space is limited. A $500 deposit is required to hold your space. We will recommended a hotel with a discounted group rate. Breakfast, lunch and refreshments will be provided.

The seminar will take place March 8-9, 2023 at our manufacturing facility:

De Dietrich Process Systems
246 McKinzie Road
Corpus Christi, TX 78410
The deadline to register is January 30, 2023, but space is limited so please respond and reserve your spot as soon as possible!
For further inquiries contact Ozzie Freitas, Business Unit Leader, Glass-Lined Equipment at ozzie.freitas@ddpsinc.com or 908-317-8854.