The basic, major components of a DDPS Bulk Bag transfer system include a bulk bag (FIBC) unloader, Powder Pump unit, and PLC-based controls.
1. Bulk bag (FIBC) unloader – This device consists of a support frame onto which an FIBC is lifted and placed via a pneumatic or electric hoist and trolley. A bag spout sealing valve, clamping ring, and containment housing work together to provide a dust-free environment. Flow promotion devices help to facilitate bag emptying, and the fluidizing hopper ensures conveying gas and solids are mixed in the appropriate ratio.
2. Powder Pump unit – The Powder Pump system is literally and figuratively "the heart" of the system. It conveys material from the Bulk Bag unloader outlet under "dense-phase" conditions, and delivers it into the receiving vessel, while maintaining the vessel's inert environment. The system design also dissipates static build-up to prevent a spark discharge, which is a frequent problem when pneumatically conveying solids.
3. PLC-based controls – Clear and intuitive HMI displays are rated for Class 1, Division 2, Group C & D. Additional customized programming is also available and can be designed to meet specific needs.
The schematic below represents the standard arrangement for this system, with typical dimensions provided.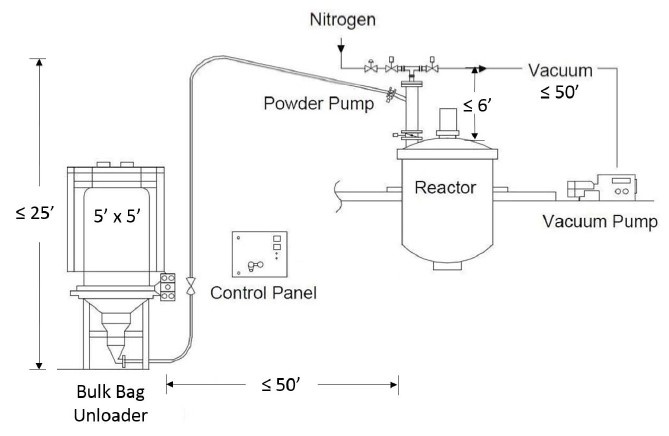 This basic system design adequately addresses many material transfer applications. However, system enhancements are available to provide more customization and functionality when necessary. Some popular upgrades include:
Hydraulic conditioners to break-up solidified materials inside FIBC
Solids delumper for additional size reduction
Load cells for batch weight monitoring and transfer rate control
Custom hoppers to address bridging or rat-holing
Electrical grounding and oxygen content monitoring systems