Production Scale Filter/Dryers
De Dietrich Process Systems range of production scale filter dryers are available up to 12.0 m², with multipurpose designs fit to handle a large range of applications. The two main types of production scale filters we offer are:
Traditional Rosenmund Filter/Dryers
DDPS Agitated Nutsche Filter/Dryers
---
Filter/Dryer Product Description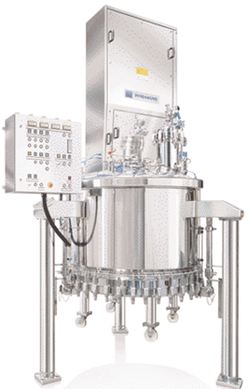 DDPS innovative technology combines the filter and dryer into a single unit, reducing product handling, contamination and capital cost. The filter/dryer performs a multitude of tasks including filtration, displacement or reslurry washing, vacuum or convection drying. It can discharge wet cake, slurry, liquid, or dried cake to less than 0.1% moisture.
Filter/Dryer Applications
Our range of filters and filter-dryers provides optimum performance and flexibility for demanding pilot, small-scale, and full production operations that require high efficiency in washing and isolating solids. The side discharge valve is ideal for applications that involve multi-purpose production with frequent product changes or processes with stringent requirements for low-particle and sterile production.
Filter/Dryer Features
Our filters and filter/dryers have many features that make them the recognized industry leader including:
Agitator - Unique, 3-arm "S" blade is designed for low speed and high torque service for processing thick, wet or dry cakes. Angled and profiled blades for axial and radial mixing of soil. the tip speed is gentle of the crystals and eliminates the concern for shearing or crystal damage.
Universal Filter Media - The filter plate design allows the use of all types of filter media: cloth, single later metal screen, or multi-layer sintered metal.
Side Discharge Valve - This patented design features a metal-to-metal seals, eliminating the cleanability issues that can arise with the use of o-rings. The valve is FDA validated and will provide a pressure/vacuum-tight seal.
Heated Filter Plate - The all-welded design provides heat energy directly into the cake from the underside, allowing for heat transfer through all of the filter contact surfaces, for more efficient drying.
Controls - Our in-house controls engineers design both manual controls and more sophisticated PLC-based controls with both local and remote stations for pilot units.
Vessel Design - DDPS provides strict and rigid pharmaceutical vessel specifications.
Filter/Dryer Advantages
No operator contact
Emission-free
Closed system
Efficient washing and reslurry
Multipurpose
Easy to clean
Reduced production time and improved product quality
Filter/Dryer Specifications
Sizes from 0.2m² to 12.0m²
Pressures from full vacuum to 150 psig (10 bar)
Temperatures from -4°F (-20ºC) to 250°F (120ºC)
Options
Gas Knife System – A unique and innovative solution that enables a total product discharge without manual intervention.
Various materials of construction including 316L stainless steel, Alloy 20, C-22 and others.
CIP/WIP and SIP systems
Heated agitator
Various main shaft seal designs
---
Product Description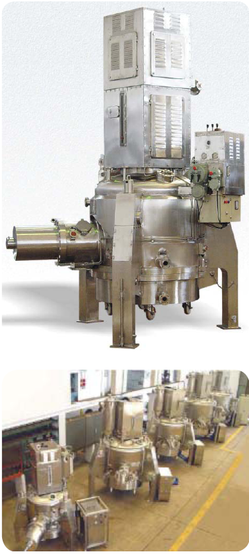 The Agitated Filter is a closed vessel designed to separate solid and liquid by filtration under pressure or vacuum. The closed operation ensures odorless, contamination-free and nonpolluting working conditions maintaining product purity and hygiene. The advanced technology of agitation and hydraulics used in the equipment makes it versatile and user friendly. The resulting wet cake can be reslurried and washed thoroughly with water or solvents unlike in "Nutsche" type filters or centrifuges. Functionally safe and easy to operate, the agitated filter can carry out various phases of process operations including crystallization, filtration, extraction, decoloration, washing and drying.
Product Applications
The agitated nutsche filter/filter-dryer has a wide field of application in Chemical, Pharmaceutical, Agro Chemicals, Fine Chemicals and Food Industries. Sterilizable pharma versions are available for aseptic requirements.
Product Features
Our agitated filter is a cylindrical, vertical closed vessel made as per ASME pressure vessel code. The main features of the vessel include:
Agitator - specially designed, slow speed, robust agitator assembly features "S" type agitator blades that perform different movements designed to carry out specific operations:

Clockwise rotation: smoothing and compacting cake surface during filtration.
Counterclockwise rotation: stirring to prevent sedimentation near filter media, reslurrying while washing and automated discharging.
Upward movement: Assisting mixing.
Downward movement: Assisting squeezing and discharging.

Hydraulic Power Pack - for discharge valve operation and lowering/lifting of the agitator and detachable bottom.
Spray pipe/washing nozzles - provided inside the vessel for efficient washing of the wet cake and cleaning the vessel.
Control panel - ergonomically placed on the machine, housing all controls. One person can effectively monitor and control the entire process.
Agitated Filter/Dryer Process Advantages
Toxic and hazardous material can be processed.
Product purity maintained.
Product can be washed thoroughly and economically with solvents.
Blending of product possible before discharging.
Almost complete discharge possible.
Avoids cumbersome and repeated handling of process materials, saving on number of equipment used in filtration process (e.g. crystallizing vessel, intermediate hold vessel, reslurry vessel, etc. Streamlining process, thereby saving on power, labor, floor space, spillage and time.)
Large quantities can be processed faster than the conventional systems.
Higher cake thickness possible in the equipment for crystalline products.
Specifications
Sizes ranging from 20 liters to 20,000 liters
Range of MOCs and also clad or polymer-lined construction - Stainless Steel and Hastelloy (C276, C-22 and C-2000), Rubber, PVDF and Teflon lined.
Options
Complete automation with PLC
Drying of wet cake with incorporation of drying features
Temperature controlled filtration for chilled or hot conditions
Units for cGMP, Pharma, and Sterile applications
Barrier Isolation systems at the discharge port
All welded construction or bottom section trolley mounted and detachable.
Heated agitator, shell and bottom
Gaskets
Various mounting arrangements
Pilot plants