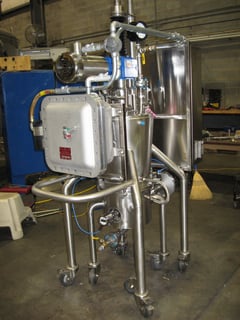 This factory re-certified Rosenmund RoLab Filter/Dryer has been thoroughly cleaned and revamped to like-new condition. The scope of the unit has been expanded to handle the following process steps:
Filling

Filtration under pressure and/or vacuum
Washing the filter cake
Smoothing
Nitrogen blow through drying
Vacuum drying
Heating/Cooling the vessel
Discharge (manually) via side discharge valve
Cleaning in place
Additional technical data can be found below. To inquire about purchasing this equipment, please fill out the form on the right. You can also reach a DDPS Refurbished Equipment Representative at 908-317-2585.
General Data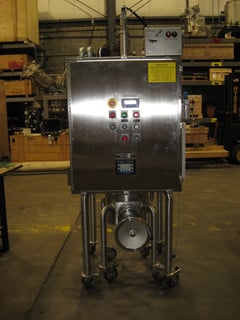 Year of Manufacture: 2008
Weight of Equipment, Empty: 360 kg
Nominal Area: 0.06 m
Explosion Protection
Area Classification: Class 1, Division 2, Group C&D, Temperature Code T3C
Enclosure classification (Process): Intrinsically safe (NEMA 4X) or XP (NEMA 7/9)
Pressure Vessel Data
Design, manufacture and testing: according ASME VIII, Div. 1
Design Data
Min/Max Allowable Pressure 90 psig/FV
Min/Max Allowable Temperature: -10/+150°C
Vessel Diameter (Inside): 265 mm
Total Volume: 49 l
Maximum Fill Volume: 42 l
Nominal Volume of Cake: 14 l
Side Discharge Opening: 80 mm
Drive and Agitator Data
Drive: FL Vario
Nominal Stroke of Agitator: 250 mm
Shaft Diameter: 40 mm
Agitator Type: S-blade, 2-arms, "Gas Knife"
Maximum Agitator Torque: 200 Nm
Agitator Speed: 16-93 min-1
Air Quantity Pneum. Motor: 0.25 Nm3/min
Air Pressure Pneum. Motor: 6.0 bar
Electric Motor Drive Unit: 2 HP
Equivalent Constant Sound Pressure Level: ≤ 75 dB(A)
Materials of Construction
All Parts in Contact with Product or Liquid: 1.4404 (316L) stainless steel
Heating Area: 1.4404 (316L) stainless steel
Other Non-Product-Contact Parts such as Frame, Drive Parts, Guards, etc.: 1.4301 stainless steel (304L)
Insulation Jacket: 1.4301 stainless steel (304L)
Insulation Material: Mineral wool
O-rings (product contact): PTFE encapsulated Viton
Flat Gaskets: Gylon 3504E/PTFE
Filter Media (multilayer filter and supporting screen): 1.4404 (316L) stainless steel
Mechanical Seal: (product side/atmospheric side) Silicon carbide/carbon, (housing) 1.4122
Surface Treatment
Stainless Steel Parts: Internal finish polished Ra ≤ 0.8µm (Grit 180), External finish polished Grit 120 satin finish
Paints on Carbon Steel Parts: Primer - TN 013, Finish - TN014, RAL 5010
Availability: In stock, ready to ship