5 Ways De Dietrich Process Systems is a Thanksgiving-Friendly Company
Jennifer Mayo
|
November 25, 2014
|
2 minute read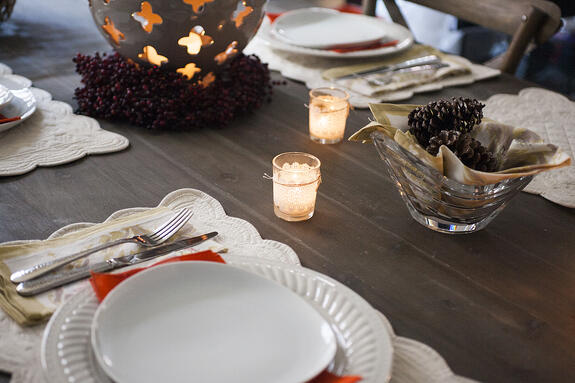 It seems nowadays that once Halloween is over and we flip our calendars to November (for those of us who still use a paper calendars), the countdown to Christmas and Hanukkah begins. Although there is still quite some time until December 25th, the holiday-themed cup in which I am served my Starbuck's coffee combined with Santa's presence at every mall in the tri-state area have me feeling otherwise (not to mention the radio stations that are already playing yuletide tunes around the clock). But as the month progresses and the last of the deciduous leaves fall to the ground (in the Northeast anyway), I still prefer to focus on pumpkin spice lattes, apple pies, and turkey pictures made with my children's hand prints. Because right around the corner is the wonderful, often overshadowed, all-American holiday called Thanksgiving! It's that time of year when we are reminded of all the things in life we are thankful for but too often take for granted. And while we here at DDPS have a ton to be thankful for – like having loyal blog readers such as yourself – I think it's also an important time to reflect on our ongoing efforts to be a "Thanksgiving-Friendly" company. Here are a few [some slightly far-fetched] examples of how we advocate this day of thanks:
1. Unlike so many companies that have jumped on the "Black Thursday" band-wagon by opening their doors on Thanksgiving Day, De Dietrich Process Systems will be closed on Thursday and Friday in recognition of the Thanksgiving holiday. We choose to follow the older, more traditional trend that allows employees to do what the day is truly intended for – that is, to celebrate and spend time with family and friends.
(Regular office hours will resume Monday, December 1st. If you have an emergency situation with your equipment and need urgent assistance that cannot wait until normal business hours, you can reach DDPS 24/7 at our Emergency Hours Number, 908.477.7358. If the issue is not an emergency and does not require immediate attention, please call our main number 908.317.2585, leave a message, and someone will return your call during regular business hours. Or, fill out our

After Hours Contact Form

.)
2. Have you ever tried making mashed potatoes in a reactor? DDPS laboratory scale reactors can whip up a batch in no time! With a high temperature allowance, you can get those 'taters cooked up nice and quickly. And our specially designed agitators will ensure a lump-free, homogenous mash. Plus you'll be thanking us when it's time to do the dishes – our anti-stick glass formulation makes clean-up a breeze!
3. We may not hold an annual turkey pardoning ceremony like the White House, but DDPS can boast that in our 330 years as a company, a turkey has never died at our hands. That's not to say an employee event has never featured a turkey sandwich at some point, but no "fowl play" has ever taken place on company property.
4. I'm still searching for some documented proof, but the De Dietrich Company was in business during the time of the Mayflower voyage and the first Thanksgiving meal. If the Pilgrims used an iron-forged kettle in the preparation of the infamous feast with the Native Americans, it could very well have been manufactured by us!
5. With over 100 employees spread all over the country, odds are we have at least one employee rooting for your favorite football team playing this weekend. And if you don't like football, we have some people that think the same way too!
On behalf of De Dietrich Process Systems I would like to wish you and your families a very Happy Thanksgiving filled with love, laughter, football, and not-too-excessive overeating. And please don't be mistaken, I do love Christmas and look forward to seeing Santa, just not until the end of the Thanksgiving Day Parade.