Batch Dryers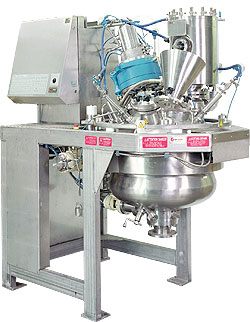 High-efficiency dryers significantly reduce production and drying times, improve product quality, maximize product recovery and minimize environmental and worker exposure. DDPS dryers feature unique vessel and agitator designs that meet the most stringent pharmaceutical specifications. Our easy to clean dryers are available for both dedicated and multi-purpose applications. In order to ensure proper selection of drying equipment and fully operating systems, we have a state-of-the-art test facility in Europe, as well as a US rental fleet for on-site customer testing.

Spherical Dryers

Universal Dryers

Agitated Pan Dryers

Glass-Lined Conical Dryer-Blenders

Rotary Vacuum Paddle Dryers

Drying Systems

---
Spherical Dryer Product Description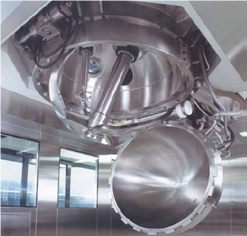 The Spherical Dryer is a highly engineered and precision fabricated vacuum dryer designed to utilize heat input, effective mixing and vacuum for product drying.
Spherical Dryer Applications
It can be used for dedicated or multi-purpose applications and it provides the best in product quality, total discharge, cGMP production, cleanability and limited operator exposure.



Spherical Dryer Features
The Spherical Dryer can be provided in two unique configurations to meet your process needs.


Top Driven Features:

Units up to 2000 Liters
Multi-purpose processes
Dry or wet running seals
Automated bayonet flange
Automated vessel hinge

Bottom Driven Features:

Units up to 6000 Liters
Dedicated processes
Wet running seals only
Higher torque capabilities

Both configurations feature the following:

Fabricated in 316L and C-22
Metal-to-metal sealing discharge valve
Dust filter
Fully jacketed vessel
Heated agitator
Machined vessel internals (Close agitator- to–side wall tolerance)
Spherical Dryer Advantages
Highly efficient (Short drying times)
Easy inspection
Fast and easy cleaning (CIP/WIP)
Can perform drying, mixing and granulating
Minimal fill volume (15%)
Vessel design maximizes product yield through total product discharge
Minimize dust explosion hazard
Vertical chopper (Lump breaker)
Reproducible drying results
Spherical Dryer Specifications
Volumes up to 6000 Liters
ASME code rated vessels
Pressures from full vacuum to 150 psig
Options
Special alloy construction on request
Top or bottom entry drives
Dry or wet running seals
Full CIP/WIP options
Various mounting configurations
Contained charging, discharging, sampling and product transfer
Additional peripheral equipment
Back to top
---
Universal Dryer Product Description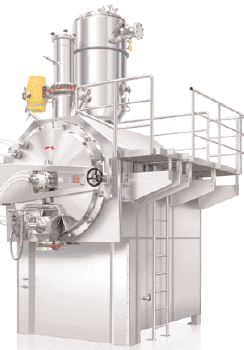 The universal dryer features a high-speed, removable chopper that breaks up lumps of wet or dry agglomerates while providing additional mixing capability, shorter drying times with the highest possible fill volume.
Universal Dryer Applications
The Universal Dryer is ideal for difficult drying processes that involve drying, mixing, milling, granulation, evaporation and/or crystallization. Since the product area is completely contained, this product is appropriate for pharmaceutical intermediates and fine chemical applications.
Universal Dryer Features
The Universal Dryer features a horizontal construction with an integrated agitator/chopper system and full-area heating. A hydraulic, encased drive for the agitator and chopper ensure a consistently high torque. The hinged front door, which can be quickly and easily opened for inspection, provides access to the entire diameter of the cylinder.
Universal Dryer Advantages
The dryer can even be filled between 20-90% of total capacity and still retain optimal agitation, mixing and drying performance. Even with low rotational speeds allowing the dryer to be filled between 20-90% of total capacity and still retain optimal agitation, mixing and drying performance.


Universal Dryer Specifications
Volumes from 50 to 8,000 liters
Heating surface areas from 1.2 to 29.6 m²
Options
Spray assembly on agitator for gas/liquid introduction
Addition of fixed stator to agitator systems for decreased particle size of product.
Back to top
---
Pan Dryer Product Description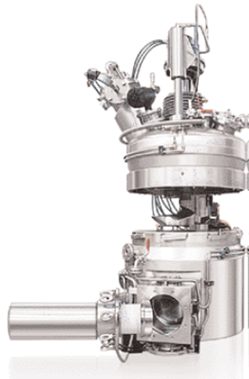 Based on the well established and proven Filter/Dryer technology, agitated pan dryers are differentiated by their heated flat bottom plate that effectively enlarges the heating area of the vessel.
Pan Dryer Applications
It is specifically designed for the batch drying of solids and uses a unique "vortex" mixing action for improved drying performance.
Pan Dryer Features
Available with top or bottom entry-drive technology, the pan dryer comes equipped with a speed-controlled, heated agitator that facilitates short drying times. The pan dryer also features a side discharge valve that enables simple emptying. As with the spherical dryer, the mechanical seal of the pan dryer is also advantageously located outside of the product area. The axial motion of the agitator is sealed by metal bellows, as with the Filter/Dryer.


Pan Dryer Advantages
The minimal agitator to wall clearance keeps the wall free from product crust.
The pan bottom can be easily lowered for fast cleaning (CIP/WIP and SIP) and inspection.
Pan Dryer Specifications
Volumes from 100 to 7500 liters
Back to top
---
SR Series Product Description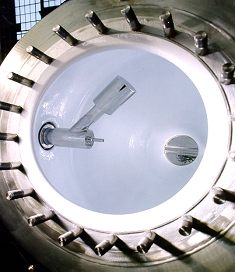 The SR series glass-lined steel rotary dryer/blender combines the drying and mixing function in one simple and stable device. The rotation of the double cone allows the product to be mixed and dried without an internal agitator.
SR Series Applications
The design is suited for processing easily flowing, corrosive products for drying, mixing or concentrating pharmaceuticals, dyes, pigments, synthetic resins, etc.
SR Series Features
The standard supply is as follows:

Carbon steel inner vessel lined with 3009 glass.
Charging and discharging nozzles.
EasyLift™ Manway Assist with GasketSav'r™ and PTFE-lined and bonded protection ring for the charging nozzle cover.
Steel conventional jacket welded to the inner vessel, including all nozzles necessary for heating.
Two support structures forming a mono-block assembly, each equipped with double-row self-aligning roller bearings:

The drive side is fitted with a rotary union to feed the heating medium. It also houses the drive assembly consisting of a spur gear drive, motor break and inverter duty explosion proof motor.
The vacuum side support is fitted with a Hastelloy C vacuum tube. The vacuum tube is sealed by means of a mechanical seal with PTFE bellows and ceramic seat. The vacuum tube also houses a thermowell.
SR Series Advantages
The operation and maintenance costs are very low. In many cases, it is possible to reduce batch time.


SR Series Specifications
Volumes from 100 to 7,220 liters (30 to 1,900 gallons) or 12.5 to 203 ft² of heating area.
Pressures from full vacuum to 90 psig
Options
Stainless steel or glass-lined steel construction
Additional charging nozzles
Butterfly valves on charging and discharging nozzles
Various designs and material of construction for the vacuum tube
RTD temperature sensor cartridge
Nitrogen or gas inlet pipe
Special support systems
Adjustable lump breakers (choppers) for materials that tend to become lumpy
Insulation and special coating
Heated cover to prevent condensation
"Clean room" version with minimized dead zones and remote control for filling, emptying and cleaning functions.
Back to top
---
Product Description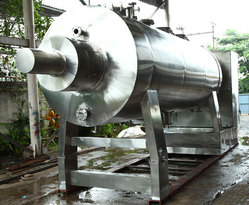 The rotary vacuum paddle dryer (RVPD) is a complete drying system used to obtain dry powder from wet cake or solutions. The drying operation is generally a batch process and is often carried out under vacuum. The product is heated through direct contact with the heated vessel and agitator surfaces. The heating of the dryer can be accomplished by use of steam or adequate heat transfer fluid.
Paddle Dryer Applications
In addition to standard batch drying applications, the paddle dryer can also be used for:
Low temperature drying
Reaction
Crystallization
Extraction of useful liquids
Recovery of solvents
Paddle Dryer Features
The RVPD is adequately designed to counter stresses developed by vacuum and temperature cycles in the various heated parts. The standard design of the paddle dryer system includes a dust filter, condenser, receiver and vacuum pump. Other features include:
Hollow shaft and paddles
The hollow rotating agitator shaft imparts heat to the product, scrapes the shell wall, tumbles the product for maximum heat transfer and discharges product when required.

Discharge Valve
User friendly design provides vacuum tight closing when the material is processed and quick opening facilitates filling of bags when material is discharged and packed.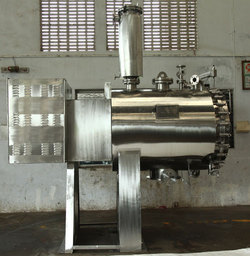 A pharmaceutical design is also available for GMP compliance with additional features, including:
Full door opening for ease of operation, cleaning, inspection, and validation.
Mechanical Seal to avoid product contamination.
Clean area installation with stainless steel partition wall between the process area and the drives.
Machined and mirror polished inside surfaces with PTFE Scrapers.
Sterile Operation
Paddle Dryer Advantages
Versatile in process applications
High energy efficiency
Low operating costs compared to other types of dryers.
Large heat transfer area available on paddles and shaft give maximum heat transfer rates.
The scrapers have minimum calculated clearance from the shell to keep the shell clean and increase the heat transfer co-efficient.
Product Specifications
Stainless steel or Hastelloy construction
Designed as per ASME Pressure Vessel Code
25 to 60,000 liters capacity
Up to 200 Hp designs
See Technical Table for additional information