De Dietrich Glass-Lined Reactors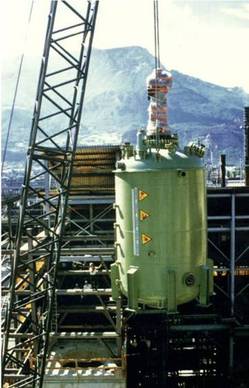 De Dietrich glass-lined reactors have been at the heart of chemical operations for over a century. These are robustly designed and manufactured to stand up to very harsh environments. The (typically) carbon-steel shell is designed and built to ASME code and then lined internally with our proprietary 3009 Glass. After the glassing operation is complete, the external jacket (HemiCoil) is attached, the reactor is pressure tested, painted and assembled for shipment. Glass-lined reactors are either custom fabricated or built to industry standards. Learn more about the internal components of glass-lined steel reactors and the advantages of this construction.
The models available include:

CTJ Series - clamped or flanged-top reactors designed with a removable top head for today's cleanability demands.

GL Series- closed-welded reactors without a large main opening to maximize top head strength and allow for higher pressure ratings.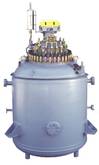 SA Series- rugged, heavyweight reactors with large top head main cover that allows for installation and removal of one-piece agitators.

OptiMix®
- a patented reactor design that optimizes the mixing performance of glass-lined reactors by integrating three baffles on the vessel wall.

Lab Reactors - combines the quality and strength of production sized DDPS reactors in a small-scale laboratory design

Glass-lined steel tanks are also available for corrosion resistant chemical storage.
Additionally, DDPS carries a accessories and instrumentation to complement your reactor.
Not sure which model reactor is best for your process? Review our Glass-Lined Steel Reactor Comparison Chart for more information, then click on the "Spec a Reactor" link below to design your own and submit for a quote:
Glass-Lined Reactor Comparison Chart
| | | | | | |
| --- | --- | --- | --- | --- | --- |
| | CTJ | GL | SA | | Lab Reactor |
| Main Feature | Clamped-topped | Closed-welded | Large top head main cover | Wall-mounted baffle system in CTJ or GL design | Laboratory/scale-up size complete with insulation and sheathing |
| Advantages | Easy entry facilitates cleanability | Top head strength enables higher internal pressure rating, eliminates need for gaskets, more room for additional nozzles | Opening enables use of one-piece agitators, narrow annulus jacket spacing enables quick heat up and cool down | Improved CIP efficiency, enhanced heat transfer and mixing, frees up nozzles for other use, reduces shaft deflection and extends seal life by minimizing the bending loads on the agitator shaft. | Easy to operate, allows for scale up work in same environment as full size DDPS reactor, emptying mechanism enables cleanability |
| Standard Agitator | Pitch blade turbine or retreat curve impeller | Glas-Lock Agitator with removable blades | Retreat curve impeller or GlasLock agitator with removable blades | See CTJ/GL | Turbine |
| Drive | Vertically mounted variable or fixed speed | Vertically mounted fixed speed | Vertically mounted fixed speed | Vertically mounted fixed speed | Variable speed |
| Internal Pressure | 90/150 psig (6/10 bar) | 130 psig (8.7 bar) | 100 psig (6.7 bar) | 90/150 psig (6/10 bar) | 580 psig |
| Internal Vacuum | Full | Full | Full | Full | Full |
| Temperature (Max.) | 500°F (260ºC) | 500°F (260ºC) | 500°F (260ºC) | 500°F (260ºC) | 482°F (250ºC) |
| Temperature (Min.) | -20°F (-30ºC) | -20°F (-30ºC) | -20°F (-30ºC) | -20°F (-30ºC) | -20°F (-30ºC) |
| Volume | 2 to 2000 gal | 300 to 10,000 gal | 300 to 25,000 gal | 30 to 2,000 gal (CTJ) / 300 to 10,000 (GL) | 6.3 liters |