Peripheral Equipment for Engineered Systems
Through the integration of peripheral equipment with our core products, your system can be completely customizable based on the specifications of your process. Some of the auxiliary equipment available include:
cGMP Design
Feed, Sampling, & Product Storage/Transfer System
Distillation, Phase Separation, & Filtration Apparatus
Instrumentation
Controls and Automation
Solvent Recovery and Pollution Control (Exhaust Scrubbers)

Portable Carts
Dosing Carts - PDF - used to pump process liquids into a reactor or process vessel in a controlled fashion.
Vacuum Carts - PDF - used to control the vacuum level in a reactor or process vessel.
---



DDPS' solution to your CIP or WIP requirements takes advantage of our decades of expertise in design & construction of GLS & Glass equipment. We fully understand the variety of challenges that come into play when designing CIP/WIP for our equipment, such as installation, material of construction, and inspection. Our engineered solutions range from consulting to fully automated systems.

Contact our Engineered Systems group to discuss your application.

1. Removable Fluoropolymer WIP spray head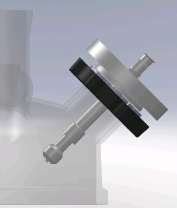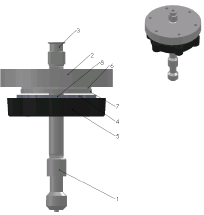 2.QVF Glass vessel undergoing CIP testing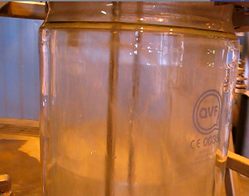 3. De Dietrich Glass-Lined Reactor with permanent Hastelloy C-22 spray system (after riboflavin test)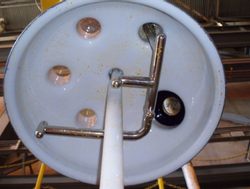 4. CIP system for Rosenmund Filter Dryer powder discharge connection/ interface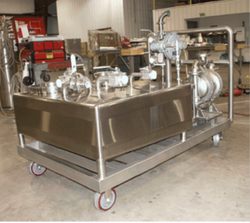 ---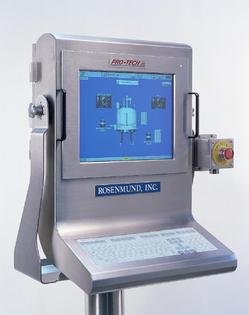 De Dietrich Process Systems offers complete process control systems capable of operating batch reactors, filter-dryers, vacuum systems, heat transfer packages, and the other process operations and downstream equipment. Through the utilization of our in-house expertise and experience, DDPS can provide cost-effective, safe, user-friendly, fully tested and documented control systems.
Key to DDPS' control systems is the flexibility to integrate the system into customer existing platforms or plant standards. Some components of a typical offering are:
Control Systems: PLC, DCS, & PC based.
Engineering, Programming, and Documentation
Control Panels & Operator Interfaces approved for Hazardous Locations
Validation Assistance Packages
Integration with Plant Control Systems & Equipment
Start-Up, Commissioning, & Training On-Site
---
Director Series Product Description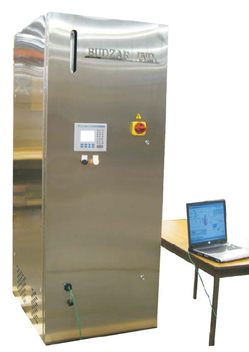 The Director Series Temperature Control Module delivers full temperature control with unmatched
reliability.


Director Series Applications
The Director Series Temperature Control Units is ideal for all Jacketed Vessel applications including: Product Mixings, Chemical Reactions, Batch Distillations, Crystallizations, Liquid/Liquid Extractions, Polymerizations, Solids Dissolutions, Jacketed Blenders, Dryers and Extruders.


Director Series Features
The Temperature Control unit features the exclusive use of quality equipment, including:


Speck Magnetic Drive Seal-Less Pump
Copeland Hermetic Scroll Compressor
Partlow Temperature Indicating Controller with Carel Single Input PLC with Auto-Tune Feature
A.S.M.E. Coded Single-Circuit Stainless Steel Brazed Plate Style Evaporator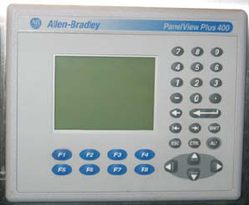 The control system for the Director Series TCM utilizes a CompactLogix L31 PLC. The I/O hardware is local to the system, and powered from system. The operator interface, PanelView Plus 400 series
communicates with the processor via DF1 protocol using a serial cable.

The standard design also features:


Single Loop or Cascade Control with General Duty or Explosion Proof Classification
Stainless Steel Construction
Electric Immersion Heaters rated from 6 to 160kW, low watt density design, flange mounted
Suction Discharge Service Valves, Crank Case Heater
Jacket Delivery Pressure Control
Operates at elevated temperature with crankcase regulator
½"NPT or later water connections located on same side as process connections
Expansion Valve, Liquid Line Solenoid and Shut-Off Valve
Sight Glass/Moisture Indicator, Core-Type Filter/Dryer
Electronic Modulating Hot Gas By-Pass
Director Series Advantages
Each unit is designed to maximize the productivity of your process.
Environmentally friendly refrigerant.
PLC Control, Data Logging & Trending Software, Self Tuning for Accuracy ±1°C
VFD adjusts flow and automatically manages supply pressure
Director Series Specifications
Temperature range from -110ºF (-80ºC) to 545ºF (285ºC)
Available in sizes for 20 liters to 500 gallon reactors



** psi calculated @ 68ºF (20°C)
* Optional feature
***Compressor capacity
Compensate for ambient losses and pump motor added heat


Options
Optional PC Control, Data Logging & Trending Screens