Vessel Mounted Samplers
Vessel Mounted Sampler Product Description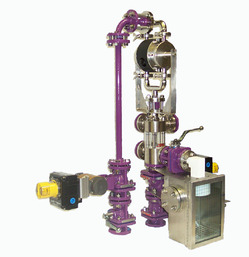 The Vessel Sampling System (VM 100) allows samples to be taken from a dip pipe mounted at the top of a vessel. The three main versions differ based on their size and method of drawing the sample up the dip pipe.
Vessel Mounted Sampler Applications
The vessel sampling systems are ideal for the sampling of batch processing within reactors or storage vessels holding intermediate product or bulk chemicals.
Vessel Mounted Sampler Features
Vessel samplers can be supplied with all wetted parts manufactured from stainless steel or PTFE/PFA-lined components for corrosive media. Our vessel mounted sampling systems are varied in their construction and often designed to meet certain specific requirements of the customers existing plant. The sample can be drawn up the dip pipe using site vacuum, eductor, recirculating pump or pressure within the vessel.
Vessel Mounted Sampler Specifications
Temperature range up to 350ºF (180ºC)
Pressure up to 150 psig (10 bar)
Options
The three main types of vessel mounted sampling systems offered by DDPS are:
Vessel Mounted Single Sampling System
Compact Recirculation Sampling System
---
Single Sampling System Product Description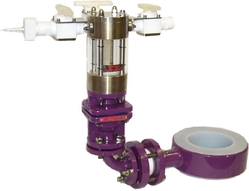 Sample is drawn from vessel up dip pipe using site vacuum. Sampler is cleared by nitrogen purge and / or wash liquor.
Single Sampling System Features
PTFE / PFA lined components for use with corrosive medias
Stainless steel for non corrosive applications
Many different sight glass volumes
Floating hollow PTFE ball acting as non return sight glass
Robust Aromac PFA lined valve for long service
Spare flange connection for future upgrade
Manifolds are PFA lined stainless steel with flanged connections - so are very robust
Single Sampling System Specifications
Standard design rated to 350ºF (180ºC) at 150 psig (10 bar)
Options
Cabinets can be fitted to any sampler
Wide range of materials of construction available
Catchpots can be integrated
---
Compact Recirculating Sampling System Product Description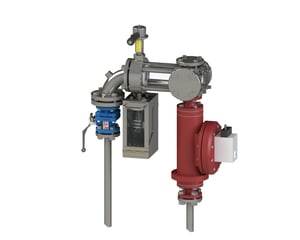 This sampling system was engineered specifically for plant areas with minimal space. The compact design is safe, accessible and easy for the operator to use. All components are stainless steel or nickel coated for external protection and cleanliness. The standard design includes:
In-line sampling device with self draining flow path
Air operated diaphragm pump
Elbow bulls eye sight glass with instrumentation port
Inlet isolation valve with flush/purge port above
180 degree easy access sample cabinet for sample bottle with bunded base and ventilation
Continuously lined dip pipe with integral return flow instrument tee
Return flow isolation valve
Return flow PTFE hose
Compact Recirculating Sampling System Advantages
Recirculating system with no dead legs or areas for product hang up to ensure the sample is representative of the vessel contents
Angled flow path through valve to ensure fully self-draining
Reduced space envelope design
Safety cabinet with 180 degree access designed for ease of operator use and secondary containment in case of bottle failure
Bulls Eye sight glass to see the sample
Location port for probes and other instrumentation
Flush system for complete cleaning between samples to avoid cross-contamination
---
Recirculating Sampling System Product Description
Designed to be mounted to a reactor dip pipe
Sample can be discharged back into the vessel either through a separate nozzle or as shown here through an instrument tee back around the outside of the dip pipe.
Diaphragm pump firstly creates vacuum to draw sample up dip pipe and then recirculates it through the system.
Recirculating Sampling System Features
All wetted parts PTFE / PFA / Borosilicate glass - No metallic wetted parts used.
Sample dispensing valve of globe type allowing no product hold up cw spring return safety handle.
Robust PFA lined flanged manifold ports for nitrogen and wash introduction.
Top manifold has spare top connection to allow future upgrade for fitment of pH probe, pressure gauge etc.
Integral stainless steel safety cabinet housing bottle adaptor.
Recirculating Sampling System Advantages
Offers full representative sampling.
Atomac PFA lined valves used for isolation are extremely robust and offer large bores for use with slurries.
Options
All valves can be automated.