Equipment Refurbishment and Upgrades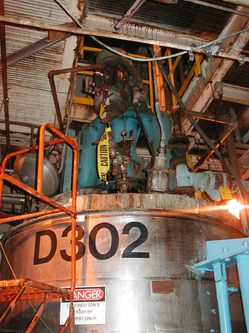 An emerging trend in process solutions is finding new ways to maximize profits through green initiatives. DDPS' capability to refurbish equipment - from individual products to entire systems – proves to be a valuable option to reduce expenditures and implement environmentally friendly operations. We can help you optimize all aspects of your process and get the most out of your equipment.
Refurbished equipment refers to the renovation and upgrade of old, out-dated, or minimally defective equipment. DDPS can take your equipment and perform various repairs, part replacement, reassembly and upgrades while completely maintaining or enhancing the original identity and functionality and meeting or exceeding the original performance specifications. In addition to the cost benefits of revamping equipment , there are also a number of benefits for any company looking to reduce their carbon footprint.
DDPS refurbished equipment and systems is remanufactured and certified to "like-new" condition and offers the same performance, quality, warranty, and support as new equipment. Refurbished equipment advantages include:
Significant cost savings compared to new equipment prices
Remanufactured, upgraded, tested, and certified to DDPS specifications
Increased energy efficiency resulting in production cost savings
Environmental friendlier process
Improved containment
Improved product quality
Improved cleanability/CIP (optional)
Increased machine productivity
Ability to change product for multi-purpose operations
Updated safety and environmental requirements
Updated validation and documentation
Reduction in production downtime caused by purchase and installation of a new machine
Refurbishments include, but are not limited to:
Reconfiguration of equipment layout
Repair/replacement of worn and damaged components
Cleaning of salvageable existing equipment
Modified agitation system
New structures and support
Optional upgrades can include:
Insulation and sheathing
Durapack column internals
Customized overheads
GMP design
For additional information on equipment and system refurbishment specific to our glass-lined steel product line visit our reglassing and jacket cleaning service pages.