Pipes, Fittings and Hardware
In addition to reactors, DDPS offers a range of piping in glass-lined steel or solid borosilicate glass construction, giving the optimum properties of mechanical resistance and an excellent resistance to corrosion. Select from straight pipes, elbows, reducers, tees, crosses, flanges, and other components to create pipeline that customized to fit your process.
Glass-Lined Pipe and Pipeline Components
Glass Pipe and Pipeline Components - QVF SUPRA Line
---
Glass-Lined Pipe Product Description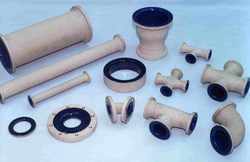 To control corrosion, preserve product purity and ensure easy cleaning and smooth flow, De Dietrich glass-lined pipe and fittings provide a "full circle" of protection.


Glass-Lined Pipe Applications
The superior De Dietrich acid/alkali resistant glass coating is suitable for most process materials.


Glass-Lined Pipe Features
De Dietrich glass-lined pipe and fittings are made with the same care and workmanship used on all our equipment. All pipe and fittings are made from low carbon seamless steel pipe with forged-steel stub ends. Blind flanges and spacers are also of steel construction. All pipe is made to order. De Dietrich glass-lined pipes are supplied with loose split flanges. The glass lining covers the inner wall and stub end faces.


Glass-Lined Pipe Advantages
Broad range of corrosion resistance
Non-permeable lining. No problem when handling chemicals that can permeate fluoropolymer piping, attacking the steel substrate and contaminating the lining
Tough glass lining not subject to "liner collapse due to full vacuum at high temperatures
Smooth "non-stick" lining provides a very low coefficient of friction, making it ideal for handling sticky, viscous products that could adhere to other linings
Glass-lined steel pipe and fittings will not effect the purity, color or flavor of your product
Glass-Lined Pipe Specifications
Diameters from 1 1/2" to 8"
Lengths up to 196"
Suitable for 150 psig (10 bar) maximum allowable working pressure (MAWP)
Options
Sight boxes
Jacketed and unjacketed pipe
Larger sizes upon request
Back to top
---
QVF SUPRA-Line Component System
The QVF SUPRA-Line component system reflects the continued evolution of our borosilicate glass range of products. This latest development results in a complete system of borosilicate glass products that are compatible with both the former KF and WPR systems.
Key Features
Better visibility of processes inside the system.
Compatibility with existing systems, which allows additions onto systems already in use.
Increased Safety – including higher pressure/temperature ratings and engineered flanges and connections.
Improved Design – including new patent pending spring elements, a simplified grounding method, cleaner valve designs, and much more.
Download the QVF SUPRA-Lined Catalog
NEW!! DDPS now offers glass repair. Read our news post for more information.