Baffles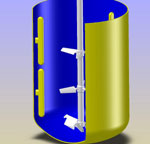 Baffles are one of the most important components in mixing. The installation of baffles in a vessel aid in breaking the rotation of the liquid and eliminate the formation of the vortex caused by high impeller speeds. The use of baffles overcomes the additional problem of air entrapment, resulting in better top-to-bottom circulation. DDPS keeps many sizes stocked for quick delivery. Types of baffles offered include:

OptiMix Baffles

BeaverTail Flange-Mounted Baffles

Combination Dip Pip/Baffle

Sampling Baffle


---
OptiMix Product Description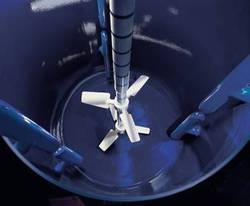 OptiMix is a patented baffle design that optimizes the mixing performance of glass-lined reactors by integrating three baffles on the vessel wall.
OptiMix Features
OptiMix baffles are lined with 3009 glass for superior corrosion resistance. OptiMix baffles are also available in QVF borosilicate glass reactor designs.


OptiMix Advantages
Improved CIP efficiency by eliminating the difficult to clean top head pocket at the baffle/nozzle interface.
Vortexing and splashing are significantly reduced, resulting in less product drying and sticking to the heated wall above the liquid surface.
Design enhances heat transfer, solids suspension and distribution, gas dispersion, gas flow rates, and mass transfer through improved mixing.
Eliminates the need for top entry baffles, freeing up an additional nozzle for process use.
The symmetrical baffling of the OptiMix reactor reduces shaft deflection and extends seal life by minimizing the bending loads that are imposed on the agitator shaft.
OptiMix Specifications
Sized to fit vessels from 30 gallons
Pressures from full vacuum to 90/150 psig
Temperatures from -20°F to 500°F
Options
Adding OptiMix baffles to existing equipment during reglassing
---
BeaverTail Baffle Product Description

The high performance, flange-mounted BeaverTail baffle features no-entry installation and removal. The flange-mounted design reduces the possibility of leaks through gaskets or packing, since only one gasket is required for a seal.
BeaverTail Baffle Features
Our UniTip Type DR temperature sensor is standard on all BeaverTail Baffles.


BeaverTail Baffle Advantages
DDPS tests show performance of the BeaverTail baffle is superior to finger baffles and equivalent to "h"-style baffles at any liquid level. At liquid levels one-quarter full or less, BeaverTail baffle performs far superior to any of these older configurations. Additional advantages include:

No special maintenance (e.g. no stuffing box to pack, no packing to tighten and replace)
Absence of packing eliminates the possibility of product contamination that is prevalent in traditional installations
Fits on one of the standard reactor nozzles for easy installation
BeaverTail Baffle Specifications
Sized to fit vessels from 200 to 30,000 gallons
Headroom approximately equal to the length of the baffle is required for installation
---
Dip Pipe/Baffle Product Description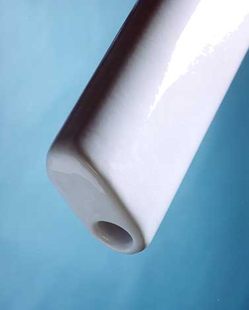 The innovative combination dip pipe/baffle provides three functions in one piece of equipment. Baffling, sampling,and temperature measurement can all be performed from a single nozzle, freeing up additional nozzles for other process piping.
Baffling -The BeaverTail Baffle design creates a superior mixing environment even in the most demanding process conditions. It surpasses finger baffle performance at any liquid level.
Sampling - The dip pipe portion of the baffle enables samples to be taken during vessel operation, eliminating the hassle of having to stop production to obtain samples. In addition, when samples are taken during the mixing process, a more accurate specimen can be captured.
Temperature Measurement - A DDPS SVR removable cartridge type temperature sensor (100Ω RTD) is optional and housed in the left tube. Because there is no metal thermowell or gasket exposed, maintenance is stress free. The temperature sensor can be removed or replaced while the vessel is still in service.
Dip Pipe/Baffle Features
The dip pipe/baffle is flange-mounted for easy and inexpensive installation without having to enter the vessel and cause unwanted delays in production. Completely lined with DDPS 3009 glass, the unit has optimum corrosion resistance and meets cGMP requirements for cleaning.
Installation requires an 8" nozzle or larger. A bellows, expansion joint or flexible hose must be used in conjunction with the dip pipe/baffle to compensate for the thermal expansion of the inner pipe.
Options
Materials of construction including glass-lined, PTFE, Halar lined, Hastelloy, other alloy construction
---
Sampling Baffle Product Description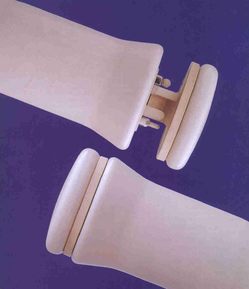 The sampling baffle allows several functions in one nozzle – baffling, sampling, temperature measurement, and process measurement. Sample can be taken under any process conditions – full vacuum, high pressure, or at boiling point
Sampling Baffle Applications
The ability to take a truly representative sample with no need to depressurize the vessel or lose the inert atmosphere makes this product ideal for chemical and pharmaceutical processes where contamination is usually an issue during sampling.
Sampling Baffle Advantages
The sampling baffle can effectively reduce batch time and cost by significantly reducing sampling time (sample can be taken and rinsed clean in under 3 minutes), leaving to higher productivity and product yield.
Sampling Baffle Specifications
Installation on nozzle sizes from 2" to 12"
Vessel volumes from 20 to 10,000 gallons
Options
pH, conductivity or ORP measurement
Back to top