Glass and Glass-Lined Steel Columns
Click here to see our new brochure.
Click here

for more information on distillation overheads for reactor systems.
Columns are complex units that combine many structural elements. The two main types of columns are tray columns and packed columns, the latter equipped with either random or structured packing. Different types of distillation columns are used for different processes, depending on factors such as the desired liquid holdup, capacity (flow rates), and pressure drop. De Dietrich Process Systems offers columns in two materials of construction:
Don't want to submit a form online? Download our Column Internals Questionnaire eForm and submit to lennis.perez@ddpsinc.com
---
Glass-Lined Steel Column Product Description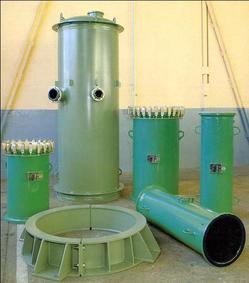 DDPS has long history and experience in designing column systems to meet individual requirements. Our columns are manufactured to handle the toughest applications. In addition to the standard assemblies, DDPS can also fabricate special designs for customer's specific process requirements, including special conical, eccentric, stepped and angled column sections.
Glass-Lined Steel Column Features
Clamps, gaskets, split flanges and bolting are all supplied with a complete column system.
Glass-Lined Steel Column Specifications
Diameters from 6" (150 mm) to 84" (2130 mm)
Lengths up to 236" (6000 mm)
Options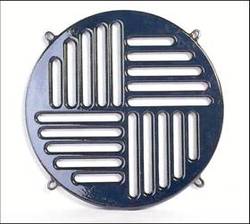 Glass-lined support plates (donut, perforated, slotted)
Conventional or HemiCoil® jackets
Insulation support rings
Stainless steel clamps, flanges, or bolting
Special gaskets (e.g., thicker, channel cut, U-cut, Monel inserts, etc.)
Concentric or eccentric reducers/expanders
Davited manway covers
Supports – side lugs, removable rings, or support skirts
Back to top
---
Glass Column Product Description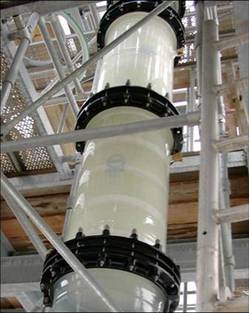 Borosilicate glass columns have been used successfully for many years in the field of distillation operations mainly for the benefits of its anti-corrosive and transparent material of construction.
Glass Column Features
Glass distillation columns are normally filled with packing materials made of borosilicate glass, but other packing materials can also be supplied. Cooling arrangements for the distillate can use either shell and tube or coil type heat exchangers.
Glass Column Specifications
Diameters from 3" (80 mm) to 40" (1000 mm)
Heights up to 100 ft (30 meters)
Operate at atmospheric pressure or at high vacuum
Options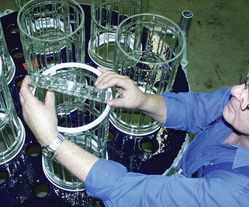 Durapack - a structured glass packing with outstanding separation properties, ideal for processes that require no metal.
Core-Tray support - provides a solution for the problem of metal-free support trays with a large free cross-section of 120%.
Liquid feeds based on the same Core-Tray design principle are also available.
Liquid collectors
Redistributors
Automatic control system
Reboiler vessels
Condensers
Boilers
Coolers
Reflux separators and timers
Packing
Examples of Distillation Overheads for Production
Click here for more information on reactor overheads.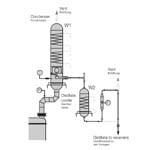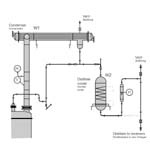 Distillation top with shell and




tube heat exchanger and




external reflux separator for




vessels above 630 liters.

Distillation top with shell and




tube heat exchanger and




external reflux separator for




vessels above 630 liters.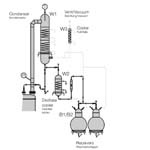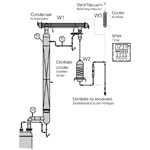 | | |
| --- | --- |
| Falling condensation in the vacuum with receivers. | Distillation columns with controlled reflux condition for concentration with random packing or DURAPACK |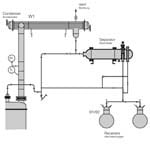 | | |
| --- | --- |
| Distillation top with phase separator for azeotrope mixture. Optional interconnection of phases. | |