12 Critical Do's and Don'ts for Glass-Lined Equipment (Part 1)
Jennifer Mayo
|
May 30, 2013
|
3 minute read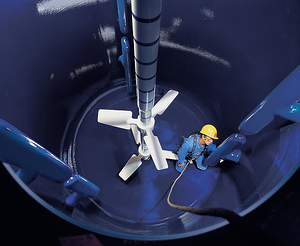 Glass-lined equipment has served as a workhorse for some of the most challenging applications for over 50 years. Its nearly-universal chemical compatibility and time-tested designs result in equipment lasting for years, even decades. Even so, there are a lot of misconceptions and common mistakes that users make that can lead to premature failure However, if you follow the best practices below, you can ensure you don't inadvertently reduce the life of your equipment for a reason that could have been easily prevented.
1. Make sure you use plastic or PTFE-lined tools to ensure safety of the glass-lining
DON'T use any glass or metallic instruments during operation or maintenance of the vessel
This mistake is easy to make and also simple to avoid. Obtaining hand samples through the manway, scraping product build-up off vessel walls, and cleaning debris around the bottom outlet nozzle are all examples of regularly scheduled services and tests that your vessel may go through on a regular basis. As quick and careful as you may be, it is always safest to use products that won't damage the glass lining. Plastic and PTFE-lined tools are the way to go.
2. Make sure you inspect new equipment and check accessories upon arrival
DON'T assume your equipment arrives in perfect condition
While DDPS follows rigid guidelines for manufacturing, packaging and shipping your order, there are unexpected things that can happen between the time your equipment leaves our facility and gets to yours. In the rare instance that damage does occur in transit, it's important to document this immediately and contact us to rectify the situation. Upon arrival, a full inspection of the interior and exterior of the equipment should be performed to confirm its condition. This tip applies to every shipment you ever receive – always check the condition of the product!
3. Make sure you are aware of the design limitations of the unit in operation
DON'T operate equipment outside of the design conditions
Pressure and temperature ranges are assigned to each vessel manufactured and clearly labeled on the vessel nameplate. These design limits are based solely upon the steel pressure vessel only in accordance with the ASME code. It is crucial to the well-being of the equipment and the safety of the operating personnel that these ranges are adhered to at all times. Any deviance can result in significant damage to the equipment or serious personal injury. If your process requires extreme pressures or temperatures, you can contact us to talk about customized options available to find specialized equipment that exceeds standard limitations.
4. Make sure you wear clean, rubber-soled shoes when entering a vessel
DON'T have loose items in your pockets when leaning over a vessel
Glass-lined equipment requires a moderate dress code. It's essential to remove anything you have hanging around your pockets such as loose change, pens, and other metal objects that can cause minimal but significant damage to the glass lining upon accidental contact. For this reason, vessel inspectors should also take care to remove any jewelry such as watches or rings and wear the appropriate footwear. Also, when it comes to footwear, it is a good idea to have special shoes that haven't been worn for normal day-to-day activities. Small pebbles or other debris can get stuck in the treads of the shoes and scratch or otherwise damage the lining in the vessel.
5. Make sure you keep the vessel nameplate visible at all times
DON'T remove the vessel nameplate or cover it with paint or insulation
The nameplate of all De Dietrich glass-lined equipment contains the following information:
Manufacturers Identification Number (Serial Number)
National Board Registration Number
Vessel Design Pressure
Vessel Design Temperature Range
Vessel Capacity
Year Vessel Fabricated
Type of Glass Lining
It is important to keep the identity of the vessel prominent for insurance purposes and as a reference for future rework. As a safety measure, we recommend that all data on the nameplate be copied and stored with all other documents pertaining to the vessel. Replacement nameplates are available if they are lost or destroyed, however, an effort should be taken to keep the nameplate intact and in readable condition as replacements can be costly. Care should be taken to the exterior of the vessel so the nameplate doesn't rust off.
6. Make sure you contact DDPS if any modifications need to be made to your vessel that would require welding
DON'T weld components onto the equipment interior or exterior
Welding and glass surfaces are generally are not a good combination due to the risk of thermal shock; welding on a glass-lined piece of equipment will almost always cause glass damage. Any major modifications can be made to the vessel during reglassing, such as changing the nozzle sizes, adding a nozzle, or adding supports.
We recommend consulting our free eBulletin "Installation and Maintenance Manual for De Dietrich Glass-Lined Steel Equipment" for even more information about caring for your glass-lined equipment. And don't forget to check back next week for the conclusion of this article!