6 Benefits of Refurbishing your Filter-Dryer
Jennifer Mayo
|
December 11, 2014
|
5 minute read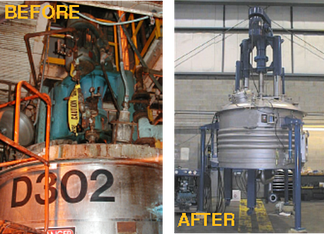 If you are a key decision maker in your company's budget, you most likely find yourself continually looking for ways to maintain a balance between procuring high quality filtration systems and managing equipment costs. There are certainly ways to cut corners and save money; the challenge is figuring out the right ways to do it without it negatively impacting your productivity and ultimately your bottom line. Since the purchase of new process equipment usually involves a significant expense (one that your company might not be willing to invest in when you need it), refurbished filter/dryers offer a practical alternative.
Refurbished equipment involves taking your existing equipment (or a piece of used equipment you've purchased) and revamping it to offset the effects of the wear and tear it has endured from years of service. The degree to which a machine is reconditioned can vary widely depending on who is performing the refurbishment and what guidelines they follow. A typical reconditioning includes replacing broken parts and upgrading various components to optimize your unit's performance.
Equipment reconditioning is a viable solution that is often overlooked due to misconceptions about product quality. Sometimes there is concern that the filter/dryer will not perform at peak efficiency, but the truth is this equipment option can help keep your daily operations running the same way new equipment would with some added advantages. Here we've outlined the top seven benefits of using reconditioned equipment in your process. includes replacing broken parts and upgrading various components to optimize your unit's performance.
1. Cost
They say money makes the world go round and in this case it's true - the primary benefit of purchasing refurbished equipment is cost. Typically you can save your company a great deal of money by electing to go this route over procuring new equipment. Depending on the filter/dryer, it may be possible to recondition two units for the same price as buying a new one, doubling your return on investment. The upgrades and repairs made to older filters and filter/dryers will extend their useful lives for many years, serving as an efficient way to expand your process while effectively managing capital budgets.
2. Quality
Refurbishing a filter/dryer can increase your machine's productivity by allowing you to add upgraded features that will help to improve product quality, containment, and CIP cleanability. That makes for a substantial improvement in the overall quality of the equipment. Many companies (like DDPS for example) offer the same warranty on refurbished filter/dryers as new units. This serves as a guarantee to you that the "like new" equipment you are receiving will run as you expect it to (make sure you ask your vendor about the warranty that is offered with the equipment and what exactly if covers). Furthermore, DDPS ensures the use of quality machinery, as our inspections are more thorough than the ones performed prior to a new purchase. Depending on your application, it can be important to have your reconditioned equipment certified to meet ANSI and OSHA standards, so make sure this is something you ask your vendor about. DDPS' refurbishment program tests the reconditioned filter/dryers to its new equipment standards, ensuring that the equipment is the same quality as a new unit coming off the production line.
3. Time
Time constraints can often preclude the purchase of a new machine. And when you are manufacturing a product that is of very high value, every day of down time can impact your profitability. Reinvigorating used equipment can save companies considerable time when they don't have the time available to have a new unit fabricated to their specifications and delivered by a deadline. It's a good time to find out about a vendor's reconditioning process so you can fully understand the scope of the work involved and make sure that the project can be completed in the anticipated time to ensure you get your process up and running on target.
4. Compliance
As manufacturing, health and safety, and environmental standards change and become updated, equipment that is in good working condition can sometimes need to be replaced or modernized in order to stay compliant with the current industry regulations. Additionally, your business' products can change, or new batch requirements added which create a need for multipurpose operations. Refurbishing allows companies to get more use out of their existing equipment by revamping only the parts that need to be updated, thus maximizing their investment. DDPS runs full validation on all refurbished units and provides thorough documentation, which can alleviate any potential compliance issues.
5. Environment
You're probably familiar with the phrase "Save a Tree" that reminds you to monitor your paper consumption. Well, reconditioning filters and filter/dryers is another great way to be environmentally friendly. Refurbishments are a green alternative to disposing of a large machine that still has life in it. Plus, it saves steel and other resources needed to manufacture a new unit.
6. Upgrades
Why buy a new unit when you can get the following bells and whistles added to your current system? Here are just a few of the types of upgrades available:
Rotary joints

Extended discharge package

Replace stuffing box with mechanical seal

Upgrade existing stuffing boxes

Upgrade lower bellows connection to welded design

Base-in-place hydraulic cylinders

External bellows and purge systems

Side discharge valve

CIP/Wash rings

Dust filter

Multi-layer filter media

Sample valves/pusher ports

Hydraulic power packs

Control systems
For more information about any of these upgrades, check out our Upgrades for Side Discharge Filters data sheet.
It is important to note that reconditioning is not always practical. Major structural damage or other problems may make repairs too costly. Also, there are some drawbacks to utilizing existing equipment, as you are somewhat limited in how much you can customize it for a specific application (alterations and upgrades can certainly be made but essentially you need to be able to live with somebody else's design decisions). A thorough refurbishment program should involve an initial inspection of all the visible components to assess if the filter/dryer is even a candidate for reconditioning. Upon passing the first inspection, a second, more detailed inspection is made that strips down the vessel and identifies all internal and external repairs that will need to be made. This data will allow you to make an informed decision about whether or not to proceed with the project.
Although shiny, brand-new equipment is pleasing to the eye and (usually) comes in perfect working order with minimal upfront maintenance costs, it's not always fiscally sensible. Refurbished equipment is an appealing alternative that allows businesses to keep their equipment for longer and affordably expand their operation, all while modernizing their filter/dryer's features and capabilities. If you are considering refurbishing a filter/dryer, consider important fundamentals first such as your budget, your intended application, and the years of usage you expect to get from the unit so that can assess if this is the right choice for you. The benefits we've identified regarding refurbished equipment are only as good as the vendor the supplies them, so it's important to do your homework. By defining your needs, researching your options, and investigating potential vendors, you can make an informed decision to find the solution to your filtration needs.
Through our Rosenmund Tech Center, DDPS offers a refurbishment program for filter/dryers that follows rigorous guidelines. This program is offered for existing, older equipment as well as second-hand equipment that a company may acquire from a used equipment dealer. The equipment is sent to our shop in Charlotte for a thorough inspection. During the inspection, the initial condition of the unit is fully documented along with a report recommending what parts need to be replaced or repaired. In addition, we suggest performance enhancing upgrades that can revamp the equipment to state-of-the-art technology. DDPS can even provide a warranty on the completed unit. The scope of the repairs can be small (replace a few worn out or missing components) to extensive (convert a center discharging machine to a side discharge). This refurbishment program is available for Rosenmund equipment as well as competitor's machines. To find out more about this program contact us online or call 908-317-2585.