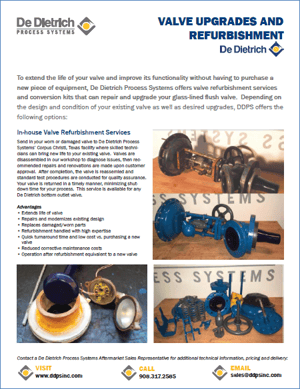 De Dietrich Process Systems recently published a new data sheet detailing the conversion kits available to upgrade your existing glass-lined bottom outlet valve.
Additionally, we offer refurbishment services that allow you to send your valve in for repair and upgrades. Upgrading and refurbishing your existing valve saves a considerable amount of time and money vs. purchasing a new valve. Some of the upgrades available include:
Conversion of standard actuator to high-pressure version
Replacement of stem link with pneumatic coupling
Read our new data sheet for more information or call 908-317-2585 to speak to a DDPS representative.