Glass-Lined Steel Sealing Challenges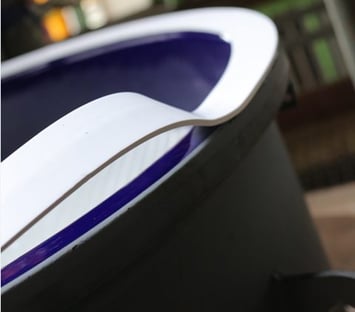 The composition and properties of glass-lined steel make it a desirable material of construction for processes that involve aggressive media that operate under rigorous conditions. Yet the harsh demands of this equipment can make it challenging to maintain a tight, lasting seal primarily due to limited gasket loads and deviation of sealing surfaces. Sealing difficulties become an even greater issue for large flanges. Envelope gaskets or filled PTFE gaskets that incorporate compressible materials are frequently used but only provide a partial solution. The inconsistency in quality of these gaskets may eventually lead to premature gasket failure, with consequences that range from problematic to catastrophic, including:
Leakage/emissions
Equipment damage
Production downtime
Risks to personnel safety
A High Performance Sealing Solution
GORE® Gasket Tape Series 1000 (S1000*) addresses all the challenges of reliably sealing large glass-lined steel flanges. Made of 100% ePTFE, this highly conformable tape is chemically inert, and highly resistant to creep, cold flow and clamp-force loss. Its proprietary barrier core maintains an extra tight seal even at low loads to minimize leakage and provide chemical protection across the full width.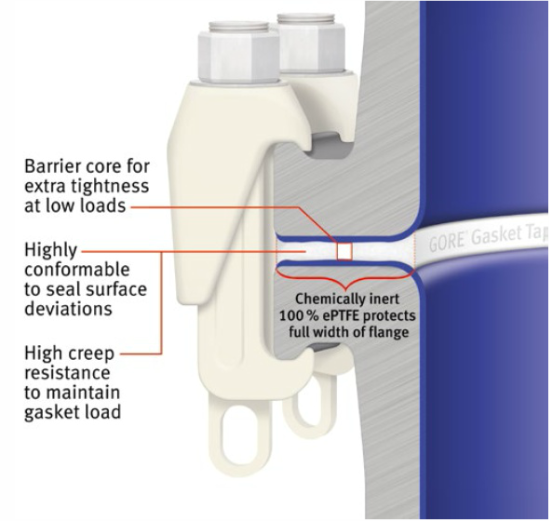 *GORE Gasket Tape S1000 is an upgrade and replacement to Gasket Tape S600 (download the Product Upgrade Flyer for more information).
Endorsed by De Dietrich Process Systems
Recommended for its superior performance and durability, GORE Gasket Tape S1000 is available through De Dietrich Process Systems. Our endorsement of this product means Gore Gasket Tape Series 1000 has been approved for use, specified in new equipment, and offers users the opportunity for technical and installation support.
How does GORE Gasket Tape S1000 Work?
The barrier core quickly creates a region of full density as load is applied (see diagram below). Therefore, even at relatively lower flange loading like in glass-lined steel, an optimized tightness can be achieved (more than 10 times tighter than other ePTFE gasket tapes).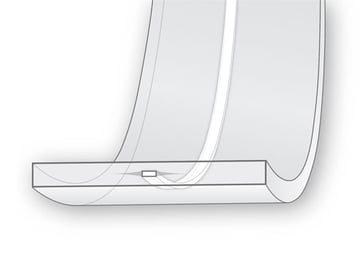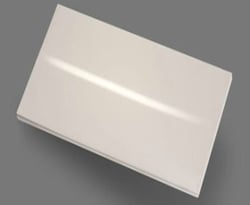 The photograph on the right shows a sample demonstrating the tight seal that is created at the full density region, made distinguishable by the translucent center line.
GORE Gasket Tape S1000 Applications
GORE Gasket Tape S1000 gasket tape is optimized for chemical processes utilizing highly aggressive media (e.g. specialty chemicals, agricultural products, polymers) and in mining and mineral applications. This gasket solution is designed for use in large (greater than DN600/24") or non-standard flanges typical of columns, mixer vessels, reactors, storage and receiver tanks.
GORE Gasket Tape S1000 Features
GORE Gasket Tape S1000 provides a reliable, long-term seal with outstanding conformability to deviations even at low gasket stress. Additional product attributes include:
Chemical resistant ePTFE construction ensures consistent quality and full chemical compatibility throughout the life of the gasket
Customizable on-site (skiving technique), with no hassles of offsite gasket fabrication compared to large envelope and filled PTFE gaskets (e.g. long lead times, shipping, handling and inventory challenges).
Ability to maintain load in operation (Creep resistance)
Crush resistance
Flexible tape for easy handling and installation, featuring adhesive backing that enables quick and easy installation to prevent troublesome and delayed start-up.
Tape lengths suitable to large flanges (>24" diameter)
Field Test Results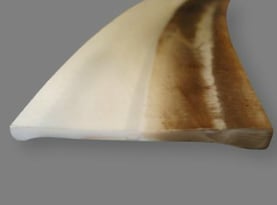 GORE Gasket Tape S1000 gasket tape has been put to the test in real, demanding work environments. The image on the right is a cross section of GORE Gasket Tape Series 1000 after service in challenging process conditions, illustrating how effectively the barrier core stops leakage. Further field experience shows that the barrier core creates a tight seal that even impedes highly permeating media. The following graph compares the leakage rate of GORE Gasket Tape S1000 with other ePTFE tape and gasket designs indicating that when put to the test, GORE Gasket Tape S1000 can easily pass the "bubble test" for trouble-free start-up.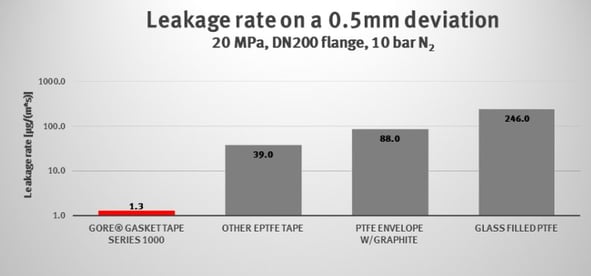 GORE Gasket Tape S1000 Technical Specifications
Material: 100% expanded polytetrafluoroethylene (ePTFE) with multidirectional strength.
Operating Range: The maximum applicable pressure and temperature depend mainly on the equipment and installation.

Typical Use:

from -60 °C to 230 °C (-76 °F to 445 °F ) ; industrial full vacuum1 to 10 bar (145 psi).

Maximum Use:

-269 °C to 315 °C (-452 °F to 600 °F ); full vacuum to 16 bar (230 psi) for flanges up to DN 2000/ASME 80".

Be aware that flange surface irregularities may cause high peak loads. Please contact us if further guidance is required.

For applications outside the typical use range, Gore recommends an application specific engineering design calculation and extra care during installation.

1) Absolute pressure of 1 mmHg(Torr) = 133 Pa = 1.33 mbar = 0.019 psi

Chemical Resistance: Chemical resistance to all media pH 0–14, except molten alkali metals and elemental fluorine.
Shelf Life: ePTFE is not subject to aging and can be stored indefinitely. To ensure optimal adhesive function, we recommend use within two years of date of purchase when stored under normal conditions. (The adhesive functions only as an installation aid. It doesn't affect the sealing performance)
Compliance: The Gore Sealant Technologies Quality Management System is certified in accordance with ISO 9001.
Sizes*:

All combinations of width, thickness, and length are available. Manufactured to metric dimensions. Shimming tape only available in above widths, 3 mm (1/8") thickness and 5 m (16') length.
*Choose tape width to be the same or wider than the width of the flange. Use 6 mm (1/4") tape for deviations up to 1.5 mm (0.060"); 9 mm (3/8") for up to 2.3 mm (0.090"). For greater deviations, consider shimming. Further details are available in the Installation Instructions.
Options
3 mm (1/8") shims for deviations out of recommended range.
Technical and installation support
See for yourself how quick and easy it is to install Gore Gasket Tape Series 1000:
GORE and designs are trademarks of W.L. Gore & Associates, Copyright © 2015 W.L. Gore & Associates, Inc.
Terms & Conditions: FOR INDUSTRIAL USE ONLY. Not for use in food, drug, cosmetic or medical device manufacturing, processing, or packaging operations.
All technical information and advice given here is based on Gore's previous experiences and/or test results. Gore gives this information to the best of its knowledge, but assumes no legal responsibility. Customers are asked to check the suitability and usability in the specific application, since the performance of the product can only be judged when all necessary operating data are available. The above information is subject to change and is not to be used for specification purposes. Gore's terms and conditions of sale apply to the sale of the products by Gore. GORE and designs are trademarks of W.L. Gore & Associates. © 2015 W.L. Gore & Associates GmbH