3 Ways Pneumatic Transfer can Increase Safety in your Workplace
Jennifer Mayo
|
October 8, 2015
|
3 minute read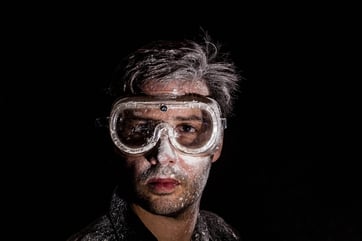 A safe and healthy work environment is a fundamental component to the success of any process that is operated in your facility. As a professional, protecting your employee's health and safety is a primary concern when you are considering powder handling equipment for your application.
Manually handling powder is a common practice used by countless companies across a wide range of industries. The lack of equipment needed and relative low cost to accomplish product transfer make this method quite popular even in today's most modern facilities. However, there are many serious problems from a health and safety perspective, primarily the increased risk of injury caused by the lifting, lugging, dumping and other strenuous tasks that are put on the operators. Additionally, powders that are manually dumped are prone to spills and will tend to create a significant amount of dust during the dumping procedure.
To ensure the highest level of worker safety and well-being, a safety engineer (or anyone in a similar position) is faced with the challenge of building and maintaining an efficient material transfer system while maximizing operator ergonomics and minimizing negative influences on the environment. The best way to achieve these objectives is to find a solution that reduces the contact of the product with the worker and the environment to the lowest possible level.
Pneumatic conveying via a closed system can help your process operate in a way that:
Promotes worksite health and employee well-being
Helps you to meet your environmental performance objectives
Minimizes adverse environmental impacts
all while efficiently, reliably, and safely transferring your powder from one location to another. Here are the benefits of pneumatic conveying regarding operator and environmental health and safety:
Improved Environmental Conditions
Regardless of your process being batch or continuous, the creation of a closed system is the surest way to keep your facility, employees, and product safe. By definition (with respect to chemistry), a closed system is "a system in which no reactants or product can escape" (see Wikipedia for more information about closed systems). Maintaining a dust-free environment is critical in many industries such as fine chemical, pharmaceutical, and food and beverage, which focus not only on keeping the personnel safe but keeping the product out of contact from external contamination.
For these reasons, pneumatic conveying is quite friendly when it comes to upholding a good housekeeping regime. Maintenance personnel and operators can appreciate a significant decrease in dust and powder spills. With the elimination of these unwanted exterior contaminants, there is no need to use expensive personal protective equipment (PPE). Your system will appreciate the improved cleanliness as well since the reduction of external corrosion can potentially extend the life of your equipment.
Better Ergonomics
Pneumatically transferring powder improves the overall well-being of the operator. It eliminates the risk of operator back injury caused by lifting heavy powder containers to manually dump powder. Subsequently, this technology also reduces the number of lost work days and absenteeism that are associated with injuries. There is also no risk of employee exposure to hazardous chemicals such as nitrogen and solvent vapors thanks to the closed system that is maintained during the process. And since powder charging can be done from a distance, operators don't need to get close to the reactor while it is running, further increasing safety.
Ability to Charge Powders Safely
Any time the term "without disrupting the process" is used, it can be equated with minimized downtime, and who doesn't want that for their process? Some pneumatic conveying systems provide the ability to charge powders without disrupting the process (i.e. without opening a manway) allowing you to not only save time but also to charge with the vessel under pressure or vacuum, as well as with solvents already in the vessel – and all while retaining an inert atmosphere. Transferring in this way also reduces static generation for considerable reduction in the risk of explosion. Although many applications involve nontoxic, non-explosive powders, pneumatic transfer enables the conveying of carcinogens, oxygen or skin sensitive and explosive powders safely. Whatever the type of material you have in your process, it's reassuring to know they can be moved in a secure manner.
The Powder Pump from De Dietrich Process Systems is a powder handling solution that eliminates the need to manually handle powders and minimizes potential hazards by using pneumatic conveying technology to create a dust-free, closed system that enables the transfer of raw, intermediate or finished products in a contained manner from a source of powder (e.g. big bag station) to a secondary piece of equipment (e.g. reactor). The ability to maintain an inert atmosphere within the process is beneficial for a number of health and safety-related reasons as well as the overall optimization of your process performance.
To find out about the other advantages pneumatic conveying offers over manual and mechanical transfer, download this data sheet. Or for more information about DDPS powder handling technology contact us online; or for a free assessment to see how the Powder Pump can be incorporated into your process fill out our Powder Handling Application Questionnaire.