5 Benefits of Modular Systems
Jennifer Mayo
|
May 19, 2017
|
4 minute read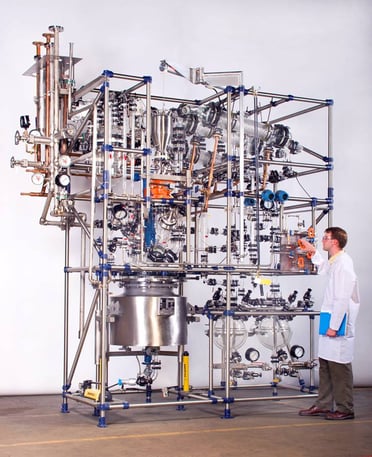 Modularization is an increasingly popular buzzword in the chemical processing industry, but what exactly does "going modular" mean and does it apply to every application? As with most things in life, it's on a case by case basis. There are certainly instances when good old fashioned stick building is the way to go. However, modular systems offer a lot of benefits. So many, in fact, that it is definitely something to consider for your next new project or expansion.
So what exactly is modular construction? Simply put, a modular system is a system that is completely prefabricated offsite, compactly mounted on a steel frame, and delivered to your facility where the modules are then reassembled. The only onsite installation involves the basic connecting of utilities and piping. This methodology exemplifies best practices of project planning and execution and offers profound benefits to project managers. (For any project managers reading this, that equates to "modular construction makes your life a lot easier"!) We've outlined the benefits here:
1. Single-Source Responsibility
With a one-stop shop, the manufacturer has the responsibility from designing, engineering, procuring, commissioning, constructing, validating, installing, start-up, and everything in between. Careful planning in the initial concept and design stages involves input from chemical, mechanical and electrical engineers as well as designers and project managers. By combining engineering and architectural design under one roof, you can avoid the headache of dealing with multiple contractors. This "soup to nuts" service takes the burden off you to solve any issues that arise during any of these phases because the onus is on the contracted company; they are responsible for owning the project and for outsourcing and managing any gaps in their expertise. When project ownership is taken on by one entity it eliminates the division of responsibility which can sometimes create delays when problems arise and someone needs to be held accountable (that's a diplomatic way of saying there's no finger pointing).
2. More Accurate Pricing
With traditional project quotes, rough estimates are provided because the vendor doesn't know the pricing they will receive from the various other suppliers that will be involved in the project. With modular construction, however, firm price proposals are easier to calculate because the scope of the work is more clearly defined and there are no unexpected costs or surprises that can arise from working with multiple vendors.
3. Improved Project Timeline
The stick-build approach, a term often used to describe a system that is built at the construction site rather than the factory site, takes considerably more time to complete. Shop construction, on the other hand, is typically much more efficient than building done in the field where schedules can be delayed by weather or other plant-site activities. Additionally, when fabrication takes place in a shop environment neighboring applications can maintain their productivity and won't face the unwanted downtime that can occur due to the interference of on-site construction.
Project timelines are also noticeably shortened, sometimes by as much as a few months, with the incorporation of pre-packaged system designs. Frequently, pre-designed modules can be used with some customization added to enable more customers to take advantage of these designs. Even with modifications added, standardized plans can greatly speed up your schedule. Furthermore, the ability to pretest the module in the shop prior to shipment speeds up plant start-up and commissioning onsite.
4. Quality Improvements
A controlled working environment with a knowledgeable, experienced workforce provides better overall product quality than when using an onsite labor force. Resources such as machines, tools, and materials that are needed throughout the building phase are not as freely accessible off site, which can potentially impact the efficiency of the labor and quality of the work being done. Depending on the location of the plant, installation can sometimes involve contractors who have little experience with specialty CPI equipment. This especially applies to facilities that are remotely located, where skilled and dependable labor for such specialized systems is in not readily available.
5. Cost Savings
All of the above benefits have something in common: they contribute to better efficiency which boils down to cost savings. Project execution is more concise when it is handled through one vendor; fixed prices reduce the risk of hidden variable costs surfacing; risks are minimized and schedules are improved when systems are shop-built with experienced, skilled labor. For these reasons, the modular design approach can lower overall project costs.
Things to Consider
While modular construction is becoming increasingly popular, it doesn't necessarily mean that every project is an ideal candidate. Factors to consider when determining if modularization is a viable solution for you include:
Size
Since modular construction offers a high level of flexibility, it can be beneficial in applications ranging from small skids to large-scale reactor systems. Chances are though, if you are dealing with 30,000 gallon tanks your project scale is simply too large. Pilot plants are an ideal size for modular construction, though smaller and larger pieces of equipment can certainly be considered.
Space
Modularization can help to fit lots of equipment in a small space. But if the space where your system will reside has considerable physical constraints and wouldn't allow for the modules to be transported and moved around to where they need to be, it's probably not your best option. There are certain hurdles, like big physical ones in the form of concrete walls or small doorways, that can't be overcome even with the cleverest engineering.
Prefabrication in a controlled environment proves to be the way to go when it comes to time, money, quality, and safety. Whether your main concerns are quality and safety (what they should be) or time and money (what they often end up being), modular design addresses all of these aspects of your project. DDPS can create a modular system design around any of our core pieces of equipment. Our modular systems include all the ancillary equipment, piping, instruments and controls which are built and assembled at our Corpus Christi, TX facility or at our shop in Charlotte, NC. Any infrastructure work, such as connecting utilities and piping, is completed onsite. For more information about our modular construction capabilities and our engineered systems services, watch this video or contact us: