How to Solve Some Common Problems Using the Powder Pump Technology
Jennifer Mayo
|
November 20, 2014
|
3 minute read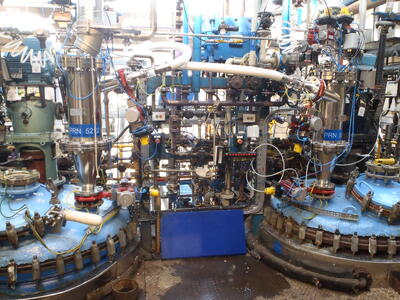 It is sometimes said that the best way to teach is by example. So what better way to present to you the benefits of the Powder Pump than by showing you some real life case studies that illustrate real customers in real industries with real processes solving real problems with really innovative solutions supplied by DDPS? OK, I know I'm breaking the blog rule by tooting our own French horn so to speak, but you might want to read on if you're looking for some genuine information to educate yourself further about the improvements pneumatic powder transfer technology can have on a diverse range of processes. These concise case studies will give you a snapshot of the customer/process background, the process issues being faced, and the details of the solution.
Case Study # 1
Background
A specialty materials and chemical technology facility located in the Southeast had a process that involved charging multiple forms of the same powder from multiple locations to a single reactor. The powder being transferred was Phenothiazine, a synthetic compound that has two major uses: 1) as veterinary medicine to treat parasitic infestations of animals and 2) as a tranquilizer in the treatment of mental illness.
Problem
Their mechanical powder conveying methods were problematic because of the excessive dust created which incurred high maintenance time and costs. In addition, the transfer distances exceeded 100 feet (30 meters).
Solution
Each form of the powder was subjected to a transfer test in DDPS' Charlotte, North Carolina facility and was witnessed by the customer. The required transfer distance was replicated during this testing. We supplied the customer with an 8-inch Powder Pump manufactured in stainless steel and operated using a PLC control system with integral HMI. The HMI was programmed with multiple screens for transfer settings, with each powder having a dedicated screen. This customized solution gave the unique ability for operators to easily access the parameters that were established for each powder type and location. Once the transfer parameters were set they became permanent in the system.
Case Study # 2
Background
Robinson Brothers Limited, a chemical contract manufacturer headquartered in West Bromwich, West Midlands, United Kingdom was running a process that involved manually charging miscellaneous powders to multiple reactors through an open manway. The multiple powders used in this operation had varying characteristics.
Problem
The manual handling of powders created a dusty environment and also required high labor usage in order to complete the tasks necessary to carry out the process. There was also the additional issue with respect to the charging of hazardous powders into reactors containing highly flammable solvent. The company was looking for an environmentally-friendly solution that would maintain a closed system to eliminate dust as well as an automated solution that would free up personnel from the physical demands that the process entailed.
Solution
Following a demonstration of the Powder Pump technology at the DDPS UK facility, a test unit was installed on site to transfer many of the powders used in the production operation. After witnessing firsthand how our powder transfer technology effectively moved their powder, two reactors were each equipped with a DN250 Powder Pump, both controlled by a single PLC control system with HMI. The Powder Pumps and HMI panel are rated for installation in an ATEX Zone 1 area with PLC in a safe area.
Case Study #3
Background
The herbicides division of a global chemical manufacturer in the Southern US had an application that included the blending of miscellaneous herbicides. The various powders involved in this process included off-specification powders in combination with approved materials.
Problem
Using their current operational procedures, the off-specification powders were being discarded.
Solution
Testing was performed in the DDPS Charlotte test facility to demonstrate the conveyance of powders across an extended transfer distance of 120 feet. The final solution for the customer featured a Big Bag station and a Powder Pump 8 with PLC and HMI. The Big Bag station provides the additional capability to allow charging to drums, which enables off-specification powders to be transferred to a container if so desired.
Case Study # 4
Background
Located in the Southern region of the US, a chemical manufacturer was manually charging paraformaldehyde powder into two reactors from bags.
Problem
For operator safety reasons, the customer wanted to move away from manually charging materials.
Solution
An on-site rental test demonstrated the ability to convey powder and eliminate manual handling. DDPS supplied a solution consisting of a Big Bag station and two Powder Pump 6 units. The PLC/HMI control system was built to communicate with the existing plant DCS system to help integrate process interlocks and provide data logging.
Case Study #5
Background
Headquartered in the Southeast US, a manufacturer of lubricants for industrial and automotive applications was charging multiple powders into a mechanical mixer. The powders had greatly varying characteristics, ranging from very fine and dense to light and fluffy, comprised of copper, diphenylphosphate, carbon graphite, and fumed silica.
Problem
A significant level of housekeeping issues had arisen from the manual charging of powders. It was also physically challenging for the operators, as the powders were charged from both bags and tins, which were heavy and cumbersome to carry and transport.
Solution
The customer observed each powder as it was subjected to a transfer test in our Charlotte, NC facility. A 6-inch Powder Pump manufactured in stainless steel proved to be the best solution for their application; it was installed and is currently being operated using a PLC control system with integral HMI. The HMI is programmed with multiple screens for transfer settings, each powder having a dedicated screen.
If your facility is currently handling powder manually and doing so in a potentially unsafe method, it is important to explore the option of contained transfer via the Powder Pump. For more information on this topic, read our data sheet "Advantages of Pneumatic Conveying over Manual and Mechanical Charging". Here you'll learn about the various benefits of DDPS' Powder Pump, a technology that allows you to convey your powder safely and easily.
Fill out our Powder Handling Application Questionnaire for a complimentary assessment to determine how DDPS' Powder Pump powder handling technology can be integrated into your process.