The Benefits of Glass and Glass-Lined Steel Reactors
Jennifer Mayo
|
March 29, 2018
|
3 minute read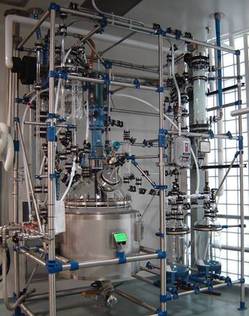 Material of construction is a primary factor in equipment selection, especially when you are dealing with a product that requires a high level of corrosion resistance and purity. If that's the case, then glass and glass lining are most likely among your top choices. Both offer similar advantages, but there are obvious differences that set them apart. So how do glass and glass-lined steel compare to each other with regards to overall performance? In this post we'll demystify the properties of each of these materials and how they compare to one another.

Advantages of Glass-Lined Steel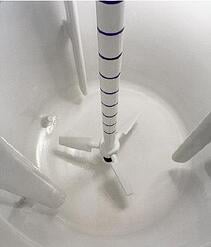 The composite metal/glass material of construction provides the benefits of both primary components. The external steel construction offers strength while the internal glass lining gives nearly universal corrosion protection and a smooth non-contaminating surface. The result of this is:
corrosion resistance to both acids and bases
high operating temperatures and pressures
ability to add or remove heat to the batch
The process of fabricating glass-lined steel equipment (which you can read more about in our post on How Glass-Lined Vessels are Made) fuses the glass to the steel. This bond is very strong, with strength of approximately 16,000 psi (similar to that of pre-stressed concrete!).
Read our post on How Your Process Could Benefit from Glass-Lined Equipment for additional information about glass-lined steel reactors.
Advantages of Glass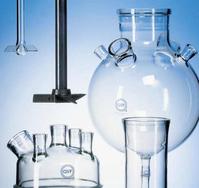 While the all-glass design lacks the strength provided by external steel construction, Borosilicate glass 3.3 reactors provide the same superior corrosion resistance as glass-lined vessels with the additional benefit of process visibility. This feature makes components from the QVF Supra series a popular choice in research and development as well as kilo plant production applications throughout the chemical, biotech, and pharmaceutical industries.
For more information on the properties of all glass vessels see our post on Why We Love Borosilicate Glass (and You Should Too).
Advantages of Combination Glass/Glass-Lined Steel
A third option, which we refer to as the VERI reactor, provides the best of both worlds. The glass-lined steel body allows for higher jacket pressures, allowing for higher heat transfer rates via higher turbulent jacket flows. The body's material of construction also allows for higher temperature differentials, again providing higher heat transfer. Due to the flanged bottom outlet connection, the VERI reactor body can also utilize the De Dietrich glass-lined steel Clean Valve, which allows for a variety of functions without the need to interrupt the process and without dismantling the valve. Additionally, the glass-lined steel reactor body uses 150# or 300# ANSI jacket flanges and bolting, typically recommended by synthetic thermal fluid manufacturers.
The glass reactor head provides excellent visibility for observation of process scale up and development. It also simplifies the inspection process when you are confirming a CIP process. By looking right through the reactor cover you can easily assess important aspects of your operation, such as if your process is foaming, whether the solids disperse or clump, and any mixing issue that might be occurring (e.g. suspensions not adequate). The glass connections and mixer assembly are smaller than that of the glass-lined steel units and allow for more process connections. The glass cover bolts directly to glass overheads (distillation/rectification/other arrangements), providing the same observation benefits listed above.
Using strong, corrosion resistant glass-lined steel integrated with a glass cover and overheads, the VERI reactor features the same corrosion resistance as a glass-lined unit, but additional visibility. This combination reactor model is widely used in pilot plant units due to its robust design.
Selecting a Vessel Material of Construction
Some basic questions you'll need to answer regarding your process requirements include:
What is a typical batch volume for your process?
What are your minimum/maximum temperatures?
Do you operate under pressure or vacuum? What PSI is required?
How often will your vessel require cleaning?
Do any of the products/solvents in your process react with any construction materials?
By refining your requirements, you can more accurately identify what equipment is the most efficient and economical for your application.
The following chart details the specifications for glass reactors, glass-lined steel reactors, and combination glass/glass-lined steel reactors:
Solid Glass
Glass-Lined Steel (Std Reactor)
Combination Glass/ Glass-Lined Steel
Internal Pressure

1.0 bar g (14.5 psig)

100 psig

1.0 bar g (14.5 psig)

Internal Vacuum

Full

Jacket Pressure

0.5 bar g (7 psig)

90 psig

90 psig
Temperature (Min./Max.)

-60ºF (-50ºC)* / 350ºF (180ºC)

-20 ºF (-29ºC) / 500 ºF (260ºC)

-60 ºF (-50ºC) / 500 ºF (260ºC)

Thermal Shock (Max.)

250ºF (120ºC)

250 to 300ºF (120 to 150ºC)**

Volume

5 to 100 Liters

1 to 20,000 gallons

16 to 400 Liters
Notes:
*Some specially designed glass reactors have a maximum
-112ºF (

-80ºC) temperature minimum.
**Glass-lined steel allowable thermal shock is dependent on vessel temperature.
With this information of the individual materials of construction and the benefit of combining them, De Dietrich Process Systems will be able to better assist you on your next reactor system. If you'd like a hassle-free budget quote for a reactor, fill out our Reactor Questionnaire. Additionally, DDPS can provide distillation overheads for your reactor. By filling out the Reactor Overheads Questionnaire and supplying us with additional information, we can quote an entire reactor system to fulfill your process needs.