Case Studies to Prove You Can Safely Obtain a Sample from Your Process
Jennifer Mayo
|
August 23, 2018
|
6 minute read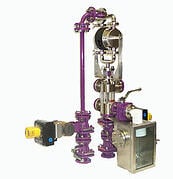 Sampling your product during operation is the most precise way to obtain a truly representative sample. The problem lies in finding a way to do so without disrupting your process and without contaminating the batch. These case studies are excellent examples that illustrate how three of our clients utilized various sampling solutions to accomplish their sampling objectives safely and accurately.
Case Study # 1
Problem
An international pharmaceutical company owns numerous chemical pilot plants around the world which are used to improve and scale up API manufacturing processes and to produce kilo batches of product for clinical testing as part of the product approvals process. The processes are carried out in several specially constructed plant units which enable a great deal of flexibility of both the quantities of materials processed and the reaction steps operated. A wide range of reaction vessels needs to be used, varying from 100 gallons up to 1000 gallons. The nature of the process and the need for accurate time-based process data required frequent sampling of the reaction from the vessels. Standard vessel sampling systems widely used in production scale plants for this purpose were too large to be of use in this application. Initially, the sampling had been carried out by opening the vessels and drawing out the samples into containers using manually operated suction equipment.
The highly active nature of some of the materials processed required each operator to put on special personal protection equipment, including a self-contained breathing apparatus, to obtain a sample. The time required to do this was incurring a high cost of man hours as well as increasing production down time and personnel hazards.
Solution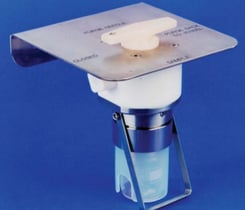 The client was supplied with two free mount sampling units which were compact, safe and easy to operate, as well as cost effective and efficient for use with smaller-scale vessels where space and sampling volumes are key issues. At the heart of the unit was a special four-way valve with the opening and closing sequence controlled by a simple turning handle. By turning through the cycle and back, a purge, sample, rinse (if required) and close sequence was achieved. The valve could only be closed by turning back to the starting position in the counter direction, offering "foolproof" operation. One unit was supplied with a septum system for sample collection, the other with a simple bottle system to evaluate which was most appropriate for the plant.
As a result of using the free mount sampling system, operator safety was improved and the costs of operating the pilot plant unit was reduced.
Case Study #2
Problem
A major agrochemical manufacturing company was carrying out an expansion and upgrade to its facilities and had employed an EPC contractor to construct the plant. The process was multi-stage and the final product quality was dependent on each stage of the process operating within the design conditions. Any variation in feedstock or operating conditions could result in off-specification product, and/or loss of yield.
Product sampling between stages was required (and in one case periodically from a reaction vessel) so that actual product composition from stage to stage could be monitored through chemical analysis. Although inter-stage sampling was carried out on site within their existing plant, the client had experienced problems with pre-installed equipment and they also wished to improve the new plants safety.
Solution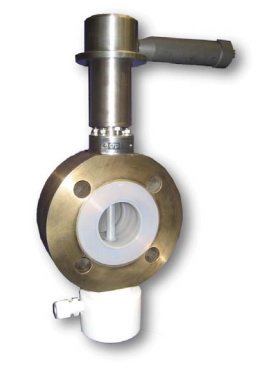 The process' sampling needs were complex and would require the use of 15 in-line sampling systems and one vessel sampling system to fulfill the requirements.
The in-line systems were all based on the PFA-lined Wafer Style Sampling Valve (SD-IL-400) and the Metallic Wafer Style Sampling Valve (SD-IL-300). The valve selected for each stage was dependent of the nature of the chemicals to be handled and the operating temperatures. Both designs enable simple, yet robust operation.
More specifically, the PFA-lined valves were supplied from 1" to 6" nominal bore with Chemraz seals; the unlined 316L stainless steel units were provided from 2" to 4" nominal bore. All in-line units were fitted with PTFE bottle adapters with screw threads cut to match the customer's standard sample bottles. The adapters were fitted with vents designed to enable any vapors to be piped away from the operators.
Where the level of hazard was higher, the units were fitted with stainless steel cabinets with door latches capable of being operated with one gloved hand. To contain any spills the cabinets had 250ml capacity bunds with drain connections to safely deal with spillage. Cabinets also had vent connections to enable any fumes arising from the sampling operation to be safely taken to a scrubbing system, further ensuring plant safety.
Some units were designed for horizontal installation; others were for vertical line installation. In either case, safety cabinets were fitted as needed. All valves were fitted with a double spring return/"dead man's handle" system and locking mechanism.
A vessel sampling package based on a liquid recirculation system and complete with all interconnecting pipe work, PTFE tubular pump, isolating valves, tubular sight glass, and PFA-lined 1" sampling valve (SD-IL-400) was supplied, pre-assembled and tested. Recirculation lines were all 1" nominal bore, and all wetted parts were PTFE, PFA, Glass and Chemraz to provide superior corrosion resistance. The recirculation system was chosen because it gives excellent representative sampling even when solids are present in the fluid to be sampled.
Because of the new sampling system, the customer was able to achieve its goal of having fully representative sampling whilst at the same time ensuring the highest practical levels of personnel safety and security.
Case Study #3
Problem
A specialty chemicals producer of oilfield chemicals (belonging to one of the world's leading oil service companies) was producing scale inhibitors, drilling mud chemical additives and speciality oilfield chemicals through batch reactors at elevated temperatures. They were carrying out an expansion/upgrade of its plant to meet increased levels of oilfield activity due to the rising barrel price of crude oil. The chemical and physical properties of the end products are critical as any off-specification materials would cause delay and possible interruption of oilfield operations with potentially huge consequential losses. The ability to frequently sample hazardous and flammable materials at elevated temperatures throughout the batch production process was critical.
Solution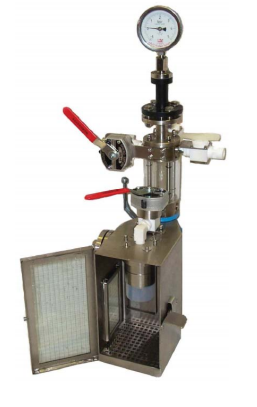 Through detailed consultation with the end user and their appointed EPC contractor, a solution was designed and supplied consisting of 12 customized vessel sampling units in two variations to meet the specific process conditions while giving the operator the ability to take accurate, repeatable samples, thus minimizing disposal costs and limiting plant hazards.
The first model was designed to take samples at temperatures of up to 350°F, with a pressure envelope of full vacuum to 150 PSIG, and wetted parts of 316 stainless steel, PTFE and Chemraz. This comprised a stainless steel ball valve for vessel isolation and an extra heavy wall borosilicate glass sight glass with FEP safety shield suitable for high temperature operation. The sight glass was fitted with a hollow ball PTFE float which seals against the top seat to prevent accidental ingress of product into the vacuum system. The top end of the sight glass comprised a stainless steel manifold with a pressure gauge and a port to allow a separate manifold with nitrogen, vacuum and wash liquor connections to be attached. The sample dispensing system was through a globe type valve with no internal dead legs to prevent product hold up. The valve was operated with a twin action spring return safety handle. The samples were dispensed into a stainless steel safety cabinet with a laminated glass window to house the sample collection bottle. The cabinet also had a large latch to allow it to be operated with a single gloved hand, a vent connection to allow any fumes to be drawn away to the plant scrubber system, and a bunded base with drain connection to allow any spills to be contained and collected safely.
The second model was similar to the first in many respects but designed to take samples at temperatures of up to 530°F, a full 180°F hotter, while maintaining the full vacuum to 150 PSIG pressure envelope. This higher temperature rating necessitated the replacement of the tubular sight glass with a stainless steel sample collection chamber, with a high temperature bullseye sight window, and a custom designed high temperature PEEK float. To ensure visibility of the float, a top mounted luminaire was also fitted. Due to the temperature, it was impossible to use a globe type sample outlet valve, so it was replaced with a customer site standard ball valve. Although this created a dead leg on the outlet flow path, this was overcome by the use of a strict flush and purge regime after each sample was collected. To make flushing easier, the standard bunded base in the sample cabinet was replaced with a tun dish outlet, so that wash liquor could be flushed straight through without the need of additional sample bottles to collect the liquor.
By custom designing the components to meet the very hazardous operating conditions, the customer was able to obtain safe and representative sampling for these critical applications.
These three examples prove that even in difficult process scenarios, it is possible to monitor the quality of your product. A sample taken from a process pipeline or reactor should represent the exact constituents of the process without any contamination. Contamination of a sample can create incorrect test results and cause further process problems. DDPS' range of in-line, surface mounted and vessel-mounted sampling systems has several design features built in to overcome contamination problems and provide a true representative sample. Our range of sample dispensing options and secondary containment solutions are designed to suit the process needs of the pharmaceutical, chemical, biotechnology, food and beverage and petrochemical industries. Sampling solutions of all levels of sophistication are available from simple manual sampling to remote automated sampling and analysis systems. Toxic, flammable and corrosive media are safely sampled using systems with all wetted parts in a variety of materials of construction. Get more information on our website, or take our Sampling System Questionnaire so we can better assist you with finding the ideal solution for your process.