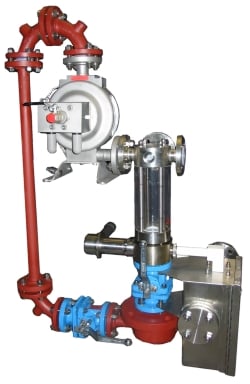 Obtaining product samples from a glass-lined vessel is not always a simple, straightforward task. From a quality control standpoint, you want the sample to be accurate and precise. From a safety perspective, you also want to manage any concerns that can arise when the process involves toxic, flammable and corrosive materials (and if you are using glass-lined equipment it's a good chance your media has at least one of those three characteristics). Exposure to the product might be harmful to operators, or the environment could contaminate your valuable product, so multiple factors need to be taken into consideration when selecting the best method for obtaining a sample.
I'm sure many of you can relate to the pain points mentioned above, particularly those of you in the Pharmaceutical, Chemical, Food and Beverage, Biotechnology, or Petrochemical industry where it is essential to acquire a representative sample of your product.
So, what exactly is a "representative sample"? Simply put, a representative sample is a perfect prototype of the contents inside your reactor. A sample taken from a process pipeline or reactor must truly represent the exact constituents of the process without any contamination. Contamination of that prototype can create incorrect test results and cause further process problems.
In this post we'll answer why samples are important, how they are taken, and what to consider when choosing a sampling system for your glass-lined vessel.
Why Take Samples?
If representative samples are such a challenge to take, whey take them in the first place? Many companies process batches that are complex and expensive to produce, with very high quality and purity standards. It is critical for reactions within the process to be monitored and changes made to the process as required to maintain consistency.
Whether a campaign takes only a few hours or several days to complete, chemists need to be able to confirm that the reaction is finished before moving onto the next step. Taking samples either throughout the process cycle or at the end to confirm the correct formula helps to ensure the final product will be within limits.

How are Samples Taken?
Traditional sample taking methods can be rather crude and rudimentary. They frequently involve open-ended valves that flow into run-off drains. The flow must first run clear of any old product before the media flow is representative enough to take a sample. Often, operators run the risk of exposure and must wear expensive personal protective equipment for safety purposes. This method is not only wasteful and costly, but environmentally unfriendly too as you run the risk of uncontrolled spillages and pollution from the sampling procedure.
When a proper representative sample is taken, the operator need only take the volume of sample required to carry out their tests. This can sometimes be as small as a few milliliters, meaning far less is disposed. For high value batches (e.g. pharmaceutical, fine metal processing) this can mean significant cost savings.
Batch processing within glass-lined reactors can be properly sampled with a range of vessel mounted sampling systems. Samples are typically taken from a dip pipe mounted at the top of the vessel. The sample can be drawn up the dip pipe using a variety of methods:
Site vacuum
Eductor/Venturi (When there is no site vacuum present on site, compressed gas can be used to power an eductor to create a vacuum within the vessel sampler sightglass chamber to draw a sample up through the dip pipe from the vessel.)
Recirculating pump
Pressure within the vessel

Each of the different methods have their advantages and disadvantages which can be further addressed when a sampling expert reviews your requirements.
Vessel mounted sampling systems are varied in their construction and often designed to meet certain specific requirements of the customer's existing plant. (For example, when space is tight a compact vessel sampler is recommended.)
Criteria for Sample Equipment Selection
Keep the following in mind when you are looking to procure a sampling solution for your glass-lined vessel:
Health and Safety
Taking samples from processes can be very hazardous both to the operator and the environment. The sample taken could create toxic fumes, be corrosive, or both.
Duty of Care
It is the employer's duty to provide safe working conditions for their employees. Supplying personal protective equipment (PPE) and the time involved in putting on and removing this equipment are all cost factors that must be considered.
Levels of Containment
Sampling equipment with various levels of containment is available to protect the operator from contact with the sample. These containment safety levels are designed to isolate the operator from the sample and any fumes given off, negating the need for PPE.
Risk Reduction
Taking samples is not without risks. Possible hazards (and solutions to these dangers) include:
Hot Samples – Optional volumetric and coil heat exchangers can cool the sample to a safe temperature for the operator to handle.
Corrosive samples –Hazardous and corrosive medias are safely sampled using systems with all wetted parts in PTFE, PFA, Hastelloy and other exotic materials. Sampling systems are also available in 316L Stainless Steel for less corrosive duties.
Toxic samples - PTFE/Silicone septum arrangements for sample bottles enable safe collection of toxic substances.
Toxic Fumes - Safety cabinets with extraction flange connections, and sample cabinets fitted with glove ports are examples of options available to combat an issue with poisonous fumes.
Sample Containment - Syringe samplers prevent any sample or fume from being released into the atmosphere.
Any one of these solutions can be utilized independently or together to build a safe, reliable sampling system.
De Dietrich Process Systems offers multiple solutions for safe and representative sampling systems with a wide range of sample dispensing options and secondary containment solutions to suit your process. All levels of sophistication are available, ranging from simple manual sampling to remote automated sampling and analysis systems. Each of our sampling systems are designed with operator and environmental safety as the primary consideration. Vessel samplers can be supplied with all wetted parts manufactured from corrosion resistant materials. Our standard line of samplers has a temperature range up to 350°F (180°C) and pressure up to 10 barg.
For sampling assistance to help identify the best sampling solutions for your application, fill out our Sampling Questionnaire and a DDPS representative can recommend a solution based on your process specifications.