Control System Design for Solids Handling Equipment
Brian Warren
|
May 24, 2018
|
2 minute read
Various technologies are available to improve safety and containment when transferring solid materials into manufacturing processes.
Going one step further, automated control of these systems can have a significant impact on their operating efficiency, flexibility, reliability and safety. Since control system designs can range from relatively simple to highly complex, a vendor's ability to offer customized control system designs can be critical to meeting the customer's and the application's specific requirements.
Figure 1: NEMA 4X Control Panel with 12"Panelview
HMI (designed for bulk bag unloading station)
Control System Design Criteria
There are several key factors when determining the appropriate design for process control systems on solids handling equipment. The process must be assessed, with consideration given to the following areas:
Installation Area Rating Requirements
Processes that involve combustible materials must typically meet specific "Class", "Division" and "Group" ratings which denote the nature of materials being handled, and risk level associated with the area where the equipment is installed. Control System components, including panels, panel mounted items, field instruments and motors must all meet or exceed the area rating(s) where they will be installed.
Level of Process Sophistication
As previously mentioned, control system complexity can vary greatly, depending upon the parameters that are monitored and controlled. These can include real-time transfer rates, total batch weights and hopper fill levels. In addition, various safety interlocks involving pressure, temperature, valve positions, oxygen level and equipment grounding are frequently required to prevent hazardous conditions from developing during material transfer. Finally, process alarms, maintenance notifications and manual operating modes can be provided, which will alert Operators to those type situations and allow them to be addressed.
Standard Hardware and Software
The most basic panels feature a combination of the following programs to create the foundation for your automation needs:
PLC, or "Programmable Logic Controller", is a standard in most modern control systems and is used to control various types of equipment in a process.
DCS, or "Distributed Control System", is another standard in computerized control systems for a process or plant that is comprised of multiple control loops with a central operator control.
HMI (Human Machine Interface) is integrated with the PLC or DCS to enable human interaction with the system.
The "brains" of powder handling control systems typically rely on the PLC/DCS and HMI within the panel.
Documentation
Regardless of your in-house experience with control systems, it is essential to have the proper documentation to provide your operating personnel with the instruction and support to competently run your system:
Functional Control Description – this document provides detailed descriptions of the control functionality of your process equipment.
HMI graphics review – this review process helps ensure Operators can provide input and feedback on design, navigation and options on menu interface screens.
Factory Acceptance Test – this comprehensive inspection is designed to address any issues prior to a system being shipped and installed at your site.
Pre-Commissioning and Start-Up Assistance
In addition to designing a control system, De Dietrich Process Systems can pre-commission a system (i.e. calibrate and test all project components) under conditions that are virtually identical to your operational environment. At this time, any adjustments or modifications to the controls can be made to ensure optimal performance.
As systems become more complex and additional functionality is required, the automation involved also increases in complexity. Whether your system is basic in nature or requires some of these additional bells and whistles, start-up assistance is included to aid in getting your new system up and running in its real-life setting.
Control System Examples
De Dietrich Process Systems custom designs each control system to best fit the customer and the application. Our standard control system will normally consist of a PanelView (Allen Bradley) or Red Lion HMI coupled with a Compact Logix (Allen Bradley) PLC, but we can accommodate a range of other technologies when necessary.
Experienced control engineers, like those at DDPS, can produce high quality panel designs and HMI screens that make it easy for end users to navigate a new system. Below are some screenshots and images from panels that have gone through Factory Acceptance Testing at our facility: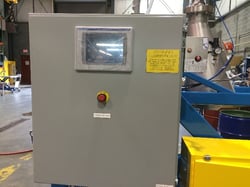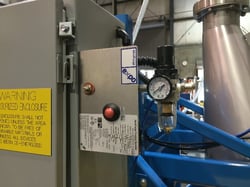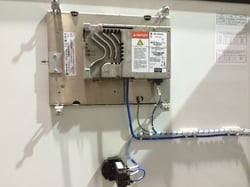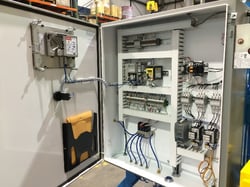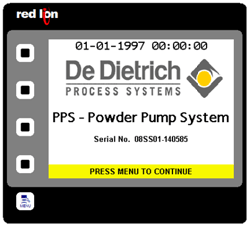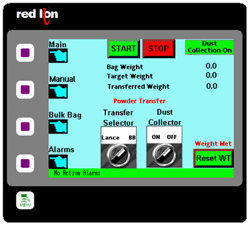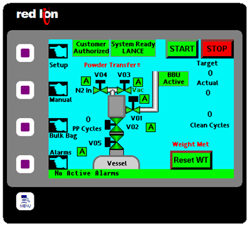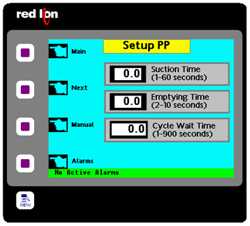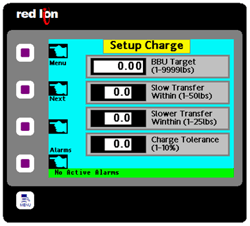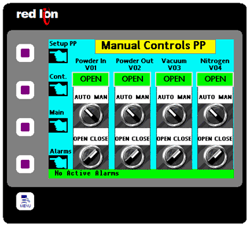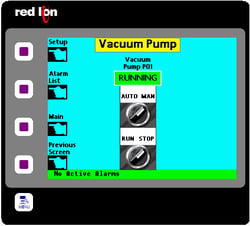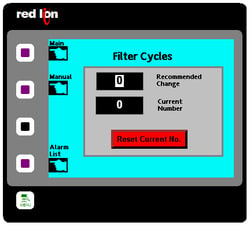 For more information about our powder handling solutions and automation capabilities, contact us online, or fill out our Powder Handling Application Questionnaire and a Powder Handling Solutions representative will discuss your material handling needs in greater detail with you.