Designing a Glass-Lined Vessel: How to Specify a Reactor [Part 2]
Jennifer Mayo
|
January 15, 2015
|
3 minute read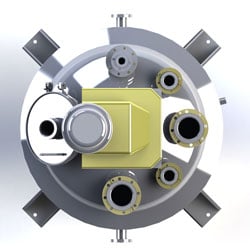 In last week's blog post, we began our detailed overview of the contents in our "Glass-Lined Reactor Specification Form" to give you a better explanation of the data that we look for when generating an accurate quote for a glass-lined vessel. In this second of three articles, we'll pick up where we left off.
Working Conditions
When fabricating a vessel, it is important for the manufacturer to be aware of the anticipated working conditions in order to ensure the design will be in adherence to usage. Please provide the working pressure and temperature as it relates to your specific process as well as additional specifications described below:
Inner vessel pressure and temperature
Jacket pressure and temperature (if applicable)
Half Coil pressure and temperature (if applicable)
In the case of a conventional jacket or HemiCoil reactor, a list of the intended heating/cooling medium will help to assess any possible zones or circuits that may need to be set up.
Areas and Zones
From a design perspective, it is necessary for an equipment manufacturer to know what area and zone you intend to install your reactor in so we are aware of any hazards that may be present such as flammable gas, vapors, and dust. For example, if your reactor is not installed in an explosion proof area, then upgrading to an XP model that features intrinsic safety enhancements may be required. All supplementary hazards that may be present should be noted, including gas, dust, and seismic zones. If you are geographically located in or near a seismic zone, a special design requirement will need to be taken into account when engineering and installing the vessel. By identifying the gas group and temperature class that applies to your equipment, we will be able to ensure your equipment will run per your specifications without any risk of explosion.
Exterior Design
While the fine points of what's going on inside a reactor are the primary concern, the exterior finish and components are also crucial details when determining the cost of your reactor. The standard exterior finish used by DDPS are:
Primer - Sherwin Williams Zinc Clad IV organic Zinc-Rich Epoxy (Gray)

Finish - Sherwin Williams Acrolon 218 HS Acrylic Polyurethane (Gray)
If you prefer a different material for the external finish or a different color, simply tell us the MOC as well as the RAL number (RAL being a color matching system).
Nozzles and Manway Covers
The top head of each size and model reactor come with a standard design of nozzles (as a guide refer to our reactor cut sheets). Prior to vessel fabrication, additional nozzles can be added to the design to help carry out process objectives. The manway cover on reactor models is available in a variety of arrangements, the standard being comprised of a dished cover with one sight glass. The following alternatives are also available – a flat cover with one fused sight glass and one quick easy opening, a flat cover with two fused sight glass. Opening assistance via davit or spring assist can be added to prevent possible glass damage from manway covers being accidentally dropped and slammed closed. A halogen or optic fiber lighting fixture can be installed onto your sight glass to assist with visual inspection of the contents in your reactor. As for the bottom of the vessel, the outlet nozzle is available in the standard design or with a pad flange.
HemiCoil Jacket Arrangement
If you're opting for a HemiCoil jacket for your reactor, you have the advantage of creating multiple circuits and/or zones which will prevent cross contamination of heating and cooling mediums and increase versatility and efficiency in heat transfer. Optional arrangements include 1 circuit/1 zone, 1 circuit/2 zones, 1 circuit/3 zones, and 2 independent circuits. Check out this blog post for more information on jacket selection.
Insulation
Insulation options include sheathing on the shell and bottom head in stainless steel, foam glass, Rockwool, or other material. Different insulation materials have varying temperature limitations so if you are unsure of what kind you need, a DDPS representative can help make that decision for you. The standard thickness of insulation is two inches; however the thickness is ultimately a result of heat transfer requirements. An inspection port can also be added as an option. To assist with the adhesion of the insulation to the vessel, insulation rings should be used to help keep it banded. You can specify instructions for this or simply opt for the standard.
Support
Support for your vessel comes in various forms including legs, lugs, support rings, and skirts. The type you choose will depend on your vessel size and installation specifications.
Be on the lookout for next week's post where we'll conclude our conversation on glass-lined reactor specification as we talk more about mixing systems and peripheral equipment. Or click on the link below to review our form and get yourself one step closer to receiving a hassle-free quote to meet your new equipment needs.