Designing a Glass-Lined Vessel: How to Specify a Reactor [Part 3]
Jennifer Mayo
|
January 22, 2015
|
3 minute read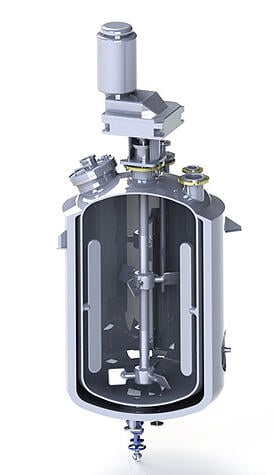 When you're working on a new project and you're looking to get price quotes on equipment, you want to make sure that you are getting a solid estimate that encompasses all the features you require. Our "Glass-Lined Reactor Specification Form" was designed to give you the ability to do just that by contacting us online, in a hassle-free way. However, the more precise you want your budget price to be, the more detailed the information you need to provide. For equipment as complex and sophisticated as a glass-lined reactor, there can be many questions that you didn't anticipate, or may not know the answer to. That is okay, and that's why we have experienced representatives who can help answer your questions to find the right equipment to carry out your process objectives. This post, the third and final chapter in this series, is intended to help you do just that. If you're catching this topic for the first time then be sure to read Part 1 and Part 2 of this post first).
Baffle and Dip Pipe
There are a number of internal components of a reactor that require specification. If you aren't in the market for an OptiMix reactor (check our webpage on OptiMix first to familiarize yourself with this breakthrough in baffling technology), then you will need to consider another baffle design. The two options are a beavertail baffle and a baffle combined with a dip pipe. A thermoprobe that enables reliable in-process temperature measurement is available in both models. If you select a dip pipe to be installed, you'll have to decide on the length, material of construction (glass-lined, PTFE, or other) and we will confirm the design is feasible and adequate for the agitation forces (if agitated vessel).

Agitator
The agitator blade you choose will depend on your process objective. Single or multiple-tiered agitators are available and you can select different types of blades for each stage of the process. Blade designs include traditional welded units (anchor, turbine, or impeller) or removable GlasLock blades (flat, trapezoidal, breaker bar, HydroFoil, OptiFoil, or ViscoFoil). For easy visual detection of liquid levels calibration lines can be added to the agitator shaft. Specially shaped agitators can also be designed to reduce space between the blades and the bottom of the agitator in the case of processes that require minimum agitated volumes.
Drive
To complement your agitator, a fixed speed or variable speed drive can be added to your mixing system. The motor and drive size will be determined based on your reactor model and size. All drives can perform clockwise or counterclockwise rotation of the agitator. Some processes benefit from peripherals like a revolution counter (electronic), tachometer (mechanical), or frequency converter which are offered along with your drive.
Mechanical Seal
Mechanical seals are a critical component of a mixing system. OptiSeal is the new standard design on all DDPS reactors that meets the stringent process requirements of today's pharmaceutical and chemical manufacturing environments. This innovative seal design is comprised with stainless steel housing and helps users establish compliance with USP (U.S. Pharmacopeial Convention) and BPE (ASME Bioprocessing Equipment) guidelines. If you prefer, other double lubricated seals (John Crane or Flowserve brands in carbon steel or stainless steel housing), double dry (with or without nitrogen pressurization panel), or double gas/dry with no contact are also available. And after all of those options, if you can find another one that suits your needs better, just let us know! The sealing medium will also need to be determined for wet seals from the given options – fool grade oil, oil, or other. And for metered readings, instrumentation on the lubrication device is even available.
Bottom Outlet Valve
Our Clean Valve has become the new standard for glass-lined reactor flush valves and can be used across a wide temperature and pressure range. (Read more about it to learn about the cleanability features). The Clean Valve is offered with air operator, with hand wheel, flat seat, or standard seat. A thermoprobe SVR2 (2xPt 100 ohms) with lateral dismantling and junction box can also be included for accurate and reliable temperature measurement at the lowest point of the vessel (and measurements can be taken without have to interrupt the process or dismantle the valve).
Other Peripherals
Additional components for your reactor seem almost endless, but here is a list of just a few additional items for you to consider:
Sampling baffle BLE with or without pH measurement
TSU sampling system with or without pH measurement
Electrode Holder Probe GPE 100
Endress+Hauser level measurement
Endress+Hauser level switch
GlasWatch for continuous monitoring of the glass with electrodes (installed in valve, spacer probe or baffle)
Spray ball (PTFE, Hastelloy C-22, other Alloy)
Other glass-lined equipment
Service Options
DDPS offers technical assistance at any phase of your project and has the capability to provide process optimization expertise and mixing simulations dedicated to your customized parameters. Additionally, we provide the possibility to transform the equipment into a system to provide you complete functionality from start to finish.
When submitting the Glass-Lined Reactor Specification Form, please make sure to fill out the "additional comments" field that can provide us with any information about your project that you aren't able to relay in the other fields of the form. While this can be a bit cumbersome and time consuming to fill out, it provides us with an extensive amount of information that will help us to put together an accurate quote and have less questions to come back to you with (though inevitably there are always some for equipment of this magnitude). Click on the link below to review our form and get yourself one step closer to receiving a hassle-free quote to meet your new equipment needs.