Glass-Lined Column Systems: Capabilities Beyond Column Shells
Jennifer Mayo
|
January 18, 2018
|
2 minute read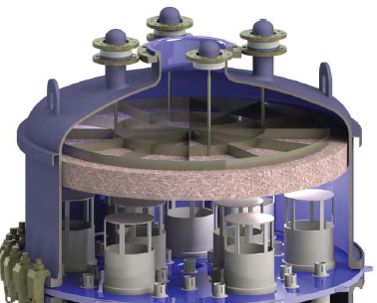 Case studies are a great tool that help illustrate the advantages of a particular product or service to a prospective customer. On a personal level, I can appreciate reading about a real-life problem, being able to empathize with the subject's pain points and furthermore, seeing how the solution played out. Tangible results are always nice to hear about too, and prove to be a powerful testimonial to the benefits you can experience.
The most compelling aspects of a case study are also what make them the most difficult to create – the details. Because when you work in an industry with proprietary operations and confidentiality agreements, it makes sharing information with the public pretty difficult. In an attempt to be respectful to the privacy of our clients, we have to limit the information we share and the photographs we take (in fact, we often aren't even allowed to photograph the installed system at a customer's site!).
Still, the problem/solution format of a case study is so beneficial to people who are researching process solutions that we like to include whatever information we can when we are able to.
Many people are aware that De Dietrich Process Systems supplies columns. What you may not know is the additional capabilities we can offer beyond the column shell. This short case study gives some insight into these competences.
Case Study
A recent project involved a customer who is a manufacturer of isocyanates/Polyurethane. As the industry continues to grow, our client is faced with the constant challenge of increasing throughput or modifying their existing facility to improve their processes.
In this case, the customer required a stripping column with high corrosion resistance materials of construction for a process utilizing sulfuric acid. Due to the critical role this column played in their application, performance and process guarantees for the system were essential to ensure operational success and safety.
The column is intended to clean a mixture of sulfuric acid from organic components using steam as the stripping medium. Sulfuric acid is highly corrosive, and due to the high operating temperatures, many plastic corrosion-resistant materials could not be used. Exotic metals were deemed cost prohibitive by the client.
DDPS supplied a 4.5 ft. diameter by 49 ft. tall glass-lined column system for this application. The column internals consisted of two packed beds, each with 13 ft. of structured packing. DURAPACK® glass packing was used for each bed. SiC-channel distributors, a high-performance mist eliminator, and glass single bar-grid on a glass-lined donut comprised all the internals used for this application.
The resulting column was able to meet the client's process requirements within their project budget and timeline.
In addition to supplying standalone columns, De Dietrich Process Systems can go beyond the column shell by recommending and providing all the various internals required for a complete column unit. Fill out our Column Internals Questionnaire so we can learn a little more about your application and help you find the right solution for your process needs.
To download the pdf version of this case study, click here.