Glass-Lined Reactor Model Comparison
Jennifer Mayo
|
September 14, 2017
|
6 minute read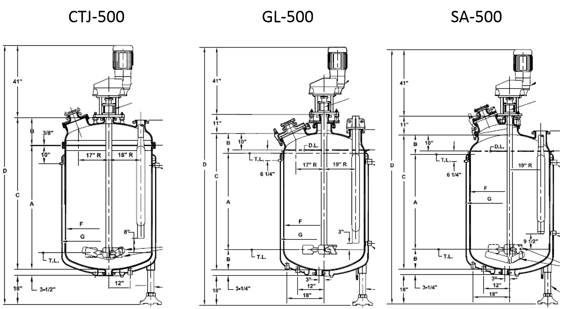 If you are new to glass-lined steel equipment, it can be intimidating when it comes time to determine the specifications of the vessel. Especially when filling out our Reactor Specification Form, you might find yourself with more "don't know" and "not sure" responses than actual specs…and that's okay. Our team of experts can help to identify what is the best type of reactor to suit your needs (that's what we're here for, after all). But if you're like me, you want to be an educated consumer and make some informed decisions on your own or at least have a basic understanding of what you need and why.
Even if you are well versed in glass-lined equipment, you still may not be sure about the fundamental differences between reactor models, baffle designs, agitator blades, and so on. For those reasons, we've developed this post to help distinguish the differences between the three main types of vessel designs. A simple comparison like this is handy if you are looking for a vessel and aren't sure what model to choose. In this article, we will refer to the different models by DDPS-branded terms; however, other glass-lined manufacturers may have comparable designs.
How to Select a Reactor Model for your Process
If you are in need of a new reactor for an existing process, chances are you'll go with the same design that is currently employed in your operation. If equipment is needed for a new process, there are two initial questions you'll want to ask yourself:
What is the volume of product per batch? (Note: all reactor sizes are labeled according to working capacity not total volume, so a 300 gallon vessel can process a maximum of 300 gallons of product per batch)
What are the temperature and pressure ranges you will be operating under?
By answering these two simple questions you will already be able to eliminate some designs. Once you have narrowed it down from there, you can identify more specific objectives, such as:
How concerned are you with cleaning between batches and overall cleanability?
How many nozzles do you require for installation of ancillary equipment/instrumentation?
Based on the answers to these fundamental questions, you can begin to narrow down your options.
Basic Vessel Designs
The three standard design series for De Dietrich glass-lined reactors are referred to as CTJ, GL, and SA.
CTJ Model Reactors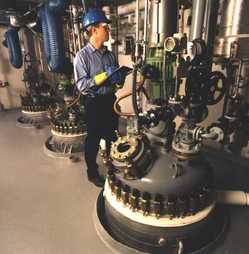 The clamped or flanged-top CTJ reactors are designed with a removable top head. This two-piece design is beneficial for processes that have a high level of cleanability demands, as the easy entry facilitates cleaning of the vessel interior. The flanges are fabricated from thick steel and are built sturdy enough to withstand warpage or corrosion brought on by rigorous process conditions. Additionally, the vessel top head (or the vessel body) can be repaired, reglassed or replaced as needed which can be quicker and easier than having to perform service on the entire vessel.
Available in 2 to 2,000 gallons, CTJs are intended for small to mid-size operations and come with the standard temperature ratings of glass-lined equipment [-20°F (-30°C) to 500°F (260°C)] and pressure allowances from 150 psig to full vacuum. Depending on your mixing objectives, you can choose from a pitch blade turbine agitator or retreat blade impeller to use in conjunction with a variable or fixed speed vertically mounted drive. (For more information on mixing components, check out our post on agitator options for glass-lined vessels.)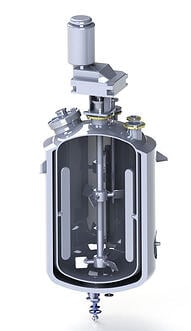 GL Model Reactors
This model features a close-welded design without a large main opening to maximize top head strength and allow for higher pressure ratings. The GL reactor isn't as easy to inspect or clean as a clamped-top one, but the arrangement is advantageous by eliminating the need for clamps or gaskets so there is no potential for leakage in that region of the vessel. The no-main-cover design also enables more room for additional nozzles (which always comes in handy for process instrumentation, additional baffles, and other reactor accessories).
Rated for 130 psig to full vacuum (versus 100 psig of conventional closed-welded reactors), GL closed-welded reactors are available in 300 gallons to 10,000 gallons covering a full range of mid to large production scale applications. The standard agitation consists of a GlasLock agitator with removable, repositionable blades attached to a vertically mounted fixed speed drive.
SA Model Reactors
SA reactors are rugged, heavyweight vessels with a large, j-bolted top head main cover that allows for installation and removal of one-piece agitators. They also feature narrow annulus jacket spacing that enables quick heat up and cool down. Due to the larger opening, a one-piece agitator (e.g. retreat curve impeller) is the standard choice, however, GlasLock agitators with removal blades are also available. Both options come with a vertically mounted fixed speed drive. If you are looking for a large production scale size, this reactor might be what you need – standard sizes range from 300 to 25,000 gallons, with standard glass-lined steel temperatures (as mentioned above) and a pressure rating of 100 psig to full vacuum.
Additional Options
There are even more options when you look to incorporate additional materials of construction and component upgrades to enhance your reactors performance to meet the demands of your process.
VERI Reactors
The VERI reactor series features a glass-lined steel reactor body with a solid glass cover. The combination glass/glass-lined design was developed from the pharmaceutical industry's demand for maximum purity and optimized heat and mass transfer combined with suitability for GMP use. The VERI reactor is designed for a compact layout with reduced headroom requirements, suiting the limited availability of space in most laboratories. The modular construction can be expanded to handle various special functions. The combined glass/glass-lined construction offers the strength of glass-lined steel with the visibility benefit of borosilicate glass. The VERI reactor can accommodate volumes from 16 to 100 liters with operating pressures from full vacuum to 9 psig (0.6 bar) and temperatures from -76°F (-60°C) to 400°F (200°C). The mixing system options include anchor, turbine and propeller type stirrers.
OptiMix Reactors

OptiMix is a patented reactor design that optimizes the mixing performance of glass-lined reactors by integrating three baffles on the vessel wall. This design is available for all reactor designs. Benefits of this baffle arrangement include improved CIP efficiency, enhanced heat transfer and mixing, extra nozzle space, reduction of shaft deflection, and minimization of bending loads on the agitator shaft (thus extending the life of the mechanical seal). Read this blog post for more information on OptiMix baffles versus traditional styles.
Laboratory Reactors

For bench-top testing, our smallest glass-lined reactor – the 6.3 liter Lab Reactor, allows you to test your product in De Dietrich glass-lined equipment before you scale-up. It combines the quality and strength of glass-lined steel in a small, laboratory-scale design that is built to handle a large range of process conditions. The inner vessel is rated for 580 psig and full vacuum at –20°F to 482°F. The jacket is rated for 290 psig at the same temperatures and comes standard with insulation and stainless steel sheathing.
Glass-Lined Reactor Model Comparison Chart
Looking for an easier way to sift through all of this data? Here's a quick reference chart that summarizes the main types of reactor designs and how they compare with one another:
| | | | | |
| --- | --- | --- | --- | --- |
| | CTJ | GL | SA | OptiMix |
| Main Feature | Clamped-topped | Closed-welded | Large top head main cover | Wall-mounted baffle system in CTJ or GL design |
| Advantages | Easy entry facilitates cleanability | Top head strength enables higher internal pressure rating, eliminates need for gaskets, more room for additional nozzles | Opening enables use of one-piece agitators, narrow annulus jacket spacing enables quick heat up and cool down | Improved CIP efficiency, enhanced heat transfer and mixing, frees up nozzles for other use, reduces shaft deflection and extends seal life by minimizing the bending loads on the agitator shaft. |
| Standard Agitator | Pitch blade turbine or retreat curve impeller | Glas-Lock Agitator with removable blades | Retreat curve impeller or GlasLock agitator with removable blades | See CTJ/GL |
| Drive | Vertically mounted variable or fixed speed | Vertically mounted fixed speed | Vertically mounted fixed speed | Vertically mounted fixed speed |
| Internal Pressure | 90/150 psig (6/10 bar) | 130 psig (8.7 bar) | 100 psig (6.7 bar) | 90/150 psig (6/10 bar) |
| Internal Vacuum | Full | Full | Full | Full |
| Temperature (Max.) | 500°F (260ºC) | 500°F (260ºC) | 500°F (260ºC) | 500°F (260ºC) |
| Temperature (Min.) | -20°F (-30ºC) | -20°F (-30ºC) | -20°F (-30ºC) | -20°F (-30ºC) |
| Volume | 2 to 2000 gal | 300 to 10,000 gal | 300 to 25,000 gal | 30 to 2,000 gal (CTJ) / 300 to 10,000 (GL) |
The CTJ, GL and SA vessels are comparable in price; often the decision comes down to customer preference. In terms of design, each offers its own advantages. Many customers follow the school of thought that "the less points that need to be sealed, the better". In this case, the GL design would be ideal. But for customers that require an oversized blade to accomplish their mixing or simply prefer a traditional one piece agitator, they may be in favor of the SA model. And from a maintenance perspective, many customers prefer the two-piece CTJ design because if the top head gets damaged, they only need to replace that and not the bottom (and vice versa). As for us, well, we are in the business of glass lining so we love them all just the same.
We've created our online Reactor Specification Form as a hassle-free way for you to receive a quote on your equipment, whether you are looking to make a purchase in the near future or simply scoping out some equipment for a project down the road. However, we're happy to help you spec a reactor, so if you are more comfortable with speaking to a representative, feel free to give us a call (908-317-2585) or contact us online and we can further discuss your process needs. Or if you're looking for more information about glass-lined equipment, download our Introductory Guide to Glass-Lined Steel Equipment or our Maintenance and Repair of Glass-Lined Equipment White Paper.