Mobile Powder Pump System Design Features & Benefits
Brian Warren
|
May 9, 2023
|
1 minute read
If you have read our recent white paper on "Safely Charging Solids into Process Reactors", then you already know the potential hazards this operation can present and how a DDPS Powder Pump solids transfer system can help avoid them.
In facilities with multiple reactors, some customers decide that installing individual Powder Pump systems on each vessel is either cost prohibitive, or their production schedules and product variety allow them the flexibility to move a single solids transfer system between different reactors as needed.
In those instances, DDPS can provide a Powder Pump pneumatic conveying system that has all the necessary components installed on a single moveable cart to allow easy installation, operation, and removal of the system so it can be relocated and used to charge solids into multiple reactors.
One of the most popular mobile system designs addresses all the challenges presented by Class I & II, Division 1 rated areas. A quick-connect nitrogen line supplies compressed gas to both the intrinsically safe pneumatic logic control panel and filter cleaning / solids discharge operation. A NEMA 7 rated motor starter (with disconnect) and XP rated 3 phase plug allows the vacuum pump to be integrated right onto the mobile cart.
The Powder Pump body with its inlet and outlet valves is the only piece of equipment that is actually moved between and installed on the reactors. All other components remain on the mobile cart.
The cart is designed with conductive, lockable wheels and convenient storage racks for process hoses and flexible pneumatic lines that are connected between the cart and Powder Pump body. A P&ID of this type of system showing all connection points is provided below.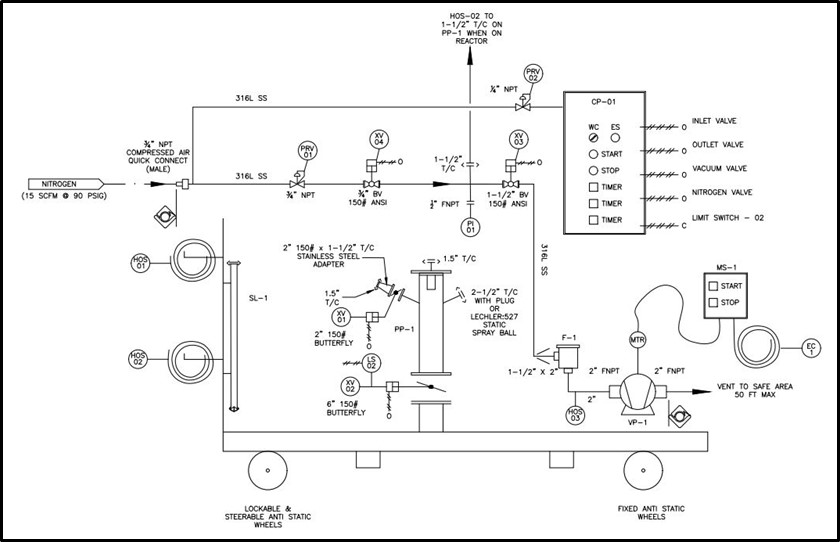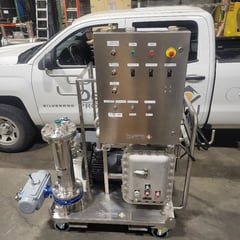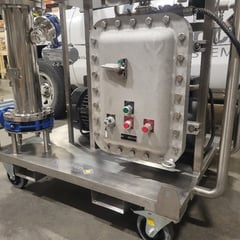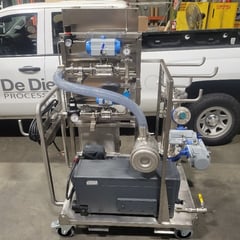 Carts can be designed with integral lifting points to allow the use of fork trucks when moving the unit between buildings or over obstructions that prevent it being rolled.
Other designs that allow the Powder Pump body to remain attached to the cart are also available. These units can be supplied with elevation controls that position the Powder Pump body close to the reactor nozzle so it can be connected via a flexible fitting. This type of unit shown below includes a ground monitoring system and loss in weight controls to monitor the solids addition rates.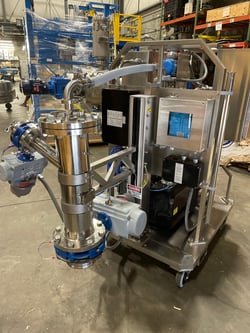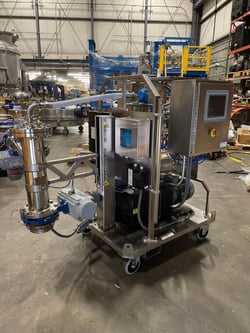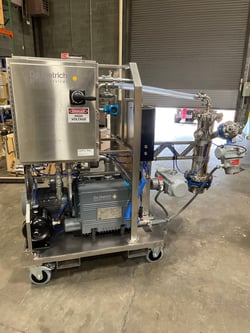 In short, a mobile Powder Pump system can be a convenient and cost saving investment for customers who want to charge solids into multiple vessels in a safe, contained manner. Contact us to learn more about the Mobile Powder Pump System and how it could work for your process.