Pilot Testing Options for Chemical Applications
Jennifer Mayo
|
July 22, 2021
|
3 minute read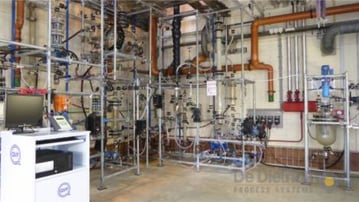 In virtually every scenario in life, it's beneficial to perform a test run before making any major decisions. Wouldn't it seem a little risky to try a new recipe for a party of 20 people before making it for a few to taste? Or, say you're planning to buy a vacation home – wouldn't you most likely choose a location where you've frequently traveled or extensively researched?
Testing in the chemical industry, often referred to a pilot testing, is similar to these examples in many ways. Essentially, you are creating a miniature version of a production-scale operation in order to replicate the environment of your process on a smaller scale to ensure you get the end results you want. Benefits of running pilot tests include:
Data Collection – The ability to gather important data during the research and development stage help you to make smarter choices down the road
Flexibility – By running smaller test batches, you can tweak different parts of the procedure to test their effectiveness on the entire process.
Analysis – By gaining a full understanding of the physical aspects of the process, you are able to thoroughly analyze the data you collect to optimize the process.
Ease of Modification - The scale and set-up of a pilot plant makes it easier to modify the system by including additional equipment or removing select system components.
Cost Savings – Pilot testing is essentially a mini-production, allowing for feasibility studies and proof of concept at a budget-friendly scale.
There are three ways companies can approach their pilot testing requirements. Each come with their own set of advantages and drawbacks.
Subcontracting
One option is to hire out or sub-contract the pilot test. Outsourcing the testing can be advantageous if you are a small company that lacks the manpower and footprint needed to run a pilot plant in your facility. It can be costly, though, to have someone else do all the work for you, and you also lose some of the control you would have otherwise if it was performed by your team at your facility.
DIY
Another option is to build the pilot plant yourself and procure the equipment from different suppliers. This might be a viable option for bigger companies who have their own R&D facilities to help them during the developing stage of their projects, but this may not be the case for emerging technology companies or companies who are expanding their portfolio.
Renting/Purchasing Testing Equipment
If you'd like to keep your testing in-house but don't have the bandwidth to undertake the project on your own, a third option is to rent or buy a pilot testing unit that is mounted on a skid or module and can be easily incorporated in your existing facility or space. Our post on the benefits of rental equipment explains in greater detail the advantages of leasing with respect to chemical process equipment. If purchasing a pilot plant is a better choice for your company, this option provides more "hand-holding" than the do-it-yourself option, as you are working with a single supplier who is providing engineering and process expertise for every aspect of the project.
Partnerships for Pilot Plant Development
The ever-growing complexity of pilot testing seems to be an industry trend. For validation purposes, companies now require a process almost identical to that of the execution of a full-scale project. With many companies moving towards working with leaner teams coupled with an increase in responsibilities assigned to each individual, there is more of a need to work with other companies to help them with the development of their processes.
Creating partnerships with companies that have their own testing facilities provides a quicker solution to a company's technology development needs. Companies partnering with equipment suppliers can also benefit as it will bring a deeper understanding with regards to equipment optimization and best practices (e.g. adhering to recommended operation parameters).
Now imagine partnering with a company that can help you with all the different approaches to satisfy your pilot plant and testing requirements: in-house engineering expertise to help with technology development, project management, key equipment manufacturing, and field support services. Wouldn't that be an ideal solution?
What we have seen more and more from our customers is the need to help them not only with equipment supply but also with process development, including (but not limited to):
dealing with corrosive materials such as sulfuric acid, bromides, and industrial nitration applications.
skid mounted units that can be easily connected to the feed supply and utilities available on site.
filtration and drying trial solutions
De Dietrich Process Systems can do just that, with flexible options to meet your pilot testing needs. We can provide pilot services at our own facility or we can prepare a custom pilot scale design that's installed at your site with all the same benefits, scope of supply, and services. With expertise in highly corrosive resistant equipment made of glass-lined steel or borosilicate glass, we can provide equipment and guidance to create a state-of-the-art pilot plant at your site. Additionally, DDPS can provide preliminary engineering services prior to testing, a key add-on service for clients who do not yet have a detailed process established.
In the always evolving and growing chemical market, we are committed to helping you find the best solution for your pilot scale needs. It is our priority that you succeed. Contact us to speak with a process engineer who can help you identify your best options for pilot testing based on your business needs.