The Care and Maintenance of Borosilicate Glass Equipment
Jennifer Mayo
|
September 12, 2019
|
2 minute read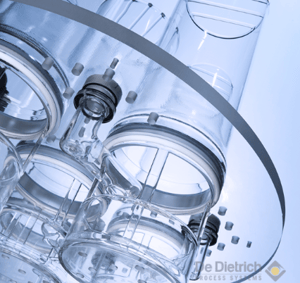 Whether you are a first-time handler or an expert one, care and consideration must be taken when handling glass components. Following a glass care regime will help to keep a clean and well-maintained plant as well as ensure there will not be any surprises while the reaction is happening inside. Here are some general guidelines you should follow when servicing your glass equipment:
Clean the equipment as per the standard operating procedure and frequency suggested by the equipment manufacturer.
Check all connections and joints for leakage and fully tighten if necessary. (In addition to in-house personnel, it's a good idea to have an experienced field service technician from your system supplier periodically inspect the unit.)
Glass thickness should be checked at regular intervals, especially if highly corrosive solvents are used.
Always check that operating conditions are met. Standard QVF equipment follows these basic allowances for operation:

Maximum operating temperature = 392°F (200°C)
Temperature differences <= 356°F (180°C)
Maximum permissible thermal shock = 248°F (120°C)

Use special safety precautions if your process involves unstable fluids or substances that can decompose.
Utilize additional instrumentation (e.g. pressure relief valves, bursting disks, over-fill prevention, temperature limiters), if necessary, to comply with operating and safety requirements.
Permissible operating pressure should be observed for various procedures, including commissioning, checking for leaks and filling the plant.
Keep in mind that if your plant operates at temperatures in excess of 120 K, the thermal shock limit could be exceeded by cold water being sprayed onto the equipment by a sprinkler system. To avoid this, sprinkler heads should not be mounted in the vicinity of an unprotected glass process plant.
Extra loads, such as reaction forces or vibration on side branches, are not permissible. Bellows should be included in interconnecting pipework to ensure a stress-free connection to the glass plant.
QVF SUPRA-Line Glass Component System
De Dietrich Process Systems' QVF® borosilicate glass parts and systems are all CE stamped and meet the highest credentials for conformity and quality. The strict manufacturing standards are performed by expert glass blowers at our state-of-the-art manufacturing facility in Mainz, Germany where it has been performed for almost 60 years. Our SUPRA-Line system features specially designed glass flanges that efficiently connect different glass flange systems (e.g. ball and socket, flat buttress ends). The nominal sizes DN 15 to DN 300 also contain edges in the fire-polished sealing surface that secure the PTFE O-ring gasket in place and prevent it being pushed out by compression. And with flexible gaskets that facilitate deflections of up to 3°, even complicated systems can be laid out simply and securely. By reducing the variety of types of glass component systems available, you can maintain a more streamlined inventory of spare and replacement parts. Additionally, improved design elements such as new spring elements, simplified grounding, and cleaner valve designs help to make SUPRA-Line a truly universal system. Click here to download a free copy of our most recent SUPRA-Line catalog or contact us online or at 908-317-2585 to get in touch with one of our representatives to discuss your needs.