Validating Reactor Cleanability with Clean-In-Place (CIP) Studies
Jennifer Mayo
|
October 24, 2019
|
3 minute read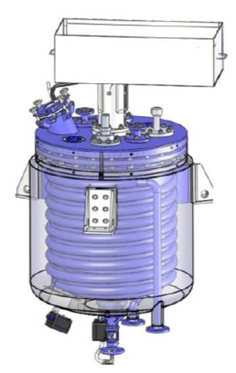 If you are in the pharmaceutical or fine chemical industry, cleaning issues are probably one of your major priorities. Product contamination can be detrimental to your business, so every step must be taken to ensure your system is thoroughly cleaned between batches. By taking a systematic cleaning approach and creating a standard operating procedure, you can maintain the integrity of your product and ensure superior cleanability. But how do you validate this?
Some equipment manufacturers, like De Dietrich Process Systems, offer Clean-In-Place (CIP) studies as an effective way to address any cleanability concerns. Based on the results of these studies, you can also make more knowledgeable decisions regarding specific reactor designs and peripheral equipment (upstream and downstream).
Cleanability Considerations
When a reactor is used in a new or existing pharma application, cleaning and validation questions need to be addressed, such as, "How will you clean your equipment?" and, "How will you confirm the cleaning results?" These basic questions often bring about additional queries such as:
Are all interior surfaces accessible, or are there any "dead zones"?
Do you have a clear view of the vessel interior for visual inspection, or are there "shadow areas" that are more difficult to inspect and require additional assessment?
In-House CIP Testing
Companies often perform their own cleaning tests to validate the efficiency of the devices installed in their operation. Their primary objectives are to look for the best solvent coverage ratio inside the reactor and to detect sensitive or "shadow" areas. Identifying these areas allows them to concentrate their cleaning efforts and minimize the risks of cross contamination. In theory, this may seem like a satisfactory solution, however, finding the best spray balls can be a difficult task.
CIP Studies from Equipment Manufacturers
Spray ball suppliers can promote their product's features, but those characteristics may not relate to your reactor design, making the information irrelevant. The benefit to having the equipment manufacturer supply your CIP system is their unmatched level of expertise and knowledge about their designs. After all, we know our equipment better than anyone else, so we are able to provide the most comprehensive CIP system possible.
With a complete database of spray balls and documentation ontheir performance according to various reactor designs and products, we can recommend the best spray ball/reactor design pairing including parameters like spray ball material of construction, orientation, and pressure.
A typical CIP study that is performed will provide you with a thorough report, detailing:
Coverage ratio
Shadow areas
Impact on the vessel wall
Quantity of solvent used for a cleaning cycle and the best location
Cleaning performance based on test trials
Detailed pictures of the UV light test
Riboflavin/CIP Testing
Once the data is analyzed on paper and theoretical solutions are recommended, riboflavin tests are performed to validate the study results. After completing the design and installing the system, we typically perform riboflavin testing in our factory (or at a customer's site in the case of pre-installed reactors) to assure the coverage is adequate. The methodology for riboflavin testing is as follows:
Riboflavin liquid is sprayed on all internal surfaces of the reactor.
Agitation is started and the spray balls are activated (with water) at the required pressure and flow.
Agitation and spray balls are stopped at the end of the cleaning cycle.
Internal parts of the reactor are inspected with a UV lamp to detect any presence of riboflavin residues.
The location(s) of riboflavin residues (if any) are noted on the reactor drawing.
Following the initial test, the spray balls (location and type) can be modified if needed to fully achieve the required performance objectives. The riboflavin test is then repeated and the results are documented and certified.
The visual inspection here illustrates the efficiency of the recommended CIP solutions in this sample test: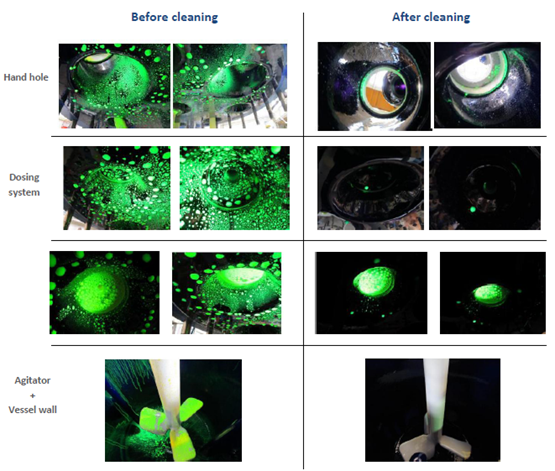 Here are the written results from the CIP study performed that shows over 99% coverage: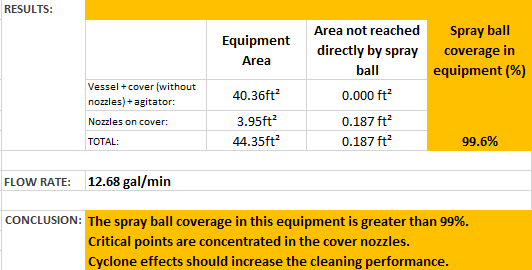 Reactor Upgrades and Enhancements
To further improve cleanability efficiency, De Dietrich Process Systems can provide a full range of solutions to reduce product build-up in the retention areas and minimize risks of contamination. Options include:
PAD flanges (top head, bottom outlet valve, shortened nozzle)
Inverted mechanical seal
OptiMix configuration (eliminates the difficult-to-clean baffle/nozzle interface area found in standard reactors)
Clean Valve (enables complete drainage and can be cleaned without disassembling the valve)
External Protections (e.g. nickel-coated manholes, full insulation)
FAT/SAT Testing
Additional support through FAT/SAT testing is also available and serves as further validation for FDA-regulated processes. By performing these operations, you can reduce start-up time and save money using only one supplier to implement the controls and validation of your system. Furthermore, your team's involvement during the SAT and commissioning steps are greatly reduced, as several validations can be performed by De Dietrich Process Systems (DQ, IQ, OQ, PQ).
DDPS will perform CIP studies on new reactors or existing reactors already installed at your site. We can even do assessments on competitors' reactors. The only requirement to conduct CIP studies is to have the reactor drawing and the 3D model. For DDPS reactors, all the files are readily available. For competitors' reactors at customer sites, it is your responsibility to provide the necessary data.
These studies prove to be a feasible way to demonstrate the cleaning capabilities of a spray ball system so that you can validate the cleanability of your reactor. They are also designed to help you make smarter choices by outlining what reactor enhancements will be the most beneficial to your process. Contact us online for general inquiries, fill out our Reactor Questionnaire to provide us with more details about your process needs, or call us at 908-317-2585 to speak with a DDPS representative.