Why you Should want to Attend a Glass-Lined Training Seminar
Jennifer Mayo
|
March 15, 2018
|
2 minute read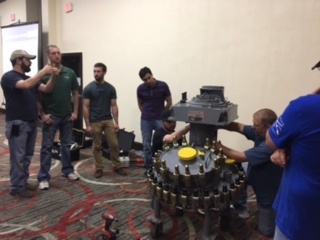 Training is a fundamental part of any job and is crucial to the development and success of an organization. However, when people are asked to attend training seminars for work, it is often met with mixed reactions. Some people enjoy the short-term break from the daily grind while others see it as an unwanted interruption in their busy routine. While there is some truth in both points of view, it's important to understand that training is put in place to enhance your knowledge for doing your job. The relatively small amount of time that you invest into the training can pay off tenfold once you put what you've learned into practice.
Whether you are new to glass-lined equipment or think you are familiar with it, training on the installation, care and maintenance of this equipment is a critical component to ensuring you operate your system properly. Just ask our service technicians – I'm sure they have plenty of stories about some field service jobs they've had to perform that could have been prevented had the employees known a little more about how to handle this specialized equipment.
Who Needs Glass-Lined Equipment Training?
You might receive training if you are new to an organization to help you familiarize yourself with your company's operating procedures. Or maybe you are an existing employee that could use a refresher course to enhance your knowledge of glass-lined steel equipment or develop a new skill in your area of expertise. If you work in any sort of industry where technology effects your product or service, training is important to help you keep up with the most up-to-date innovations in your field. Promotions and added job responsibilities are yet another example where training can come into play. Most of the customers who attend DDPS seminars are maintenance engineers or personnel involved in the service and upkeep of glass-lined equipment.
Benefits of Training
Training is mutually beneficial for employees and employers. As the individual being trained, you can broaden your professional skill set and, in the case of glass-lined equipment, put your new abilities to practice immediately. This adds up to a decrease in downtime, better efficiency and improved productivity which can positively impact your company's bottom line. And although DDPS has a network of service technicians throughout North America, it is time-saving to have an inhouse team that can respond immediately to basic service needs.
Types of Glass-Lined Equipment Training
De Dietrich Process Systems offers two types of training. If you have a large group of employees you would like trained, or would like for the seminar to be at your site for other reasons, DDPS will travel to you. As an alternative option, we can also host a seminar at our Corpus Christi, TX facility. This gives us the ability to have multiple pieces of equipment and integral tools on hand and enables the attendees to tour our manufacturing plant where they can witness firsthand the fabrication of glass-lined vessels and other equipment.
Common Training Topics
De Dietrich Process Systems offers a variety of training seminars for customers who want to better acquaint themselves with the usage, handling, and maintenance of the glass-lined equipment and systems they work with. Attendees vary in skill level and experience – some have no prior knowledge on the topic while others simply desire a refresher course to brush up on techniques, procedures, and best practices. Our most frequently covered topics of discussion include:
Fundamentals of Glass and its Maintenance

Fundamentals of Rigging and Handling

Extensive Training on GlasLock Installation and Removal

Fundamentals of Series 60 Drives and Seals
DDPS can also create a customized agenda to fit the specific needs of your company.
It's important to us for our customers to get the most out of their equipment, which is why we are always open and willing to provide training. Positive feedback from previous seminars are a testimonial to how beneficial training can be for employees and organizations alike. For more information on our training programs, download a free copy of our Training Seminars Brochure that highlights our seminars in more detail. Or contact us to find out more about onsite training at your facility or to inquire about attending an upcoming seminar at our manufacturing plant.