Borosilicate Glass 3.3
What are the properties of borosilicate glass?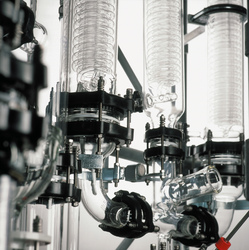 Borosilicate glass 3.3 is comprised with strict adherence to its chemical composition of silica, boric oxide, alkali and other materials of construction. This unique combination results in glass that is resistant to chemical attack, making it ideal for processes that involve corrosive products. It is highly resistant to water, saline solutions, organic substances, halogens such as chlorine and bromine and also many acids. There are only a few chemicals which can cause noticeable corrosion of the glass surface - hydrofluoric acid, concentrated phosphoric acid and strong caustic solutions at elevated temperatures. However, at ambient temperatures caustic solutions up to 30% concentration can be handled by borosilicate glass without difficulty.

Additionally, borosilicate glass 3.3 differs from other materials of construction used for process plant equipment because of its very low thermal expansion coefficient. The unique properties of the glass eliminate the need for expensive measures to compensate for thermal expansion resulting from changes in temperature. This becomes especially significant in the layout of long runs of glass pipeline.


Where is borosilicate glass manufactured?
Borosilicate glass 3.3 and QVF glass equipment are produced at our state-of-the-art manufacturing plants located in Mainz, Germany and Stafford, England.


Borosilicate Glass Benefits
Excellent corrosion resistance
Smooth, non porous surface
Transparency
No catalytic effect
Non-flammability
No environmental risk
Chemical resistance
Borosilicate Glass Specifications
Operating temperature TB = 200 °C
Temperature differences DQ £ 180 K
Heat transfer coefficient inside µi = 1200Wm-²K-1, outside µa = 11,6Wm-²K-1
All components are suitable for full vacuum ps = -1 bar g
QVF World Product Range Catalog