Engineering Services

De Dietrich Process Systems has the capability to provide a system of equipment based around one or more of our core technologies: glass-lined reactors and other glass-lined components, filter-dryers, and glass reactors and components. These core products are integrated with process utilities, instrumentation, electricity, automation and other peripheral equipment to create a customized process solution. Our wide range of engineering expertise (process, mechanical, controls, etc.) enables us to efficiently manage a project from start to finish. We've developed a comprehensive approach to our engineering services that combines operational performance with cost optimization, allowing projects of any scope - from small reactor systems to kilo labs and pilot plants to process systems - to be completed on time, in adherence to customized process specifications, and within budget constraints.



Advantages of DDPS Engineering Services

Engineering Services Project Life Cycle
---
De Dietrich Process Systems offers a single source solution that is designed to complement your own resources. We provide the design, engineering, and construction of process systems to meet your specific application requirements. Our objective is to make it easy for you to complete your systems order with us, using a minimum of your own resources and without sacrificing equipment quality – all within the constraints of your budget. Advantages of DDPS engineering services include:


Modularization
Complex equipment modules designed and built to fit space, budget and time constraints
Shorter overall project times due to faster installation and start-up
Skid-mounted systems can be easily moved – providing future portability
Innovative 3D Modeling Software
Improves design process
Enables early detection and correction of equipment conflicts
Ensures all parts fit into constraining envelopes without undermining the ergonomics of operation and maintenance
One Stop Shop
DDPS will procure externally sourced equipment that is designed, specified and purchased for each specific application, ensuring seamless integration of ancillary equipment to complete the system
Comprehensive service reduces customers' internal project management requirements
Turn key system from DDPS provides substantial time savings over conventional "stand alone" equipment validation
Single Point Contact
Designated project manager coordinates all project activities
Regular updates provided on project status
Quality Equipment Assurance
All equipment pre-assembled in the U.S.
Pre-shipment Factory Acceptance Test (FAT) performed
User manual (drawings, spare parts list and specifications)
Qualification tests include FAT, SAT, which provide a fair % of material for DQ, IQ, and OQ
Superior Service
DDPS team manages installation and start-up with life-cycle follow-up and maintenance visits Process documentation is presented in a single, easy-to-follow format
Long-term preventative maintenance services provided through global DDPS service network
Better Technical Solutions
Maximize equipment life and productivity
Achieve the greatest possible return on capital investment
Fast-Start Economies
Reduced time from project initiation to system start-up
Back to top
---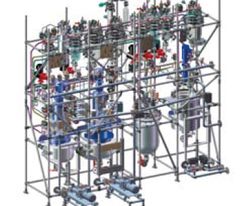 DDPS takes a very structured approach in designing and commissioning an engineered system, providing a concise project execution plan along with continuous customer communication to ensure particular process requirements are taken into account.
Basic Engineering

Mass and energy balances
Experiments in the QVF pilot plant facility
Process flow diagram (PFD)
Rough layout of the plant – apparatus and pump specification

Detail Engineering

P&ID
3D General arrangement drawing
Isometric drawing
Shop drawings
Valve specification
E&I Specification

Procurement

Inquiry
Awarding
Project controlling
Acceptance

Construction

Construction management
Scheduling
Interface management
Troubleshooting
Acceptance coordination (Factory Acceptance Test –FAT)
Installation

Commissioning

Loop check
Test run with water
Commissioning
Performance test (Site Acceptance Test – SAT)
Back to top