GORE® Gasket Tape Series 1000 for Higher-Performance Sealing
Jennifer Mayo
|
May 24, 2018
|
2 minute read
Seals 10x Tighter, Contains Aggressive Media, Protects Glass-Lined Steel Equipment and Reduces Emissions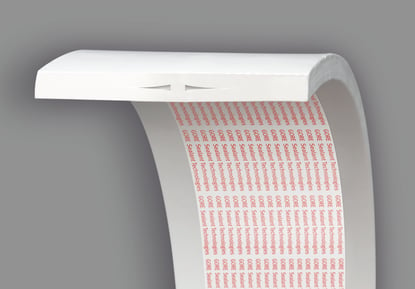 De Dietrich Process provides sales, technical and installation support for GORE® Gasket Tape Series 1000, a new sealant product from W. L. Gore & Associates.
GORE Gasket Tape Series 1000 was developed to more effectively meet the sealing challenges of glass-lined steel equipment utilizing aggressive media under demanding process conditions such as high temperatures, alternating system pressures, limited gasket loads and deviation of sealing surfaces.
For such applications, the consequences of failure can be severe: leakage and emissions, corrosion and equipment damage, costly production downtime, and risks to personnel safety.
"We engineered Series 1000 to deliver a tight, lasting seal, in a way that would overcome the limitations we saw in other sealing materials," says Christian Wimmer, Product Specialist, W. L. Gore & Associates GmbH.
"The GORE® Gasket Tape Series 1000 is absolutely outstanding in sealing deviations, so even at low gasket stress, it shows extremely low emissions and gives us trouble-free mechanical completions," says Daniel Renger, R&D Director, De Dietrich Process Systems. "It allows the end user to fulfill increasingly severe environmental requirements and extend glass-lined steel equipment lifetimes. It enables longer maintenance intervals, which is something our leading chemical producers want."
The new Gore product incorporates a unique barrier core, which enables it to maintain an extra-tight seal across the full width of the flange – even at low loads, and even in the presence of highly-permeating media.
In fact, tests demonstrate that Series 1000 produces a seal that is more than ten times tighter than other ePTFE gaskets, with even greater advantage over envelopes when flange deviation is present.
Manufactured in the form of a highly-conformable spooled tape, Series 1000 is optimized for use in large (≥DN 600/ASME 24") or non-standard flanges typically found in columns, mixer vessels, reactors, storage and receiver tanks. With Series 1000, gaskets can be customized on-site, as needed. This eliminates the need for offsite fabrication of large gaskets, and the associated long lead times and complicated logistics for shipping, handling and installation. With Series 1000, gasket inventories can be streamlined, and inventory costs reduced.
DDPS has used a variety of GORE gaskets for many years, due to their value in use and performance reliability. "Based on its exceptional performance reliability, we are using GORE Gasket Tape Series 1000, as the integrated gasket tape on specific system solutions with large glass-lined steel flanges. We find it optimizes the sealing and tightness at process conditions. We also endorse this product as the best solution in case of maintenance operations and gasket replacements," adds Daniel Renger.
De Dietrich Process Systems will work with Gore Authorized Distributors to support sales, technical services and installations.
For more information about GORE® Gasket Tape Series 1000, visit www.ddpsinc.com/s1000 or www.gore.com/s1000.
About W. L. Gore & Associates, Inc.
Gore is a technology-driven company focused on discovery and product innovation. Well known for waterproof, breathable GORE-TEX® fabric, the company's portfolio includes everything from high-performance fabrics and implantable medical devices to industrial manufacturing components and aerospace electronics. Founded in 1958 and headquartered in Newark, Del., Gore posts annual sales of more than $3 billion and employs more than 10,000 associates with manufacturing facilities in the United States, Germany, the United Kingdom, Japan and China, and sales offices around the world. Gore is one of a select few companies to appear on all of the U.S. "100 Best Companies to Work For" lists since the rankings debuted in 1984. The company also appears regularly on similar lists around the world. Learn more at gore.com.