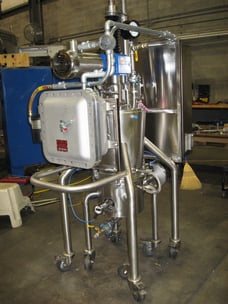 Looking for "like-new" equipment at a fraction of the cost? De Dietrich Process Systems is offering factory re-certified reactors and filter/dryers to fit your operation and budget. Our featured unit is a Rosenmund RoLab 0.06m2 Filter/Dryer. The scope of the unit has been expanded to handle the following process steps:
Filling

Filtration under pressure and/or vacuum
Washing the filter cake
Smoothing
Nitrogen blow through drying
Vacuum drying
Heating/Cooling the vessel
Discharge (manually) via side discharge valve
Cleaning in place
For technical information and to inquire about purchasing this unit click here.
The Refurbished Advantage
If you've never considered reconditioned equipment before, here are some benefits that make it a viable solution for your process needs:
Significant cost savings over new equipment
Comes with the same factory warranty as our new equipment
In stock and ready to ship, our refurbished units shorten delivery time, enabling quick start-up