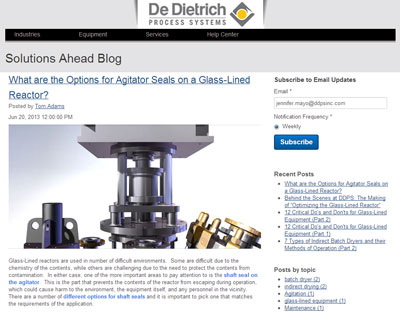 De Dietrich Process Systems' new blog Solutions Ahead aims to provide you with answers, advice and insight into the world of industrial process equipment.
Join our community where you can learn more about your equipment, receive tips and best practices that will prolong the life of your existing systems, and stay informed of new technologies. Subscribing to our blog means you will receive a weekly or monthly email notification so you'll stay up to speed on when new articles are posted.
Get articles like these and more when you subscribe:
7 Types of Indirect Batch Dryers and their Methods of Operation

What are the Options for Agitator Seals on a Glass-Lined Reactor

12 Critical Do's and Don'ts for Glass-Lined Equipment
Complete the form on this page to sign up by email and start receiving weekly or monthly notifications.