Considerations for Modularization of Chemical Process Systems
Todd Pollack
|
September 27, 2021
|
2 minute read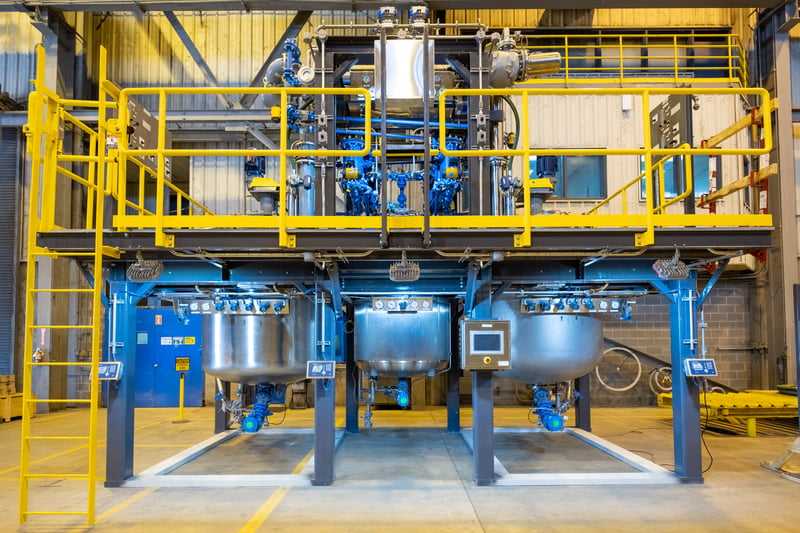 Modular construction is an increasingly popular method of construction that involves building and constructing off-site, under controlled conditions. Modular designs are prevalent in various commodities – homes and office buildings, furniture and chemical process systems. For the purpose of this blog post, we'll be speaking specifically to the latter. Here, the system is constructed of multiple modules that are appropriately sized for shipping and/or installation site restraints. After completion of a Factory Acceptance Test (FAT), the modules are shipped to the installation site where they are put together onsite. The scope of supply for a modular system can vary from simple mounting of multiple devices with process piping, to a complete turn-key system.
Modularization is a method of choice for many process engineers looking to streamline the planning and execution of their project. Here's a quick summary of benefits to modular construction:
Single-Source Responsibility - the manufacturer is accountable for the entire project, from designing and engineering to installation and start-up (and everything in between, as defined by the Scope of Supply).

Improved Project Budgeting – A modular system converts a larger percentage of time and material cost to fixed price.

Improved Project Timeline - Shop construction is typically much more efficient than building done in the field where schedules can be delayed by weather or other plant-site activities.
Quality Improvements - A safe working environment with the proper resources (e.g. machines, tools, materials) and an experienced workforce increase product quality and overall efficiency.
For more information on these advantages, read our post on the Benefits of Modular Systems.
Considerations for Modular Systems
If your application is a viable candidate for modularization and you'd like to explore this method of construction, or if you are considering it as an option but are unsure of its feasibility within the parameters of your process, here are some recommendations to aid you in evaluating it with DDPS:
Concerning Space
Know your space restrictions when planning your system. Modular construction can save time, but it can also require additional space from loading dock to installation site. Be sure to take this into consideration when laying out your plant.
Remember to allow for proper height above your reactor/vessel for not only your condenser but distillate and reflux return piping.
Concerning Scale
Scale tends to not be a major issue, as plants of virtually any size can be built modularly and shipped to facilities around the world. While larger pieces of equipment can be accommodated, pilot plants are typically an ideal size for modular construction. Some manufacturers might have restrictions so it's best to check with them in the early phases of a project to determine how the scale might impact the design.
Concerning Weight
The individual modules for modularization, typically mounted to steel support structures, are bigger and heavier than the equipment alone. For these reasons, you'll want to be mindful of the restraints for movement and rigging of the modules from receiving to final installation site.
Concerning Time
While the overall project schedule for modular systems can be condensed (from process design through start-up), some basic definition and agreement of major/long-lead equipment needs to be decided before either a modular or field manufacturer plant's schedule can commence. It's also important to keep in mind that modular systems are less conducive to design changes during the process; this is due to tighter pipe routing and additional structural components for modules.
DDPS can create a modular system design around any of our core technologies, including batch reaction, filtration/drying, distillation, solid/liquid charging, along with auxiliary systems for temperature control, pressure/vacuum control, emissions treatment. Our modular systems include all the ancillary equipment, piping, instruments and controls which are built and assembled at our Corpus Christi, TX facility or at our shop in Charlotte, NC. Any infrastructure work, such as connecting utilities and piping, is completed onsite. For more information about our modular construction capabilities and our engineered systems services contact us.