DDPS Aftermarket Series: Spotlight on Spare Parts [Part 1]
Jennifer Mayo
|
March 7, 2019
|
2 minute read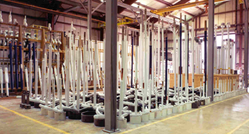 Whether it's household appliances, cars, or industrial equipment, most products require some additional expenses after the initial purchase. Parts can become worn or damaged and need to be replaced due to rigorous operation or even simple, every day use. Even if you have your equipment routinely serviced and you meticulously care for it, it's just the nature of things –nothing is made to last forever.
Like many other equipment manufacturers, De Dietrich Process Systems has a department devoted to taking care of customers' aftermarket needs. This team manages an inventory of commonly used, standard parts and are here to assist you in getting you the parts you need as quickly as possible. In this series of posts we'll talk about what spare parts you should have on hand (part 1), how to order a part you need (part 2), and the benefits of establishing a stocking program (part 3).
Recommended Spare Parts
When you order a piece of equipment or system from DDPS, we provide you with a list of recommended spare parts (if you don't have one and would like us to provide you with one, contact us). This list usually includes parts that experience a higher rate of wear and tear, as well as key components that aren't typically stocked and could cause a significant delay in production should they need to be replaced.
With that being said, it really is up to you to decide what parts you can live without and what you need to have on hand. For some customers, batches are run sporadically and it's not an issue to be out of commission for a few weeks. For other companies, unexpected downtime could cost them millions of dollars, making anything more than few hours delay in production unacceptable. The length of downtime you can tolerate will be the primary driver in deciding what spare parts to purchase.
DDPS can work with you to jointly come up with a spare parts list that reflects how critical your operation is. We keep a large inventory of standard parts, so if it's not an issue to wait a couple of days for a commonly stocked item, you might find it best to hold off on purchasing them ahead of time. However, if you have a special part that is critical to your system and you aren't prepared to deal with the manufacturing lead time (we're talking months vs. days), then it's something you'll want to have in your personal inventory.
Not everyone purchases all the recommended spare parts, but it's important to review the list and select the most critical ones that might be needed at a moments notice to keep your operation up and running. If you are unsure what components you need, ask yourself these questions to help determine if it is a spare part you should keep in your inventory:
On average, how frequently does the part need replacement?
Can my process temporarily function without it/with it damaged?
How quickly can I get this part from the time of order?
How much does the part cost?
What is the possible downtime my process would experience if we needed this part and didn't have it on hand?
By answering these questions, you can prioritize the essential items versus those that aren't as crucial to have on hand.
As we continue this discussion in our next post, we'll talk about how to go about ordering a part and what information you need to provide to the Aftermarket Department to get a quote.
De Dietrich Process Systems keeps a large inventory of parts across all of our equipment brands, including De Dietrich glass-lined equipment, QVF borosilicate glass process equipment, Rosenmund filtration and drying equipment, and Powder Pump material handling solutions. Contact our Aftermarket Department online, email them at sales@ddpsinc.com or call 908-317.2585 to inquire more.