Everything you've ever wanted to know about Glass-Lined Equipment
Jennifer Mayo
|
October 22, 2015
|
2 minute read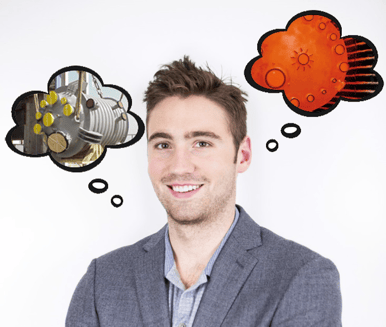 If you are a long-time subscriber to our blog, you know that we cover a wide range of technologies, products, and services in our posts. The intent here is to provide you with a variety of information from all areas of our expertise while keeping our content diverse so our blog doesn't become stagnant. Statistics show, however, that the overwhelming majority of people find our articles on glass-lined equipment to be the most useful. Well, that is a bit assumptive – they are the most viewed, but we are hopeful that our readers find the content to be useful! For this reason, we've compiled a list of the top glass-lined equipment blog posts from the past few years. Maybe you've read some of these already and perhaps there are some included in the list that you haven't come across yet. Either way, there should be some new information you.
This is by far our most viewed post and provides a great overview on the properties that make glass-lined steel so unique.
Are you at all curious about how glass-lined vessels are manufactured? It's a very detailed and meticulous process (as it should be if you are ordering a high quality piece of equipment). We find the fabrication process to be pretty interesting and we think you will too.
Ever heard of reglassing? It's a really nifty technology that can restore life back to your old, damaged, or worn vessel (and other glass-lined equipment). If you aren't familiar with it, it's worth taking a look at this post.
DON'T: Pass over this article. It's chock full of great tips and some common sense rules you need to follow in your glass-lined care regime.
You may not have enrolled your vessel in the jazzercise class at the gym down the street, but it doesn't mean you can't do something to help it maintain a healthy lifestyle.
The four articles listed above are packed with more useful tips and "best practices" that should be followed in order to keep your vessel safe from avoidable accidents and mistakes that can cause permanent damage to the glass lining.
Most vessels do not need to be moved once they are installed in your process. That's a good thing because they are big, heavy, and fragile. When they do need to be moved, this post will give you the basic safety rules that apply.
So does this post really deliver on its promise – do you now know everything about glass-lined equipment? Of course not! We could (and plan to) develop additional content on this subject matter because there is so much to write about. But we'd really like to know…what else is there that YOU would like to read about? What questions of yours are still unanswered? If you have inquiries or topics of interested (related and unrelated to glass-lined equipment) send us your comments and we will not only respond to you but we might even write an entire article on the subject matter.
If you're still hungry for more technical information, we've got some additional downloadable resources on glass-lined equipment. Click on one of the links below for more information: