How Does Borosilicate Glass Fit in Your Plant?
Alex Smith
|
June 13, 2023
|
2 minute read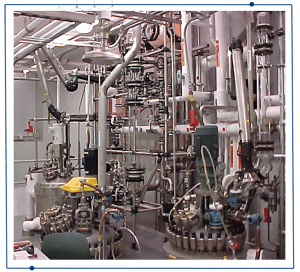 Borosilicate glass is a material widely used in process plants and pipeline components throughout the chemical and pharmaceutical industries. Its special properties – namely its wide range of chemical resistance over a broad span of operating temperatures, transparency for observations, and low coefficient of linear thermal expansion – allow for easy reconfiguring and development of a system.
While the severity of your process and unique requirements of your operation will ultimately determine the details of your plant design, here are some considerations to take into account when defining your needs and designing a plant layout that includes borosilicate glass components:
Plant Environment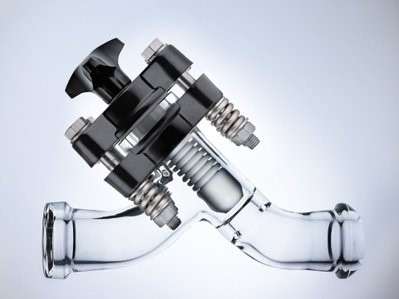 Although a pipeline might be made of glass, the couplings and other components that connect it are not. Depending on the corrosiveness of the plant environment, it's no surprise that substances can also attack fittings, coatings, joints and supports in addition to the glass parts. Even low exposure to corrosive atmospheres can damage stainless steel parts under stress, such as clamping elements and pressure springs, due to stress-corrosion cracking. These must be regularly checked for damage and replaced where necessary. DDPS offers plastic flanges rings (image above) for applications where this is a concern.
Glass Ends
Process plant pipes made from glass must not only meet pressure and temperature requirements, they must also transfer the required sealing force from the flange ring to the gasket. Flat/flat or ball and socket pipe ends are available, depending on your application: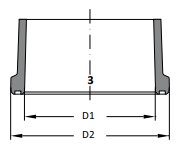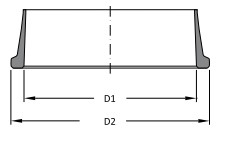 Flat/flat ends – in conjunction with the new universal GMP gasket, this design ensures a low dead-space coupling and is recommended for GMP plant construction.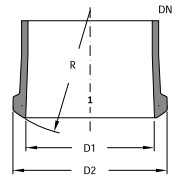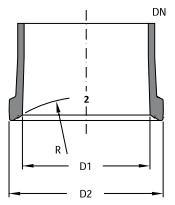 Ball and socket ends - Recommended for non-GMP processes, the ball and socket arrangement allow angular alignment of up to 3°. The use of ball and socket couplings also reduces the numbers of bellows needed in the pipeline.
GMP-Compliant Installations
Special care is required when selecting components and equipment for installations complying with GMP guidelines. Minimum dead space, for example, is an essential attribute to ensure complete draining. The capability for simple, effective cleaning is also a desirable feature.
Protection Against Mechanical Damage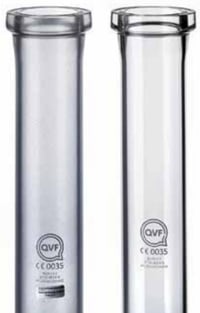 Borosilicate glass components can be coated with static-dissipative Sectrans to protect the glass surface against external damage such as scratching or impact. Sectrans is a transparent polyurethane-based coating that has excellent resistance to chemicals and weathering. While the coating of glass components does not increase their permissible operating pressure in any way, it can effectively protect your equipment against mechanical damage in working areas. The image to the left shows a QVF glass tube coated with Sectrans (left) next to a glass tube without the static-dissipative coating (right).
The considerations mentioned above merely scratch the surface on the level of detail needed to be taken into account when designing a plant. And unfortunately there are no workarounds or short cuts. Specifications overlooked in the initial phase of a project can be detrimental to the project timeline if not addressed early on, creating unwanted delays and unexpected costs. But fortunately, help is available! In addition to supplying process plant components, De Dietrich Process Systems also offers basic engineering packages and project management services to ensure all process needs are addressed in a timely manner, giving you the peace of mind that our expertise and technical knowledge will ensure process success. Download a copy of our QVF SUPRA-Line Catalog for more technical details about our line of borosilicate glass process plant components or contact us to discuss your process needs with a team member.