The Benefits of Basic Engineering Studies for Chemical Processes
Alex Smith
|
December 19, 2022
|
3 minute read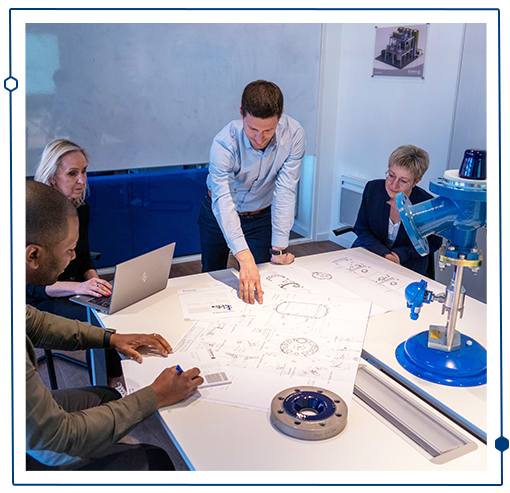 When it comes time to invest in new equipment for your chemical process, defining what your process needs are is the first step to determining the right equipment. Reaction technology is evolving with new solutions to traditional problems, so you have more options than ever before to fit your specific needs. However, with so many choices out there and additional factors to consider, developing a formal design plan can be a difficult task. Since you cannot try out equipment like you try on clothes, conducting a basic engineering study is your best option. An engineering study allows you to "virtually try" your equipment before you commit to purchasing it.
In this post, we'll take a look at why engineering studies are important, what they entail, and how they are a critical component in not only developing a formal design plan but ensuring the viability and long-term success of your process.
What are the benefits of an engineering study?
There are numerous benefits to an engineering study. There are many factors to consider when designing a system, and while the process leads the way, there are other considerations that must be taken into account. Here is a list of fundamental questions to be answered by an engineering study:
What size (and type of) equipment do I need to accomplish my process objectives?
You probably have a good idea of the size requirements of your core equipment based on the production goals of your process, but what about all the ancillary equipment that will make your process run smoothly? Part of developing a formal design for your cohesive system is identifying and sizing all equipment including ancillary items. In order to achieve that outcome, you have to either research all your options independently or you can utilize the expertise of a trusted vendor who is aware of the many equipment options available in the market.
How much space do I need?
Real estate for your equipment is at a premium at virtually every facility, so maximizing your design to fit all aspects of your equipment comfortably in your space is an essential task. Important system requirements that are often unintentionally overlooked and can lead to problems later on if neglected include operator access/workroom, piping, support utilities, maintenance access and other functional needs. The purpose of an engineering study is to prevent these oversights. By planning for these considerations and developing equipment layouts in the preliminary phase of a project, you can identify key criteria for optimizing your system configuration
What will my system cost?
An engineering study allows you to work out the details of your process requirements and develop an engineering design for your system with your equipment team, During this time, your equipment is selected, process reviews take place, and drawings are produced and reviewed for approval. All of this results in less surprises down the line; because both the customer and the supplier have developed and approved the equipment plan before the order is placed, there is less chance of change notices during the project. One of the major causes of change notices is a realizing during the approval process that major alterations are needed. For anyone that has had to deal with these occurrences in a project, you know how much of a hassle they can be, negatively impacting both the project timeline and costs! An engineering study effectively minimized those hiccups that can often occur when the preliminary due diligence is not done.
What does an engineering study provide?
Engineering studies are tailored to your specific requirements, so a package is customizable. Typical deliverables include:
Process Flow Diagram (if not available with concept discussion)
Piping & Instrumentation Diagram
Development of Major Equipment List
General Arrangement Drawings
Equipment layout in the available footprint
Detailed equipment and/ or system quotation
Why an engineering study by DDPS?
DDPS is uniquely qualified to assist you with your project. From preliminary planning through to the completion of your system and into the future of your equipment, we are involved in every step of the process, providing a full spectrum of support. Large firms may have their own in-house capabilities, while many others will utilize outside consultants / engineering firms to assist their team with their formal design. Each outside engineering firm has its own set of skills that they bring to the project; for DDPS, our skill set is geared towards our process equipment. As a leading manufacturer of process equipment with a diverse catalog of equipment, our process designs utilize our own equipment, making DDPS your one point of contact for planning for your system, procuring your equipment, and installing your system - all on the timeline developed during the study. Whether you are upgrading and optimizing your process or have a new process, DDPS can provide support and take much of the guess work out of planning your equipment purchase.
Looking for more information about engineering studies? Contact us online or download our new whitepaper on site assessments, one of the key considerations that needs to be evaluated at the preliminary phase of a project.