Options for Accessorizing Your Bottom Outlet Valve
Jason Strauss
|
August 5, 2021
|
3 minute read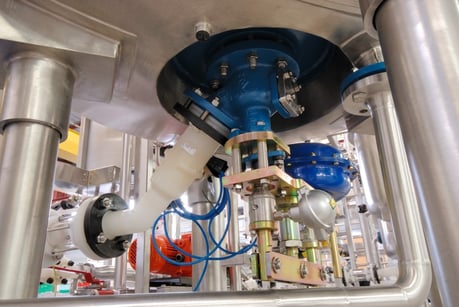 Bottom outlet valves are a critical component of a glass-lined reactor or storage vessel. While their rudimentary purpose is to discharge product, today's standard for valves require much more functionality than a basic dump valve. To meet the growing demands of modern-day processes, valve manufacturers now offer enhancements to increase the capabilities available in the marketplace. Before we get into detail about the different options available, it's important to explain the two main types of bottom outlet valves that we offer for glass-lined equipment that we will be referring to throughout the post: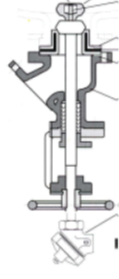 VBS Flush Valve - De Dietrich's most basic model is referred to as the VBS style. This glass-lined valve is designed with proportional outlet diameters to ensure full product flow. Its one-piece head and stem design, combined with a seat of PTFE-lined steel, assures tight shut-off to prevent leaking under pressure or vacuum.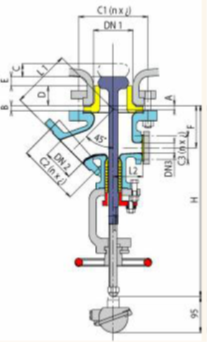 Clean Valve - Our clean-in-place "CIP" valve provides enhanced functionality when compared to the standard VBS model. Available in glass-lined steel or unlined stainless steel, this upgraded design features an extra port that facilitates cleaning and maintenance without having to dismantle the valve.
Either valve can be connected to any De Dietrich glass lined bottom nozzle and are offered in sizes from 2" to 6" connections. Additionally, special seats and stems can be designed to connect to other brand reactors. Per the illustration below, red arrow dimensions are required for all non-De Dietrich reactors: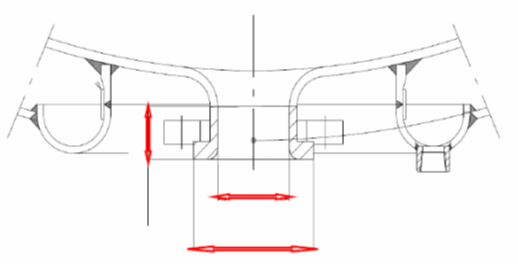 For additional technical data on these valves, refer to our Glass-Lined Valves data sheet and Clean Valve data sheet.
Accessories for Bottom Outlet Valves
Now that you are familiar with the two main styles of BOVs, let's discuss the wide range of accessories that are available for each. Depending on your application, one or more of these accessories can help to optimize the performance of not only your valve but your entire process.
RTD
RTDs are temperature measuring probes that can be installed into the head of the valve stem. Measuring temperature in the head is very common as it allows a reading at the vessel's lowest point of the bottom head. And since it is externally removable, temperature measurement, calibration and replacement can be easily done. An advantage to our CIP valves is that this procedure can be done without disrupting the process while the VBS valves must get removed from the reactor. For the VBS model, once the valve is removed it is recommended to replace the valve seat and two gaskets. For this reason we recommend that customers keep a rebuild kit on hand for these instances to minimize downtime.
Clean Out Port Adapters (CIP Adapters)
If you are currently using standard VBS valves and are looking to enhance your valve's cleanability, you might want to look into upgrading to CIP models that feature the additional port for cleaning and other process use. With the addition of a CIP adapter, we can quickly connect to ANSI, NPT and Triclamp in case you need to take a sample or flush out the valve while still connected to the vessel.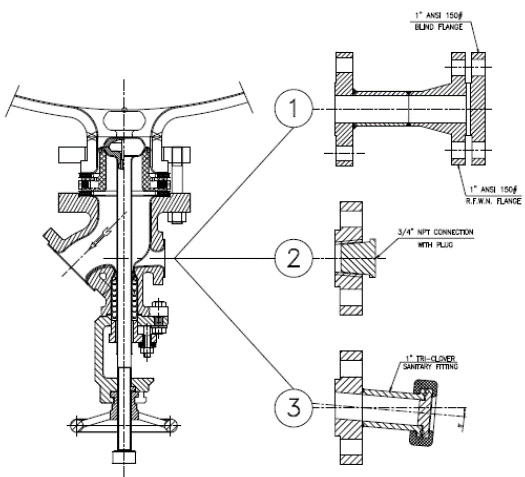 Actuator
The tide has shifted in the last few years with more valves being controlled electronically from a control room versus the traditional manual handwheel design. Our pneumatic actuators are rated at 87 PSI and require about 40 PSI to open. Before purchasing an actuated valve it's important to make sure you have enough plant air to operate it correctly.
Both VBS and CIP bottom outlet valves are available with standard actuators or a low-profile actuator (shown below) for vessels that have space constraints.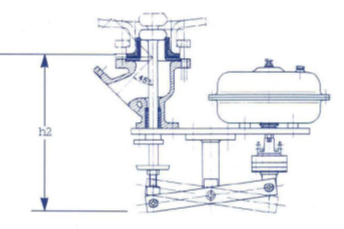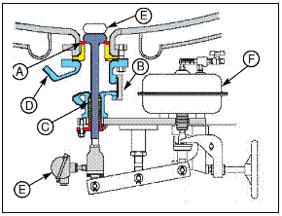 (On Clean Valve Diagram: A - valve seat design, B - additional side nozzle, C - Chevron packing with o-rings, D - valve body, E - valve head and stem with temperature sensor, F - actuator)
Solenoid
Solenoid valves are used wherever fluid flow must be controlled automatically. As most plants are moving towards more automated processes, solenoids are becoming increasingly more popular. The solenoid does require the valve to already have a pneumatic operator, so anyone using a manual handwheel design will also need to upgrade their valve with an actuator to properly integrate a solenoid. Its main function on a DDPS valve is to open the valve via compressed air. The solenoid valve to the actuator removes the air so it becomes spring closed.
Limit Switch
The DDPS limit switch is mechanical instrumentation that will detect and alert the operator if the stem is in a fully open or fully closed position. This is a desired feature in processes where environmental and operator safety are key concerns.
Bracket and Target for Proximity Switch
Proximity switches are another option that sense whether the valve is opened or closed. Unlike our standard limit switch, which is mechanical, the proximity switch is electronic and sends a signal back to the control panel. While DDPS doesn't offer the actual proximity switch, we can provide a bracket and target to integrate the component.
A feasible way to optimize the performance of your reactor is by enhancing its various components. Whether you are looking for a new bottom outlet valve or upgrading an existing one that's in service, De Dietrich Process Systems offers standard VBS and CIP valves along with a variety of accessories and instrumentation options to upgrade the features and performance of this important reactor component. Additionally, rebuild kits are available for both VBS and Clean Valves for the entire range of valve sizes available. The rebuild kits are typically in stock and readily available in our Texas warehouse and include all the necessary PTFE parts to rebuild the valve (valve seat, chevron packing, neck ring and gaskets). Contact us for more information about a bottom outlet valve or rebuild kit or download our eBook on Optimizing the Glass-Lined Reactor to find out even more ways get the most out of your glass-lined vessel.