Earn Green While You Go Green with the DDPS Reactor Buyback Program
Jennifer Mayo
|
April 19, 2018
|
2 minute read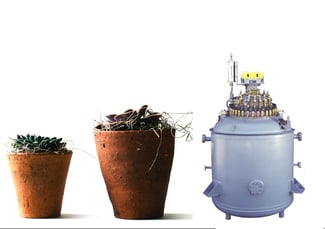 As Earth Day approaches, we are all reminded that there are things each of us can do as individuals to make better choices for the environment. Maybe it's using a refillable mug every morning instead of choosing the convenience of a disposable coffee cup. Public transportation and carpooling are other options that can reduce traffic and emissions. There are also initiatives that corporations can implement with regards to energy consumption and recycling that can help reduce their environmental impact.
Often, the "green" choice isn't the most economically viable solution; I mean, if someone told you that an earth-friendly way of doing something would cost you less, possibly even make you money, it would seem almost too good to be true, right? But it's not!
If you have glass-lined reactors that you no longer use or need, De Dietrich Process Systems' new Reactor Buyback Program offers a way for you to "go green" and earn some "green" at the same time. Here's some more information you'll want to know about this new program and how it can work for you.
What are the Benefits of Reactor Buyback Program?
The benefits of participating in this program include:
Environmental - Disposing of old equipment can be an expensive process, especially when you have caustic, corrosive material residue that can become a hazmat issue. And while your vessel may look damaged or worn, it's quite possible that the steel substrate is still in good condition. If it meets all the necessary qualifications, it has the potential to be a candidate for refurbishment. It's the perfect example of one person's trash becoming another person's treasure!
Financial - Earn money for your company! Selling your old/used reactor through the DDPS Buyback Program offers a substantial financial benefit. DDPS will pay cash for your old vessels; or, if you choose a DDPS credit instead, we can offer up to 40% more for your unwanted equipment! If you have a need for new equipment, this is a great way to lower your capital expenditures needed to purchase the new equipment.
How Does the Reactor Buyback Program Work?
The intent of this program is to create a mutually beneficial exchange. You, the customer, are looking to get rid of an unwanted vessel. We'll take it off your hands for you - DDPS will purchase the vessel if it meets the qualifications of the program (see next section for more information on criteria), then reglass and sell them as refurbished units with a full warranty. This will allow us to be able to sell vessels at a discounted price and have readily available inventory for instant shipping.
What Type of Equipment Qualifies?
We are currently looking to stock 500, 1000, 2000, 3000, and 4000-gallon vessels, as well as covers and baffles for the applicable sizes. The vessels MUST have an original ASME code stamped nameplate still attached to the unit. In addition to De Dietrich brand vessels, we will also buyback competitive models.
How Do I get my Reactor Qualified for the Program?
If you've identified a vessel that might be a candidate for the program, contact us by filling out the Reactor Buyback Inquiry Form online or call 908-318-4360 to speak with a buyback representative. If we have a service technician or representative nearby, we can coordinate a site visit to go look at the potential equipment to help us determine if it is a viable candidate for the program.
Do you have glass-lined equipment that you are looking to dispose? This Earth Day, you could be the hero that finds a new way to reduce your company's carbon footprint!