Solids Handling Systems: Project Examples
Jake Davis
|
October 16, 2023
|
3 minute read
When it comes to bulk solids handling projects, there is no "one size fits all". In our experience at De Dietrich Process Systems, we very rarely provide the same, identical system to multiple customers. There's at least one, if not many, things that need to be tweaked and reviewed on a case-by-case basis. This is not surprising, however, when you look at how many aspects there are to a system. While there is even more to consider, here is a short list of the most important things that can affect system design:
Occupational Exposure Limit (OEL)
Container type
Transfer distance and rate
Material characteristics (corrosive, abrasive, cohesive, toxic, etc…)
Hazardous area classification
Cleanability
These six things, among many other, are what we at DDPS review and discuss with our customers any time we are contacted about a project.
Below we have put together a list of a few projects that have been executed recently. We provide this information to not only instill confidence in our capabilities but to help you see real world examples of customers that may be dealing with the same or a similar issue as you. Following each example are progressive drawings to show how a typical project might flow. It normally starts with nailing down the process. Once that's done, the mechanical design work can be done. And the process and 3D modeling can all come together during assembly and factory acceptance testing.
Case #1
Customer:
Chemical Manufacturer
Problem:
Charge a product with < 3 mJ MIE (Minimum Ignition Energy) from super sacks into reactor vessel

.

Solution:
Due to the ignition sensitivity of the material and the low energy required to create an ignition, keeping the system grounded was key. To further reduce deflagration risks, nitrogen was introduced into the conveying line at the charge point. Reducing the oxygen in the convey line or partially inerting the material can also aid in reducing the explosion risk. The system provided included:
Forklift Loaded Bulk Bag Unloading Station
Newson Gale Super Sack or FIBC (Flexible Intermediate Bulk Container) Grounding and Static Monitoring System
Charge Hopper with Nitrogen Injection at pickup adaptor
Transfer Hose with Internal Grounding Wire
Powder Pump System built with Static Dissipative Components
Vacuum Pump with Oxygen Monitoring
Class 1, Div. 2 Control Panel with Allen Bradley PLC and HMI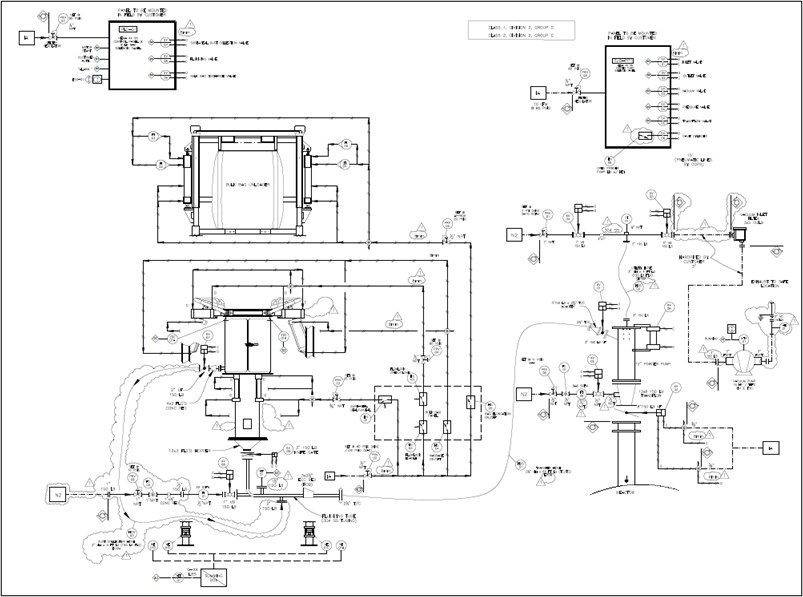 Flow Diagram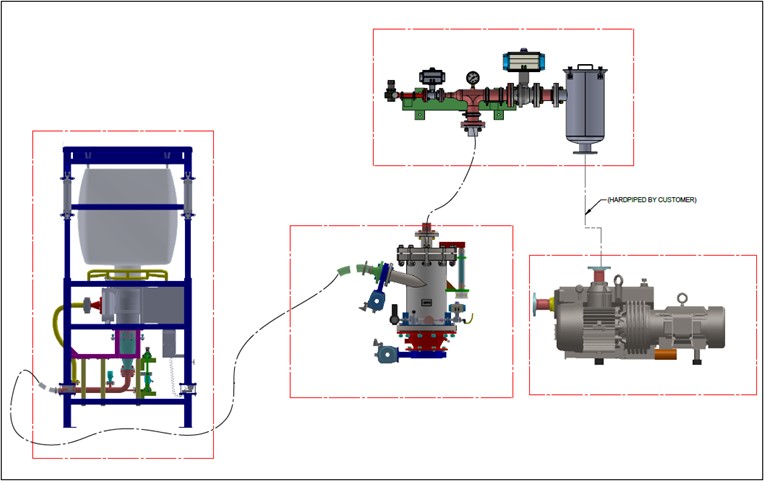 3D Modeling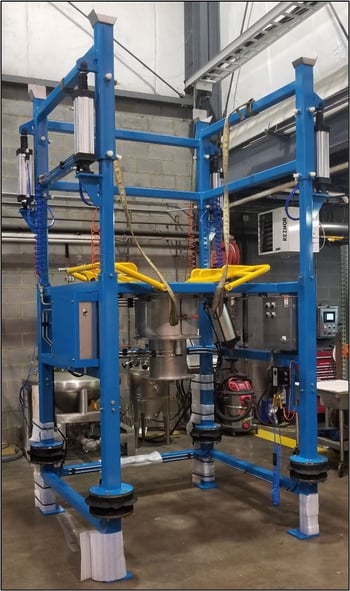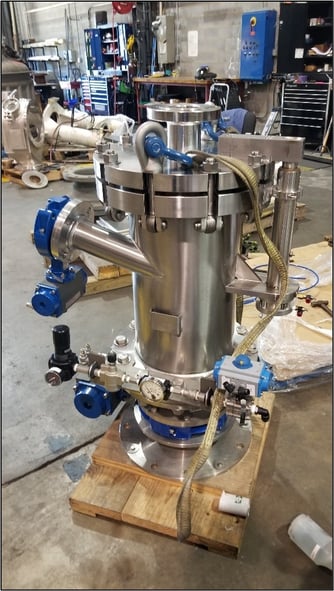 Assembly and Fabrication
Case #2
Customer:
Pharmaceutical Manufacturer
Problem:
Charge a heavy salt material from three locations to three vessels.
Solution:
Due to the need to service multiple vessels while also minimizing cost, DDPS offered a single vacuum/nitrogen utility header with isolation valves. Doing this allowed the customer to use less valves and one vacuum pump to service all the units. This limits the system to adding product to only one vessel at a time which was acceptable to the customer. The vacuum pump was also going to be located over 100 feet away which would create a substantial pressure loss. This location was desirable to keep the pump in a safe area with other utility equipment. Instead of deciding to upsize the pump, DDPS determined that upsizing the line size from the pump would minimize the pressure drop.
Three Powder Pump systems for each vessel
Shared valve manifold with 3 isolation valves
Shared vacuum pump
Class 1, Div. 2 Control Panel with Allen Bradley PLC and HMI
Local junction box for solenoids and instrumentation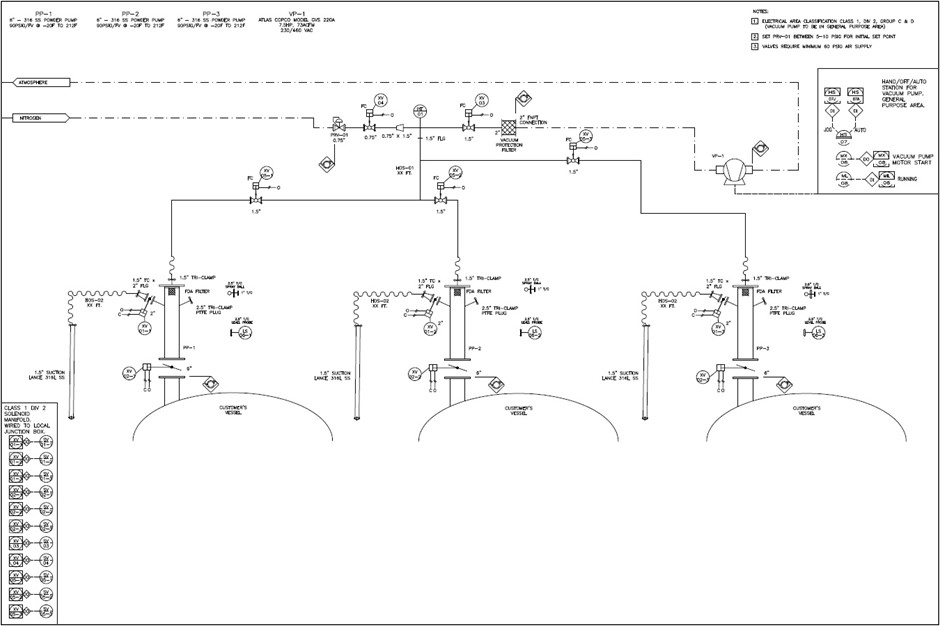 Flow Diagram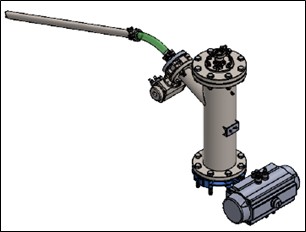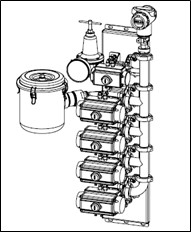 3D Modeling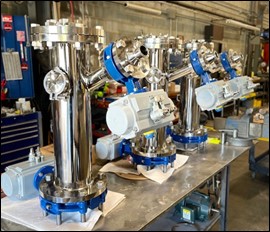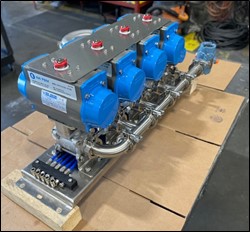 Fabrication and Assembly
Case #3
Customer:
Battery Manufacturer
Problem:
Transfer a metal oxide nano-powder from a filter dryer into small fiber drums by weight. (Floor space was tight so the system needed to be mobile).
Solution:
De Dietrich had explored new filter medias to allow operation within the sub-micron (nano) particle sizes. This new filter media was implemented inside our Powder Pump unit and ULPA filters were used for vacuum protection filters and exhaust filters when filling drums.
A custom frame on castors was also designed to allow installation of all necessary valving and controls directly on a mobile cart. A scale and portable ramp were also included to allow weighing the drums and make it easier to move them on/off the system. The full scope of the system is listed below:
Custom 304 SS mobile frame for drum loading
Integral PLC panel and weight transmitter
Feed hopper to collect product from filter dryer outlet
Powder Pump conveying system

Powder Pump height was adjustable to facilitate filling drums of different sizes

Stand-alone vacuum pump on support stand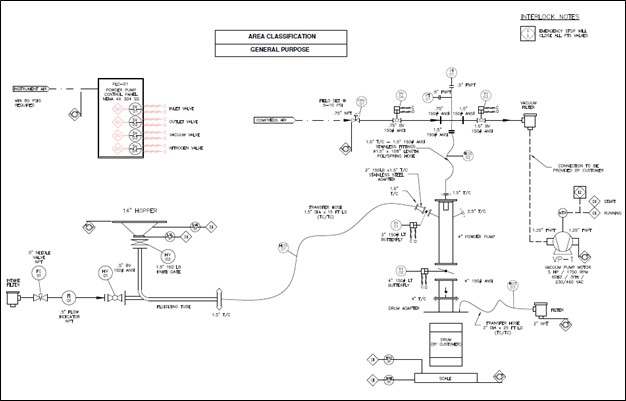 Flow Diagram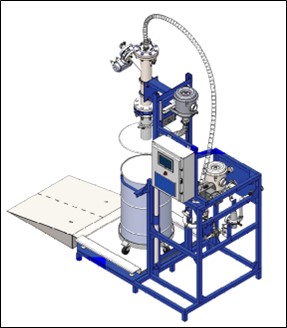 3D Model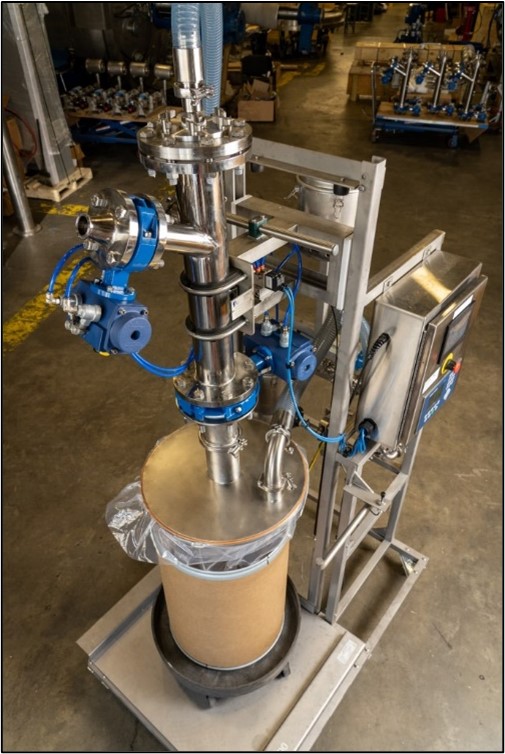 Fabrication and Assembly
Case #4
Customer:
Pharmaceutical Manufacturer
Problem:
Transfer a highly corrosive material into a reactor vessel
Solution:
DDPS has a long history of dealing with corrosive products. Our standard Powder Pump system is constructed of 316L Stainless Steel. For harsher environments and more corrosive materials, we often provide Hastelloy. As you may already be aware, Hastelloy can be quite expensive. Another alternative we can offer that this customer selected is a glass Powder Pump body. This helped keep pricing closer to that of the 316L SS unit. Most of the time, people have a concern about the brittleness or fragility of the glass. With that said, DDPS constructs borosilicate glass components to be pressure rated. While they may not withstand the same pressure as a steel body, glass was the perfect option for this application. Our scope of supply included:
4" Glass Powder Pump System
Isolation valve and nitrogen purge spool beneath the Powder Pump to help with condensation
Suction lance and transfer hose to transfer from drums
Insertable spray ball to clean the system after use
Vacuum pump on support stand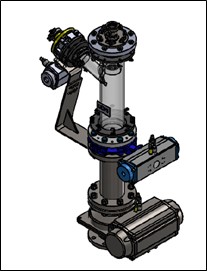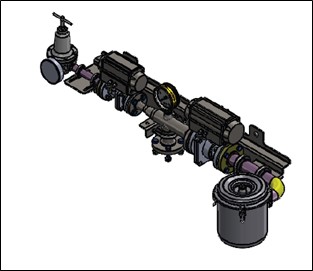 3D Modeling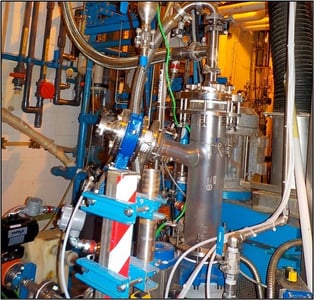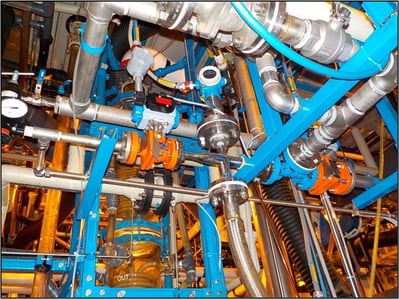 Installation of Glass Powder Pump and Utility Cross
Except for Case #4, we conducted conveying trials on all the systems before receiving an order. The testing provided confidence in the technology and comfort that it would meet all the needs of the process. To learn more about testing or our Powder Pump systems, check out these blog posts: