The Ultimate Cheat Sheet for GlasLock Blades
Jennifer Mayo
|
July 19, 2018
|
3 minute read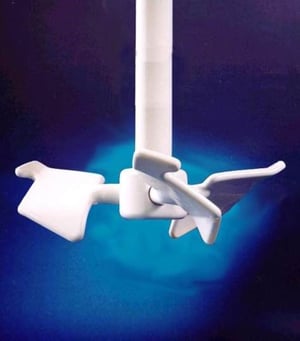 The GlasLock interchangeable blade system has become the agitator of choice for many of processes that utilize glass-lined steel equipment. In fact, GlasLock is the standard agitator for our GL series reactors. What makes this blade system so popular is its ability to be adjusted, removed, and interchanged, a quality that is especially important in processes that can undergo so many changes. Unlike a one-piece agitator which is selected based on specific process objectives, GlasLock blades can be set to various angles or swapped out for different shaped blades to accomplish different mixing objectives.
Benefits of Removable Blades
If you're looking for a reason or two (or 10) why GlasLock blades are advantageous over traditional, one-piece agitators, we've got plenty of points to support that claim. GlasLock blades can:
reduce maintenance downtime and cost
maximize process flexibility
improve product yield and quality
reduce batch time and cost
fit the agitator to your process, not your process to the agitator
improve heat transfer efficiency by up to 30%
be interchanged with competitive agitators (for DTW, RW and SRW drives)
be replaced or adjusted to a new blade design or pitch to suit process needs
be individually replaced when they are damaged, not the entire agitator, without disturbing the mechanical seal
be installed with easy-to-use tools, with no hazardous cryogenic fluids to handle
These benefits combine efficiency, productivity, and convenience to create an optimized mixing solution.
Functionality at Every Angle and Design
With a single agitator adapted for each requirement, GlasLock meets the mixing needs of virtually every application. Pitch blade turbine impellers are the most commonly used type of GlasLock blades. For general use, including homogenization and heat transfer, they are typically set at a 45 or 60-degree angle. If your process involves more fragile material, the blades can be set at 30 degrees to effectively and gently handle suspension and crystallization. For applications involving gas dispersion, absorption, or any kind of gas-liquid reaction, a more turbulent flow can be achieved by setting the blade angle to 90 degrees.
In addition to the standard pitch blade turbine design, GlasLock blades are also available in a variety of other styles to suit diverse process needs. Blade designs include:
Hydrofoil – This profile improves on the pumping effect given by the standard pitch blade turbine impellers. The bends and twists of its construction are specifically adapted to crystallization and suspension processes.
Rushton Turbine – Like a standard blade installed at 90 degrees, the radial flow of a Rushton turbine blade is ideal for applications involving gas dispersion, absorption, and gas-liquid reaction.
Trapezoidal Blade – Specially designed to mix very low product volumes and facilitate the final emptying of the reactor by reducing the gap between the blades and the bottom of the reactor.
Breaker Bars – Multipurpose for heat transfer, homogenization, crystallization, and viscous products.
ViscoFoil – Intended for high viscosity
OptiFoil - The newest design of GlasLock blades from De Dietrich Process Systems, OptiFoil combines the advantages of HydroFoil blades and Trapezoidal blades for optimized mixing.
OptiFoil Advantages
OptiFoil's hybrid design ensures a high axial flow for suspension processes and facilitates the operation of minimum volumes (be on the lookout for next week's post for more information about low level mixing). The pitch angle of these blades gives a smoother contact with the product than the vertical trapezoidal blades and is specifically recommended to avoid the alteration of fragile crystals.
OptiFoil is ideally suited for reactors involving homogenization and suspension, as well as heat transfer, crystallization, and dispersion. Its axial/radial flow is advisable for virtually every process. OptiFoil will also mix higher viscosity liquids than standard flat blades.
The GlasLock System: Basic Selection Table
The GlasLock System provides a lot of choices, with an option to fit nearly every mixing application. But how does each design compare to one another? This handy selection table is the cheat sheet you've been looking for! It provides a side by side comparison of the flow pattern and flow regime for each blade type as well as a ranking of what mixing objective each style is best suited for: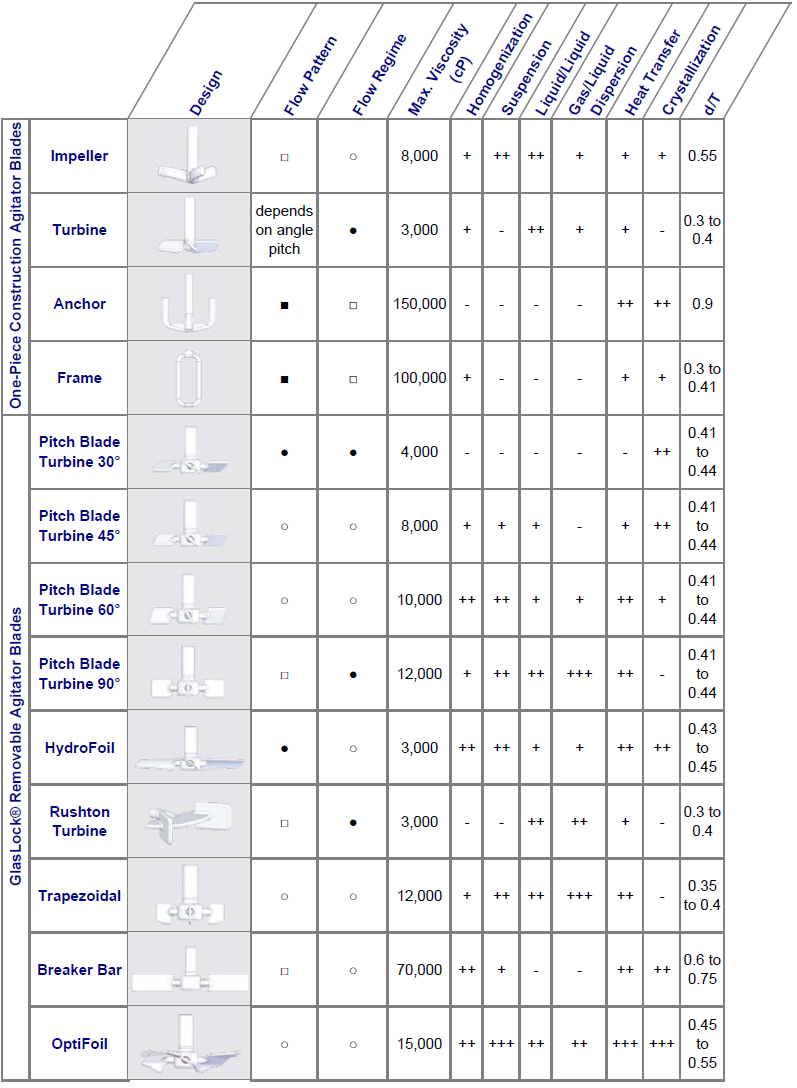 Additional Optimization Tips for GlasLock Agitators
Here are a few other considerations to take into account when selecting the blade design and configuration for your agitator.
Dual Tiers - GlasLock agitators with a dual set of blades improve the agitation efficiency in large-size vessels (Figure 1)
Multi-stage mixing: GlasLock blades are extremely beneficial in multi-stage agitators, as the angle and/or profiles of the blades can be different on each tier, providing exceptional mixing performance. Figure 2 exemplifies a homogenization process that uses two different types of blades to achieve multi-stage mixing.
Dispersion of Gas – The combination of gas introduction via dip pipe and 60° blades provides exceptional gas dispersion. (Figure 3)
Figure 1 Figure 2 Figure 3
With over 10,000 blade installations in service, GlasLock blades have proven themselves through the countless hours they've served in a wide range of industrial processes. Knowing what options are available and the suitability of the various blade designs helps to ensure you pick the right one for your needs, and our Basic Selection Table provides an easy way to compare styles. Of course, De Dietrich Process Systems' team of mixing experts can help you determine the best components to meet your process objectives and we'd be happy to help you spec a reactor to fit the needs of your business. In addition to GlasLock blades, DDPS offers other enhancements that can optimize the performance of your reactor. Download our free Optimizing the Glass-Lined Reactor eBook for more information.