Top 10 Reasons to Attend a Glass-Lined Equipment Training Seminar
Jennifer Mayo
|
August 30, 2018
|
3 minute read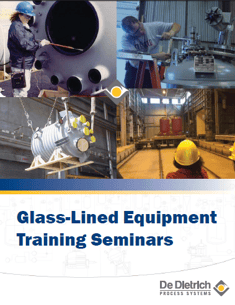 Training is a fundamental part of any job and is crucial to the development and success of an organization. This is especially true for reliability engineers, maintenance personnel, and other employees who work closely with glass-lined steel process equipment. Whether you are new to glass-lined equipment or have some familiarity with it, training on the installation and care of this equipment is a critical component to your job that will ensure you operate your system properly.
Here at De Dietrich Process Systems we offer a variety of training seminars for customers who want to better acquaint themselves with the usage, handling, and maintenance of their equipment and systems. If you've ever considered attending a training seminar but wanted some more insight on why it would be beneficial to you, we've put together a list of 10 reasons why you should attend. In no particular order…
Hands on training – While there is a presentation portion of our training classes, you'll also get first-hand experience carrying out some of the techniques you've just learned from the classroom segment. For example, in our GlasLock Installation and Removal Seminar you'll receive a detailed tutorial explaining how to changeout a GlasLock agitator blade, but you'll leave with an extra level of confidence after the hands-on section of the seminar where you'll be performing the installation and removal on actual equipment.
Hand out reference material – All presentations and other documents that are part of your training will be yours to take home with you. A training manual via flash drive will be provided for each participant, that way you can conveniently reference the material any time you need to.
Customized training available - Upon request, time may be set aside to discuss your individual maintenance and/or process needs. Or, if you have a group of employees that would like to be trained on a specific topic, we can come to your site and provide a personalized seminar based on your specific training needs.
Related services available - For customer site training, we can provide additional services including on-site testing, installation, start-up, assistance with qualification of new systems, equipment maintenance, and more.
Free tour of our glassing facility - If you attend a seminar hosted in Corpus Christi, in addition to the training itinerary, you'll receive a tour of the DDPS facility while manufacturing is taking place. It's quite an experience getting to see our electric furnaces in action!
There's no cost to attend - At DDPS, we find it important that our customers know how to use and maintain our equipment properly. Because of this, we do not charge you to attend our seminars. When attending a seminar in Corpus Christi, a $500 deposit is required only to hold your space and will be refunded once your attendance has been confirmed. You are responsible for your lodging and other travel expenses when you are not on DDPS property. For seminars conducted at your site, expenses are determined prior to scheduling and might consist of shipping costs for any special equipment we might need to have on hand during training, or other minimal requirements.
Learn from industry experts – Whether at our manufacturing site or your facility, our glass-lined equipment seminars are led by two of our most experienced professionals. Ozzie Freitas, Business Unit Leader for Glass-Lined Equipment, has been in the industry for over 35 years and presents the classroom portion of the seminar. Mark Banfield, our Field Service Manager, is a tenured service expert of 25+ years who typically conducts the hands-on portion of the seminar.
Network with other maintenance personnel – When you attend a seminar at our Corpus Christi location, you'll be in the presence of other maintenance and engineering professionals either from your industry or a similar field. It's a great time to learn about other companies' best practices, hear their pain points, and acquire other first-hand information related to glass-lined equipment operation and optimization.
Free food and transport – Who doesn't like free food, right?! Breakfast, lunch and refreshments will be provided at our onsite seminars as well as shuttle transportation between the DDPS facility and our hotel recommendation.
Become a hero in your workplace – When you learn the fundamentals of operating glass-lined equipment, you can save your company time and money through putting into practice the knowledge you gain from your training.
De Dietrich Process Systems offers a variety of training seminars for personnel of varying skill level and experience. Our general topics include Fundamentals of Glass-Lined Equipment and its Maintenance, Fundamentals of Rigging and Handling, Extensive Training on GlasLock Installation and Removal, and Fundamentals of Series 60 Drives and Seals. DDPS can also create a customized agenda to fit the specific needs of your company.
Looking for additional resources or want to sign up for an upcoming seminar?:
Download a copy of our Glass-Lined Equipment Training Brochure for more information on our seminar itineraries.
Our next Fundamentals of Glass-Lined Equipment Seminar is scheduled for November 7-8, 2018 at our facility in Corpus Christi, TX. For more information, or to register for this event, visit ddpsinc.com/glsseminar.
Have a group of employees that need training? To inquire about scheduling a training seminar at your facility, fill out our Training Inquiry Form and someone will contact you via phone or email with the information you've requested.