Your Guide to Buying QVF Glass Aftermarket Parts
Jennifer Mayo
|
September 20, 2022
|
2 minute read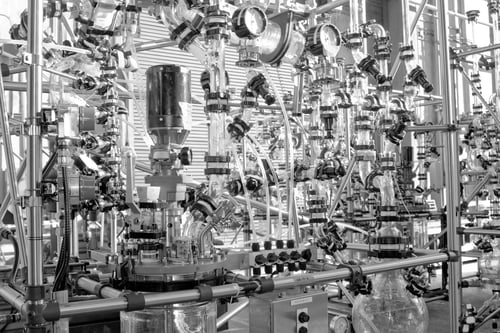 QVF Borosilicate Glass has been a staple of our De Dietrich Process Systems portfolio of solutions since the year 2000, but our Aftermarket requests sometimes come in for equipment that is much older than that. And with many changes occurring to the product line throughout the years (see our post on The Evolution of the QVF Glass Component System for more information), it's easy to see how a seemingly simple process of ordering a replacement part can become a complex task. But it doesn't have to be! Fortunately, our current offering of QVF Supra Line components offers parts that are compatible with much older glass.
When customers come to us to inquire about purchasing glass parts, the level of detail they provide can vary greatly. Some people are very informed and well-versed in their systems, knowing exactly what they want and providing specific part numbers that match our current standards. Other inquiries can be much more obscure, referencing an abstract shaped piece that is from an older system the purchaser knows little to nothing about. Most of our customers fall somewhere in the middle of the spectrum, having some basic information on hand but aren't sure exactly what they need. Regardless of your knowledge of glass parts, we are here to help you figure things out and get you back up and running with the components you need. Here are tips to making your order process as easy as possible for all parties involved:
Send us a photo
When submitting a request for Aftermarket glass, one goal is to have a photo of the item you are looking for. A photograph is worth its weight in gold because from one picture we can determine a lot about the glass you currently have and how to best replace what has been broken or worn out.
Know your dimensions
Another small piece of information that will assist in processing your request quickly is the dimensions of the item you are looking for. The diameter will assist with us being able to quickly search our inventory for a replacement.
Determine what type you have
As we mentioned, QVF glass systems have evolved significantly over time and some glass systems are decades old, leaving customers unsure sometimes as to what product line they have installed. The following flow chart was created to help you identify the QVF glass part you need based on the different markings and features: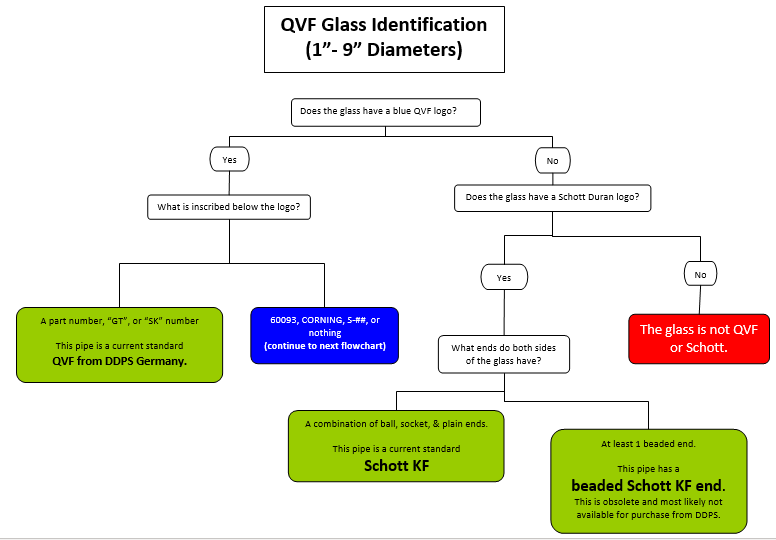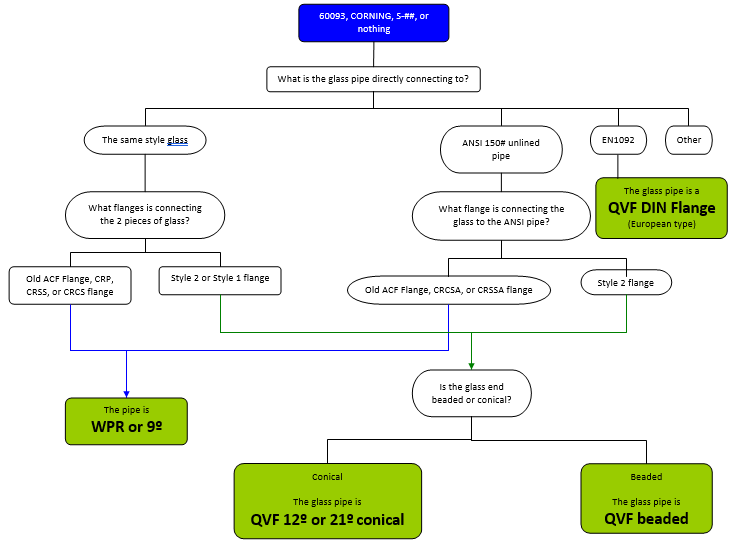 Understand the markings
Regardless of how old or new your glass is, QVF systems feature a set of numbers that are printed on the components. If it's legible, having this information handy can save everyone time by allowing us the find your part faster in our database. The markings provide additional information for quality assurance purposes, traceability, and to ensure correct use by the customer. The different marking possibilities are explained in a previous post.
While it's helpful to have part information on hand before you contact us, if you need help figuring out this information the DDPS Aftermarket Team is more than happy to assist you! And when all else fails we can offer custom solutions for your unique needs. Contact us today to assist you with your glass components and other parts.