RoLab Filter: For Pilot Scale Filtration
RoLab Filter Product Description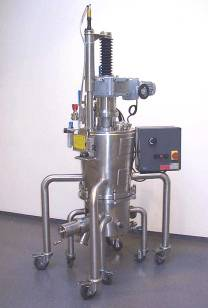 The RoLab Filter is an easy to operate and highly portable nutsche filter designed for the filtration and drying of small pharmaceutical and chemical batches. It is a manual solution for both laboratory and production environments that provides all the process functionality of the traditional Rosenmund filters at a fraction of the cost.
RoLab Filter Applications
Process functions include:
Filling
Filtration under pressure
Washing of the filter cake
Smoothing of the filter cake
Convective drying (nitrogen blow through) of the filter cake
Vacuum drying of the filter cake
Heating and cooling
Discharging of the filter cake
RoLab Filter Features
The RoLab is suitable for CIP and WIP and performs full filtration and drying processes according to cGMP and FDA standards. The vessel uses no hydraulics, therefore avoiding complicated installations and maintenance. The lower bowl assembly can simply be wheeled out from underneath the upper part to allow for easy cleaning between batches.
With only five connections required for set up (460VAC, pressure/vacuum, nitrogen, slurry inlet, heating/cooling utilities), the RoLab's basic installation is easy to perform. Its compact design can be installed in very small areas.
RoLab Filter Advantages
Multi-purpose application
Pharmaceutical design
Easy installation
Cost-effective
RoLab Filter Specifications
Filter areas from 0.03 to 0.6 m²
Pressures from full vacuum to 90 psig (6 bar)
Options
Available in (316L) stainless steel or Alloy C22
Side discharge opening with PAD flange/valve with o-ring seals/valve with metal-metal seals
Heated agitator > 0.2m²
Sampling valve
Vessel light
Dust filter
Double mechanical seal
Electric motor
Tachometer
Process valves